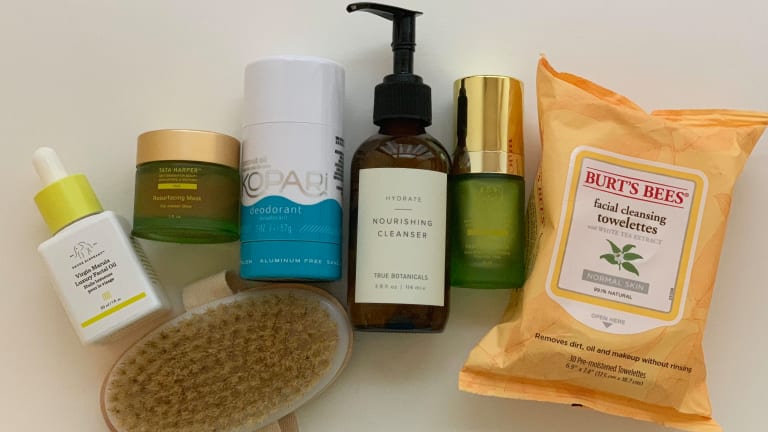 Publish date:
Pregnancy-Safe Skincare and Beauty Products
Are you worried about how your skincare routine will effect your baby?We've got ideas for safe, non-toxic skincare.
Are you worried about how your skincare routine will effect your baby?We've got ideas for safe, non-toxic skincare.
Pregnancy comes with all kinds of lifestyle changes, and, for me, one of the most daunting ones was skincare. Until I became pregnant, it hadn't occurred to me that in order to keep the baby as safe as possible, I'd need to eliminate some of the ingredients I relied on in skincare products. Honestly, I was afraid of what would happen when I went off salicylic acid and retinol—and I was shocked to realize how many of the products I thought were simply and cleanly formulated were full of parabens and other pregnancy no-nos.
Related: How to apply makeup in 5 minutes
Pregnancy-Safe Skincare and Beauty Products
But don't worry! Safe, non-toxic skincare that's also effective does exist. Over the past eight months, I've discovered that there are tons of great options. In fact, I like some of them so much that I'm going to stick with them after Baby's born. Here are a few of my favorites.
True Botanicals Nourishing Cleanser: True Botanicals products are all certified nontoxic, but the Hydrate line is specially formulated for pregnant women, which means you don't need to research and investigate every ingredient. For me, that makes it an easy choice. This cleanser smells good and keeps my skin clear.
Drunk Elephant Virgin Marula Luxury Facial Oil and True Botanicals Pure Radiance Oil: My skin got really dry during the first months of pregnancy, and I found that only oils could keep it hydrated. These two are my favorites.
Tata Harper Restorative Eye Crème: Tata Harper's products are 100% natural and nontoxic, and their ingredients are sourced from their own farm in Vermont. Everything I've tried from this brand is amazing! This eye cream goes on velvety smooth and keeps the area around my eyes moisturized.
Tata Harper Resurfacing Mask: Until I was pregnant, I relied on salicylic acid to fend off breakouts—and I was terrified to give it up. This product helps keep me (mostly) pimple-free. It brightens and freshens my skin, but it's not harsh or drying.
Yes To Coconut Moisturizing Mud Mask: I'm loving this mud mask for days when I need extra moisture. It's made with virgin coconut oil and kaolin clay, and it makes my face feel baby soft. As a bonus, all the Yes To Skincare products are really reasonably priced.
Burt's Bees Facial Cleansing Towelettes with White Tea Extract: Wipes are the easiest way for me to remove my makeup before cleansing. I love the smell and soft texture of these.
More Pregnancy-Safe Products
Earth Science Naturals Olive & Avocado Super Concentrated Shampoo and Earth Science Naturals Olive & Avocado Deep Conditioning Hair Masque: I struggled to find a natural, paraben- and phthalate-free shampoo and conditioner that worked well with my hair. After trying a few kinds from Whole Foods, I had just about surrendered to the fact that natural hair products can't give the same moisture and clean feel as the ones with synthetic ingredients. But I was wrong! One day I happened to pick up this shampoo and hair masque, and now I'm never going back.
Kopari Beauty Coconut Deodorant: Deodorant was a tough one too. There are lots of natural brands out there, but I had mixed results with effectiveness, and some had a weird texture that left sticky residue. This one's got a subtle, pleasant smell and rubs on smooth and invisible. Most importantly, it's free of aluminum, baking soda, parabens, silicone, and phthalates.

New Victory Announces a New Season of Shows
We know you're busy planning picnics and summer outings, but we wanted to let you know that The New Victory just announced their new season and it looks fantastic. We thought you'd like a sneak peek of what's in store! Each year the New Vic theater brings culture to tourists and ...read more
Fun Ways to Discover Venice Italy with Your Family
Greetings from Italy wear the gelato is rich, the clothes divine and the scenery is inspiring. Now that I've been to this fine city in the north of Italy, twice, I've amassed a list of favorites to share. These are some fun ways to discover Venice, Italy with your family. ...read more
Invest in a  Body Brush
Dry brushing was a game changer for me! I started doing this shortly before I was pregnant, and have continued through my pregnancy. Dry brushing your skin with a stiff-bristled brush has tons of benefits: exfoliation, increased circulation, detoxification, the list goes on. And it feels good. I do it before I get in the shower, using long fluid strokes and always brushing toward my heart. (I do brush my belly and breasts, but very gently.) Get the Wholesome Beauty Dry Skin Body Brush here.
Once I'm done with pregnancy and breastfeeding, I'll definitely be incorporating retinol and other intensive anti-aging ingredients back into my skincare regimen. (To learn more about retinol, read Should Retinol Be in Your Beauty Bag?) But until then, I'll be keeping my skin healthy and safe for Baby with these products.
More Pregnancy Help from Momtrends
PIN IT!
Use Pinterest to save your favorite parenting and pregnancy resources. And be sure to follow our Pregnancy-101 board here.
This is not a sponsored post. It contains affiliate links.