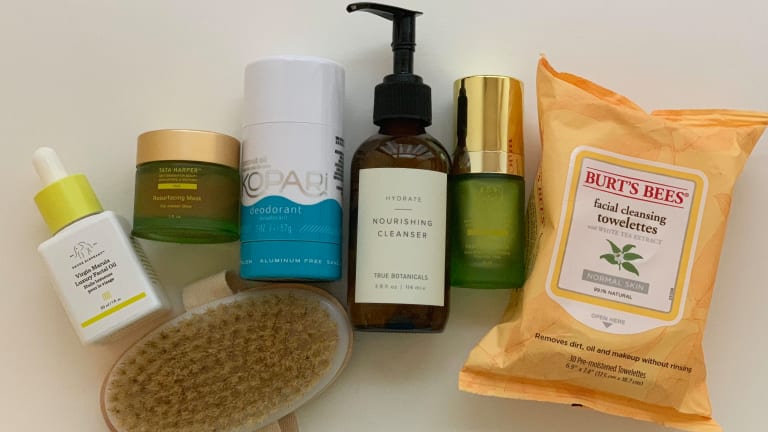 Momtrends MVP'S: The Best Pregnancy-Safe Skincare
Are you worried about how your skincare routine will effect your baby?We've got ideas for safe, non-toxic skincare.
Are you expecting? Then today's beauty edition of Momtrends MVP's is for you! We're going to focus on pregnancy-safe skincare. Because when you're pregnant there are certain ingredients and types of skincare products that you should avoid.
Let me start by saying that I am not a doctor and you should talk to your doctor before starting or removing any products from your regimen.
Pregnancy is such a magical time. I actually had morning, noon and night sickness for almost my entire pregnancy with both my kids. But interspersed with the tough times were some definite magical moments.
The blissful feeling that comes from knowing that in less than a year you will create and grow an entire human is something that is difficult to describe. And with that awesome responsibility comes magic, yes, but also some serious stressors.
There are rules about what you should and should not eat. There are rules about which activities you can and can not do. And like I mentioned earlier there are skincare products that are better for pregnant people.
So, before we get to some of my top pregnancy-safe skincare recommendations, let's talk about which products you shouldn't use like retinoids. And then it's all about that pregnancy glow!
Which Skincare to Avoid When You're Pregnant
Retinoids like retinol are tops on the don't use them when you're pregnant list, even the over the counter ones. Prescription retinoids are obviously stronger, but doctors advise against using any retinoids to be safe. So, you won't find any among my pregnancy-safe skincare must-haves!
You also won't find any products that contain hydroquinone, benzoyl peroxide, salicylic acid or even chemical sunscreens. Instead, I have rounded up a slew of pregnancy-safe products that will deliver results without the risk.
Whether you are looking for a daily moisturizer, a treatment serum or even a body cream, I have you covered mamas!
The Best Pregnancy-Safe Acne Treatment
With benzoyl peroxide and salicylic acid off the table you might think there isn't much you can do about acne when you're pregnant. Happily that is not the case. There are products out there that don't contain those ingredients and still work.
Take Belli Skincare's Acne Spot Treatment for instance. It's OB/GYN recommended formula fights blemishes without drying out your skin and without using harmful ingredients. Its acne fighting ingredient is Colloidal Sulfer 3%.
I love that Belli Skincare offers an effective acne treatment for under $20 that expecting moms can rely on!
Get Belli Skincare Acne Spot Treatment on Amazon here. (note: this is an Amazon Affiliate link)
The Best Pregnancy-Safe Sunscreen
We have all gotten so used to applying sunscreen every day which is great obviously. But did you know that doctors recommend that you use mineral sunscreen products versus chemical ones due to most of them containing oxybenzone.
Luckily, we are living in a time when there are brands that have been specifically created for pregnant people. And those brands have developed some wonderful sunscreen products!
I love Earth Mama Organics' tinted version because it gives you a little bit of coverage without being full on makeup. And it's moisturizing to boot!
Get Earth Mama Organics Tinted Mineral Sunscreen Lotion SPF 40 on Amazon here. 
(note: this is an Amazon Affiliate link)
The Best Pregnancy-Safe Body Scrub
Pregnancy definitely brings its share of changes to our body and I remember that my skin was no exception. And even when you're not pregnant, a good exfoliating body scrub does wonders for your skin.
You shouldn't have to miss out on that body polishing goodness and you don't. A pregnancy-safe body scrub like Indulge Peppermint Sugar Scrub for Stretch Marks is just the ticket!
And while stretch marks are mostly determined by genetics, I'm all for doing what I can to combat them even now. I particularly love this scrub for the divine smell and your skin feels gloriously soft after you use it!
Get The Spoiled Mama Indulge Peppermint Sugar Scrub for Stretch Marks on Amazon here.
(note: this is an Amazon Affiliate link)
The Best Pregnancy-Safe Face Mist
Now that many of us our traveling more again, we're faced with the dehydrated skin that comes with flying. A face mist has always been my favorite trick of the trade to combat that.
If you've ever used rose oil you know how soothing they can be. I actually have a pregnancy-safe one on this list, but I digress...A rose water mist is just as soothing on angry skin and oh so refreshing.
Not only does Rose Water Moisture Mist calm and soothe your skin, but it also contains vitamin C one of my very favorite, and pregnancy-safe, anti-aging ingredients!
Get Promise Rose Water Moisture Mist Calm+Refresh here.
The Best Pregnancy-Safe Serum
Dark spots are always a pain, not to mention melasma. Unfortunately not all skin brightening products are pregnancy-safe. But that doesn't mean there aren't any hyperpigmentation fighters!
Matrescense has a product that is actually a serum and toner in one. It exfoliates, brightens and virtually wakes up your skin. Plant enzymes, chamomile and pomegranate seed work together to eighty-six dull, uneven skin.
This always on-the-go mama loves it when she can knock out a couple steps with just one product! Don't you?
Get Matrescense Rose Glow Brightening Essence here.
The Best Pregnancy-Safe Eye Cream
Eye cream is a product that I apply at least twice a day and sometimes more than that depending on how dehydrated my skin feels. If you're as addicted to it as I am and you're expecting you want to use one that's safe.
Elemis has a wonderful eye cream that absorbs like a dream and tackles pesky fine lines as well. That is exactly what I ask for from my eye cream. Just sayin'.
But what I love best about this eye treatment is how weightless it feels. I want the heavy-duty action of a cream, but I don't want it to feel like a real cream. Elemis achieved the perfect balance here!
Get Elemis Pro-Collagen Advanced Eye Treatment on Amazon here.
(note: this is an Amazon Affiliate link)
The Best Pregnancy-Safe Night Cream
If ever there was a time to pamper yourself it's when you're pregnant. And what is more pampering than taking some extra time in the evening to apply a luxurious feeling night cream?
Unfortunately, many of my favorite treatment creams aren't deemed pregnancy-safe, but all is not lost! Cerave makes one that packs a serious punch and it's the epitome of a drugstore price.
I love how moisturizing this cream is without being at all greasy. And it contains another one of my go-to anti-aging ingredients: hyaluronic acid!
Get Cerave Skin Renewing Night Cream on Amazon here.
(note: this is an Amazon Affiliate link)
The Best Pregnancy-Safe Moisturizer
And finally, everyone needs a good moisturizer, including pregnant people! You might find that your skin behaves a little differently now than it did before you were expecting. Mine was quite a bit drier when I was pregnant.
Overall, I think Neutrogena Hydro Boost Gel-Cream is a safe bet! It works great for most skin types, but it does wonders for dehydrated skin.
I love how quickly this moisturizer absorbs and hydrates your skin nearly instantly! The gel creates a barrier to prevent moisture loss so you feel that hydration for hours. And it's fragrance, dye and oil free so irritation is unlikely!
Get Neutrogena Hydro Boost Gel-Cream on Amazon here.
(note: this is an Amazon Affiliate link)
So, are you ready to pull together your pregnancy-safe skincare routine now? This Momtrends MVP's list should make it pretty easy!
Stay tuned for our next Beauty Momtrends MVPs list…
More Beauty Picks from Momtrends
And for More Momtrends MVP's Winners, Follow the Links Below. Although this is a beauty MVP's list being that you're probably pregnant, I think you might be interested in the below:
Pin It!
Make sure you save your fave baby gear and ideas on Pinterest and follow along with our Gear for baby and kid board!
Momtrends MVP's is a non-sponsored series. Brands must meet our strict standards to be included. When naming winners we take several factors into account, including expense, convenience, and style.
We make our picks annually based on editors' research. In some instances, we may request and receive samples so that we can more thoroughly assess products. Our opinions are our own, and our goal is to help our community of moms make more informed decisions on everything from baby gear to beauty products to vacation destinations and more. We scour the abundant options and painstakingly hand-pick our favorites, so you don't have to. Our hope is that our most valuable players become your most valued purchases.