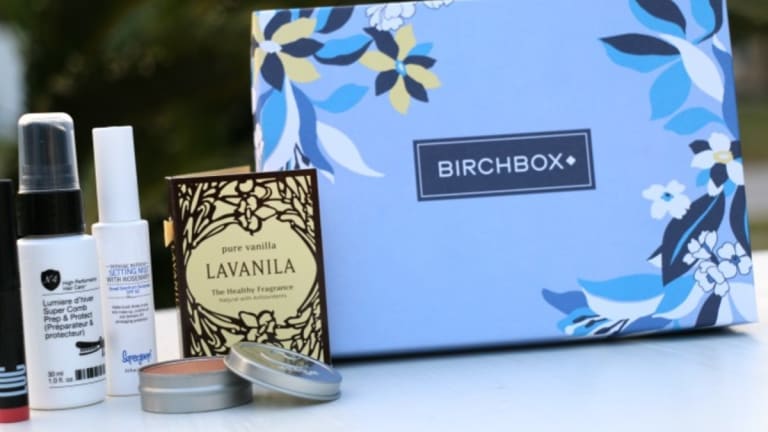 Birchbox is the Perfect Subscription Box
Birchbox is the Perfect Subscription Box, because they are never boring. I may be from Florida, which is a melting pot of sorts and not really the south, but I have a part of me that is very "Southern girl." Hence, my love for Draper James and its creator Reese Witherspoon. She's a Southern girl whose style I can really get behind. So, I was super psyched when I saw that Draper James was collaborating with my favorite beauty subscription box service Birchbox. 
Related: Must have subscription boxes for moms
Draper James is known for fresh, feminine prints and that's just what they delivered with their Birchbox collab. The floral print is so pretty, I wish I could wear it. Bwah! But, alas, I'll have to settle for the box and the fabulous contents that I found inside it. What comes in the Draper James Birchbox? I'm glad you asked...
This box has a little something for everyone. Actually, most of them do, but this one in particular, really struck my fancy. From ways to update your spring makeup looks to a subtle, yet decadent fragrance, Reese really brought her A-game. And she even included a little note describing why these products were chosen. If you know anything about Draper James, you know they're all about the power of pretty... much like Momtrends. Well, this box is filled with products that Reese considers "pretty mighty." Think products that pack a serious punch. So, let's break things down a bit shall we?
Birchbox Draper James Collab
If you're looking to make a serious impact with your look, these products are for you. Let's start with the lips...LOC Vibrant Matte Lipstick in Playful is a lovely coral pink kinda color that was simply made for spring. So was the Cargo Water Resistant Bronzer, but I digress...You won't believe how hydrating this lipstick feels. Matte lippies can really dry out your lips, but that's not the case with this one. Score! 
And another subtle, yet somehow also statement making find in this box is the Lavanila Pure Vanilla Fragrance. You'll want to smell your wrist again and again! You can bet this one is going in my makeup bag. As is the Supergoop Defense Refresh Setting Mist with Rosemary. Not only does it help keep your shine at bay, but it has SPF 50 in it. Talk about your double-duty product. And, finally, along the same multi-purpose vein is the Number 4 Super Comb Prep and Protect. It not only serves as a color protector, but also a UV shield. And if you happen to heat style your hair a lot, it protects it from that too.
So, if you've been thinking about trying out the Birchbox beauty subscription box service for yourself, as you can see, now is a great time to take the plunge! If a Draper James collaboration isn't inspiration enough, I don't know what is. Haha! As Reese says, "Keep it pretty please!"
MORE SUBSCRIPTION BOX REVIEWS FROM MOMTRENDS
We were not paid for this post. It may contain affiliate links. By clicking and shopping, you help support Momtrends and allow us to keep reporting on trends.
For even more Momtrends, follow us on Facebook, Twitter,Pinterest and Instagram.