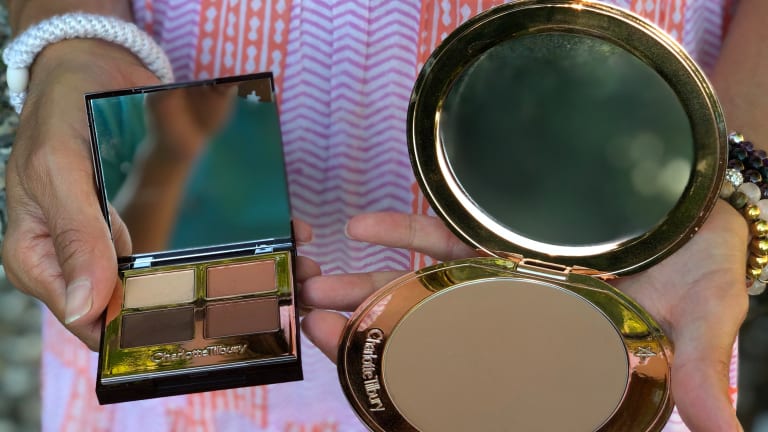 In the summer, I'm not one to wear much makeup. I like to keep things simple. Usually, all I wear is lipgloss and mascara, but now in the age of masks, I'm playing with color more and I've found two pieces from Charlotte Tilbury that are the perfect makeup for a low key summer.
Related: Try our favorite powder sunscreens
A look for a Date Night Dinner
This is the look I put together for my first date night dinner with Mr. Momtrends since March. We went out to Arethusa al Tavalo in Litchfield County, CT for dinner. We ate outdoors and had wonderful service.  I adored my squash blossom main course and my cucumber sangria. 
I slipped on a favorite dress from Connecticut designer, Cara Hotchkiss (she runs the Oliphant boutique, check out more of her work on this fashion post).
The perfect summer bronzer from Charlotte Tilbury 
I think moms will adore the Airbrush Bronzer. Who has access to a facial? Not many. This is a way to perfect your skin with a few swipes. And it's more than a a bit of shimmer, the bronzer is infused with Hyaluronic Acid to hydrate, smooth and enhance your skin while you wear. As the name implies, the bronzer smoothes skin to a look that looks, well, airbrushed in a matter of seconds. The bronzer is available in four shades. I'm wearing medium. 
Get the Airbrush Smoothing + Pore-Blurring Bronzer ($55) on CharlotteTilbury.com here
How to Apply the Bronzer
Charlottes advises that you apply the bronzer to your face and body where the sun naturally tans – cheekbones, jawline, top of shoulders, collarbone and to the center of your arms and legs. For easy application, buff onto skin and blend her new tool, The AirBrush, for a natural-looking, sun-kissed finish. It's a Kabuki-style, retractable bronzer brush that's perfect for travel.

Save Money at a Ski Swap
Are the slopes in your future? If you want to save money on ski gear, consider a ski swap. A swap is a great way to buy and sell used equipment. Most swaps consist of a variety of gear, from brand new to used skis and snowboards to skis; from poles to boots to bindings and ...read more
The Ten Best Wooden Play Kitchens For Kids
Cooking is a timeless fascination for children. This type of play goes beyond gender and teaches kids loads of life skills along the way. An investment in a play kitchen is money well spent, as it can provide hours of entertainment. We've rounded up the ten best wooden play ...read more
New Victory Announces a New Season of Shows
We know you're busy planning picnics and summer outings, but we wanted to let you know that The New Victory just announced their new season and it looks fantastic. We thought you'd like a sneak peek of what's in store! Each year the New Vic theater brings culture to tourists and ...read more
Get The Air-Brush ($40) on CharlotteTilbury.com here
Barely There Eye Makeup from Charlotte Tilbury
To complete the look, I swept on two colors from my new Luxury Palette of Mattes in Desert Haze. These earthy tones are ideal for summer when less is more. Since I want to show off the health of my skin, I'm keen on these nude colors.
The colors are velvety and slide on easily. I primed with the soft, muted nude to illuminate the eye area. Then I added the russet terracotta-brown to add a bit of smokiness to the eyes and define the lash line. I stopped there, but you can add a deep, reddish-brown that adds instant definition and depth to the eye.
Get the Luxury Palette of Mattes in Desert Haze ($53) on CharlotteTilbury.com
MORE SUMMER BEAUTY FEATURES FROM MOMTRENDS
PIN IT!
Use Pinterest to save your favorite beauty finds. Be sure to follow our Beauty board here.
Momtrends was not paid for this post.