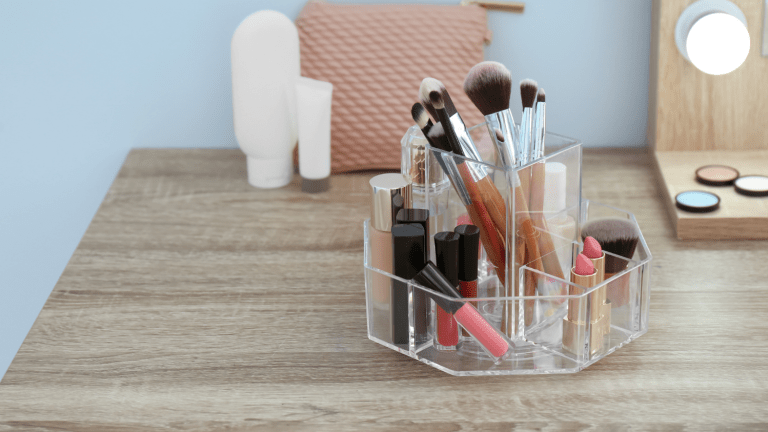 Momtrends MVP'S: The Best Beauty Product Organizers
We rounded up our favorite beauty product organizers for your makeup, nail polish, skincare and more!
If the past year and a half have given me anything, it's the gift of organization. After spending more time than usual in my home I realized that it needed an organizational overhaul. That included where I store my beauty products.
I know I'm not the only girl guilty of keeping products past their prime, throwing everything in one bin, and generally neglecting those bathroom drawers. Life can be so much easier my friends with just a little organization.
That is why I have gathered a bunch of my favorite new beauty product organizers so you too can freshen up your vanity. Don't let your go-to products get lost among the ones you only pull out every now and again.
Why You Need a Beauty Product Organization System
With a beauty product organization system, you will save time. And, let's face it, time is something all us busy moms could use more of! I can't tell you how many minutes I used to waste looking for one of my beauty products each morning. It was ridiculous!
Once I applied the "everything needs a home" mantra to this area of my life, my mornings were way less stressful. And I think we can all agree that stress-free mornings are worth their weight in gold!
So, how did I get organized you ask? Well, for me it was all about the right beauty product organizers. If you aren't a natural organizer, a project like this could seem daunting. But if you get enough beauty product organization pieces, they take the guesswork out of how to best organize your beauty stash.
And I have an organizer for practically every type of beauty product in our latest beauty edition of our Momtrends MVP's series. Whether your large and in charge lipstick collection is taking over your bathroom counter or your nail polish deserves a prettier display, I know you will find at least one beauty organization must-have here!
The Best Makeup Organizers
Best Makeup Brush Holder
If you're an amateur makeup artist with a large brush collection, you might need a bigger makeup brush holder than this, but it's the perfect size for my go-to brushes. And it serves TWO purposes, you know I'm all over that. Haha!
I love that you can pop off the top of this Morphe brush case and display your brushes on top of your vanity and then put it back on to use this organizer as a travel case! Why have more containers than you need?
Best Lipstick Holder
I came by my lipstick obsession honestly. My Nonnie, my mom, my auntie...they all had quite impressive lippy collections, bwah. And apparently, I'm coming for their crowns with my own. That being said, before I got them a proper home you could find lipstick or gloss in practically every drawer of my house. I kid you not.
Thanks to this HBLife lipstick holder my lipsticks are not only properly organized, but they're displayed beautifully too! I never have trouble finding my exact shade of choice now.
HBLife Rotating Lipstick Holder
Best Skincare Storage
I love skincare as much as I love makeup, probably even more so. That means I have plenty of skincare products that need organizing. So, while this storage kit is perfect for smaller spaces and can be used to house your everyday products, I use it for skincare alone.
The sleek acrylic look of this iDesign Makeup & Skincare Storage Kit is pretty enough to sit out all the time, see-through so you can instantly grab what you need and all the drawers keep your products perfectly contained! It has seriously streamlined my skincare routine because everything is so accessible now!
iDesign Clarity Makeup & Skincare Storage Starter Kit
Best Overall Makeup Organizer
Now if you need more storage and want to keep all your beauty products in one place, this modular makeup system should do the trick! Go for the whole shebang or just pick the pieces that make sense for you. You can truly customize it for your organizational desires.
Personally, I love how all the pieces in this modular makeup system fit together. It's the queen of makeup storage, but you can use it for anything you like, even jewelry. This is the kind of organizational product that will adjust to your ever-changing needs!
Luxe Acrylic Modular Makeup System
Best Travel Beauty Organizer
If you don't get a serious dose of nostalgia by looking at this beauty, you must be a lot younger than me. Haha! I just love that Caboodle is still around and still toting our beauty favorites around in style.
My daughter had a birthday recently and I decided it was the perfect time to give her her first Caboodle. To be honest, Mom had to have one too. And guess what? They're as useful as ever! Plus, now they come with a flip-up mirror. And, on a side note, Caboodles are perfect for you fellow dance and traveling athlete moms.
Caboodles The Forever Fun On-the Go Girl
Best Nail Polish Organizer
I have almost as many nail polishes as I do lipsticks. I prefer to use my own nail polish, even when I go to a spa to get a pedicure because then I have the color on hand if I need touch-ups. I won't let one chipped toe ruin a whole pedi!
And since I love to switch out my nail color so often, I needed a place to keep all of them conveniently together. This Glamlily caddy hit the bill. I love how transportable it is! And the adjustable divider lets you create the space you need!
Glamlily Nail Polish Organizer case
Best Makeup Organizer with Extra Large Drawers
I have a coffee maker that I bought specifically because of how low profile it is. Our kitchen and family room are one big open-concept space and where it made the most sense to place the coffee maker is in direct view of the family room. So, to avoid obstructing the view I chose a coffee maker that was as short as possible.
The same idea goes into this low, but extra large makeup organizer. What it lacks in height, it makes up for in depth. I love that while this organizer is unassuming it stores a ton! And if you find that you just need more storage, this product is stackable, so you can add on as much as you want.
Sorbus Beauty Stackable Cosmetic Organizer
Best Travel Makeup Bag
Now as much as you need organizers that live in your bathroom, you also need travel options. But if you're a low-key kind of girl who doesn't have drawers upon drawers full of products, you could use this makeup bag as your everyday storage too.
I love this Sonia Kashuk Weekender Makeup Bag not only because it holds every product I could possibly need on vacation, but it's a killer deal. Under $20 for all that storage is unheard of! Two zip compartments and a center organizer keep everything in place!
Sonia Kashuk Weekender Makeup Bag
Well, I think that's enough organization inspiration for one day. I know you're itching to give your beauty products the space they deserve! Happy organizing friends!
How We Choose Our Momtrends MVP's
Momtrends MVP's is a non-sponsored series. Brands must meet our strict standards to be included. When naming winners we take several factors into account, including expense, convenience, and style.
We make our picks annually based on editors' research. In some instances, we may request and receive samples so that we can more thoroughly assess products. Our opinions are our own, and our goal is to help our community of moms make more informed decisions on everything from baby gear to beauty products to vacation destinations and more. We scour the abundant options and painstakingly hand-pick our favorites, so you don't have to. Our hope is that our most valuable players become your most valued purchases.
WANT MORE BEAUTY MVP'S FROM MOMTRENDS?
PIN IT!
Use Pinterest to save your favorite beauty finds. Be sure to follow our Beauty board here.