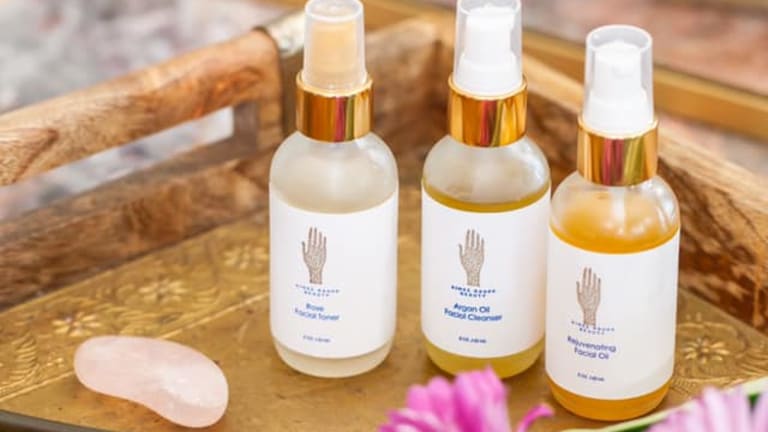 Organic Skincare from Aimee Raupp Beauty
Aimee's philosophy is that you shouldn't put any products onto your body that you couldn't actually ingest.
I am very conscious of what I put on my skin, so I was so excited to learn about Aimee Raupp beauty, a line that is made with all-natural and organic ingredients.
Related: Pregnancy safe skincare and beauty products
Aimee Raupp Beauty
Created by Aimee Raupp M.S., L.Ac., a national women's health advocate, founder of New York's Aimee Raupp Wellness & Fertility Center and author of Chill Out & Get Healthy and Yes, You Can Get Pregnant: The Diet That Will Improve Your Fertility Now & Into Your 40s, the new line includes luxurious body products with her mantra: "handmade with love."
My favorite product was the luscious body butter. With the inevitable dryness from winter, I love that it leaves my skin feeling supple, smooth and radiant. Made with 100% organic shea butter, coconut oil, essential oil of lavender, Bulgarian pink rose, geranium and lemon, I also love that everything is all-natural and as close to nature as possible.
She also sells a rich belly butter that is great to combat and diminish stretch marks and hyperpigmentations in pregnant women. A certified organic blend, this cream is made with coconut oil, arnica oil, cocoa butter, essential oil of grapefruit, shea butter and lemon for a refreshing finish.
Organic Skincare Options
Aimee Raupp Beauty also offers an anti-aging facial oil that is shipped in ice. The product is filled with organic age-old beauty remedies, anti-oxidant rich essential oils and anti-aging oils high in vitamin E and C. Apply day and evening to accentuate and restore beauty. Made with 100% organic ghee, coconut oil, olive oil, vitamin E oil, kukui nut oil, pomegranate seed oil, rose hip seed oil, sweet orange oil, essential oil of Bulgarian pink rose, helichrysum, frankincense, myrrh, carrot seed, turmeric and lavender.
What I also really love about the line is Aimee's philosophy that you shouldn't put any products onto your body that you couldn't actually ingest. As a successful practitioner of Traditional Oriental Medicine, Aimee has helped hundreds of women with persistent infertility to get pregnant – and one key factor was changing how women consumed products that they put onto their skin and now we can all slather her light, luxurious and natural products on our own skin.
MORE PREGNANCY HELP FROM MOMTRENDS
PIN IT!
Use Pinterest to save your favorite parenting and pregnancy resources. And be sure to follow our Pregnancy-101 board here.
Momtrends was not paid for this post. We were given samples.
·