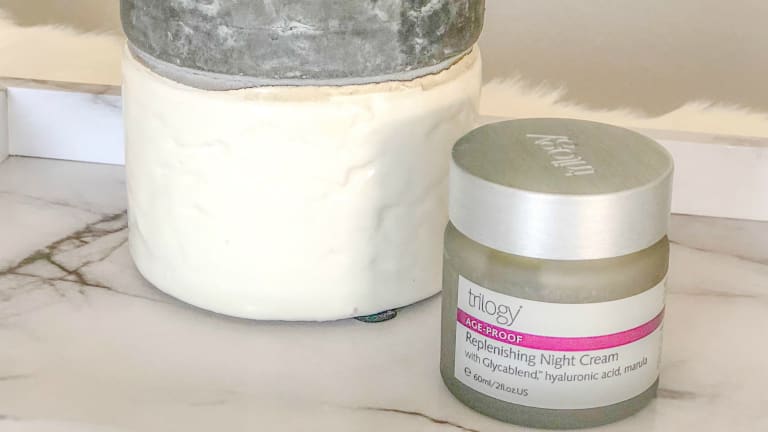 Not Your Grandmother's Night Cream
What's your earliest childhood memory? One of mine is watching my grandmother, seated at her vanity, applying her night cream. I think that early exposure to skincare helped spark my beauty product obsession. That being said, what we're going to be talking about today is not your grandmother's night cream. I would hazard to guess that there have been some advances in moisturizer since I was a child. Haha! And there have definitely been plenty of advances since my beloved grandmother opened her first jar of night cream.
So, while I thank my dear grandmother for showing me how important it is to take care of my skin, I think I'll stick to modern products like Trilogy Age-Proof Replenishing Night Cream. That doesn't mean I can't channel my Nonnie, as I call her, by cozying up with a chic throw as I embark on my nightly routine however. She's still chic to the max every time I see her by the way. I dropped by her assisted living residence not too long ago and she was sitting in her room all decked out in a sparkly sweater and heels. Goals y'all...Goals.
Why This Is Not Your Grandmother's Night Cream
So, now that we've decided we'd like to take advantage of today's skincare know how, let's talk about one of my new favorite night creams. But first let me say, if you aren't using a night cream currently, it's time to start. Don't waste all that time you're just sleeping. Those hours could be spent fighting the good anti-aging fight. Bwah! You want to add a good night cream to your beauty arsenal that will tackle issues like age spots and fine lines while you slumber away STAT. Plus, it's a great time to use products that might contain ingredients that will irritate your skin, so any redness can calm down before you leave the house.

You don't have to worry about irritation with the night cream I'm sharing today though. Now I've talked about plenty of night creams in my time here covering beauty and there have been plenty that I still love, but there is something about the particular combo of ingredients in this Trilogy night cream that I'm really diggin'. And I think it's because not only does it contain one of my very favorite anti-aging ingredients, hyaluronic acid, but it also boasts soothing ingredients like olive. Plus, the scent isn't overpowering. If I remember anything about my Nonnie's creams, it's how potent smelling they were. Haha! I definitely would not call this one potent. It's more soothing if anything.
So, if you've been on the lookout for an anti-aging night cream that delivers results without the irritation, you've found it in this cream I'm calling not your grandmother's night cream! Get ready for smooth, supple skin my friends. Supple is another word for younger looking by the way. Just sayin'.
* And for more beauty tricks, check out our tips for shrinking enlarged pores!
This is not a sponsored post. We did receive a sample.