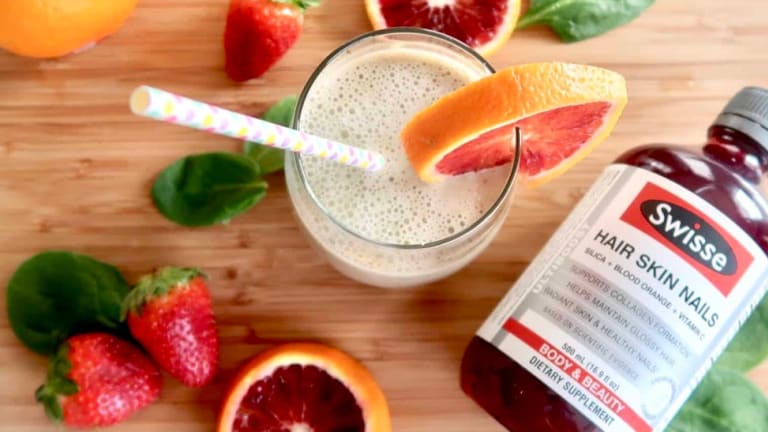 Natural Ways to Strengthen Nails and Get Glossy Hair and Glowing Skin
Tips for natural ways to strengthen nails and get glossy hair and glowing skin.
If us ladies want anything, we want strong nails, shiny tresses and youthful skin. Am I right? Well, sitting around wanting those things doesn't do us any good. We need to take action. Luckily, there are plenty of things we can do for our hair, skin and nails and one of those is to work on them from within. That brings me to today's topic at hand, natural ways to strengthen nails and get glossy hair and glowing skin. These tips come straight from, registered dietician, Erin Palinski-Wade, RD, CDE my friends.
Hair, Skin and Nails Beauty Tips
Your skin is your body's biggest organ, so fueling your body on the inside can help to reflect radiant skin on the outside. When your body is in a state of inflammation from poor food choices, excessive alcohol, or exposure to environmental toxins and free radicals, this can be reflected on your skin. Inflammation can lead to a dull skin appearance, breakouts, and even premature aging.
To help fight inflammation, try cutting back on added sugars, saturated fats, high sodium foods, and alcohol. Adding large amounts of fresh vegetables and fruit along with plenty of water can help your skin to look it's best. For added support, especially at times when you do fall of track with your healthy eating habits, consider added Swisse's Ultiboost Liver Detox to help support your digestive health. The combination of globe artichoke, milk thistle, and turmeric support your liver naturally to help increase bile production (to improve digestion) while providing anti- inflammatory properties.
images via Erin Palinski-Wade
Daily environmental toxins, sun exposure, and even inflammatory compounds in our food can lead to premature skin aging. Filling your diet with a variety of powerful antioxidants can help to protect your skin naturally. Aim to fill your plate at least half way with fruits and vegetables at every meal. And choose a variety of colors on your plate to ensure you are taking in varied forms of antioxidants. To help further protect your skin, consider adding Swisse's Ultiboost Hair, Skin, and Nails to your daily routine. The combination of silica and vitamin C work naturally to help increase collagen production in your skin, helping to improve elasticity while fighting against free radical damage.
One of my favorite ways to keep my skin healthy is by making my Skin Rejuvenating Smoothie each morning.
Skin Rejuvenating Smoothie
Makes 1 serving
Ingredients: ½ cup Greek yogurt, plain, ½ cup strawberries, fresh or frozen, 1/3 cup spinach leaves, fresh, ½ cup ice, 2 tsp  Swisse Ultiboost Hair Skin Nails liquid
Directions: Place all ingredients in a blender. Blend until smooth. Serve chilled.
MORE BEAUTY FEATURES FROM MOMTRENDS
PIN IT!
Use Pinterest to save your favorite beauty finds. Be sure to follow our Beauty board here.
Thanks to Erin Palinski-Wade, RD, CDE author of Belly Fat Diet For Dummies and Swisse Wellness Consultant
We were not paid for this post.