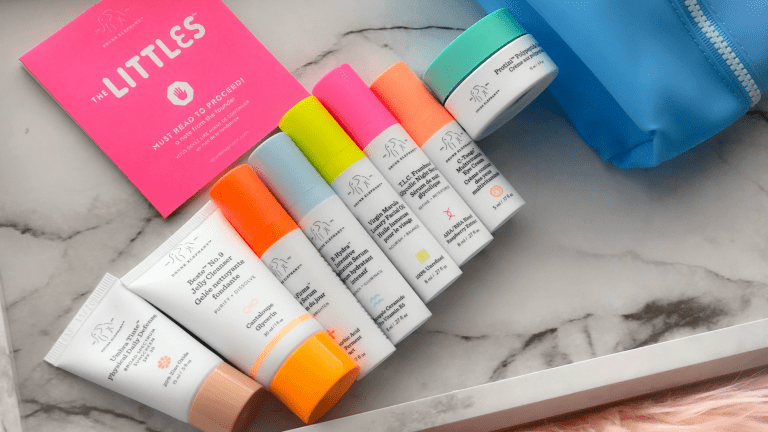 Must Try Travel Beauty Essentials
As I prepare for the big spring break trip our family is going on in a few weeks, I've been taking stock of my beauty products. Extra bag space is scarce when you're a mom traveling with her family. I'll be packing for myself, both kids, and probably the hubs too, bwah! So, I have no intention of loading down our bags with full size beauty products. Just think of how much room a full size bottle of face wash and moisturizer alone would take up. No way. I'll be packing the smart way this trip! And that is where my travel beauty essentials come into play.
Related: Perfect makeup for a low key summer
Sure, I could work on gathering up all my favorite products and putting them in those little reusable plastic, travel-friendly, bottles you can find at your local drugstore. But wouldn't it be easier if I could simply snag a handy dandy pouch that comes pre-filled with my travel beauty essentials? But that sounds too good to be true, right? Well, my friends. It's NOT too good to be true. I'm about to share one of my favorite new beauty finds, The Littles collection, from Drunk Elephant, with you.
The Littles set is just what it sounds like it is. It's a bunch of travel sized (aka little) beauty products that come complete with a travel-ready pouch. And said pouch is even waterproof! Inside it, you'll find everything you could want , in terms of skincare, for your trip. I'm talking cleanser, moisturizer, treatments, sunscreen...the works! 
The Littles set from Drunk Elephant offers:
Beste™ No. 9 Jelly Cleanser
C-Firma™ Day Serum
B-Hydra™ Intensive Hydration Serum
T.L.C. Framboos™ Glycolic Night Serum
Virgin Marula Luxury Facial Oil
15ml Protini™ Polypeptide Cream
15ml Umbra Tinte™ Physical Daily Defense SPF 30
5ml C-Tango™ Multivitamin Eye Cream
Bright Aqua Waterproof Travel Bag
Let's be real. It's unlikely that we would pack ALL of these products when traveling, but thanks to The Littles we don't have to narrow things down. We can have our eye cream AND our facial oil. We can have our serum AND our sunscreen. It's a serious win win situation folks. I don't know about you, but family travel is stressful enough, I don't need to be worrying about having to remember all my beauty products. Drunk Elephant took the decision making right out of my hands and I couldn't be happier about it.
So, as you gear up for your spring travel, I urge you to take a look at The Littles set too...It might be just what you've been looking for. It's the travel sized beauty product set of your dreams...Trust me! And for even more beauty inspiration, check out some more of our go-to on the go beauty finds.
MORE BEAUTY FEATURES FROM MOMTRENDS
PIN IT!
Use Pinterest to save your favorite beauty finds. Be sure to follow our Beauty board here.
We were not paid for this post. We did receive a sample.