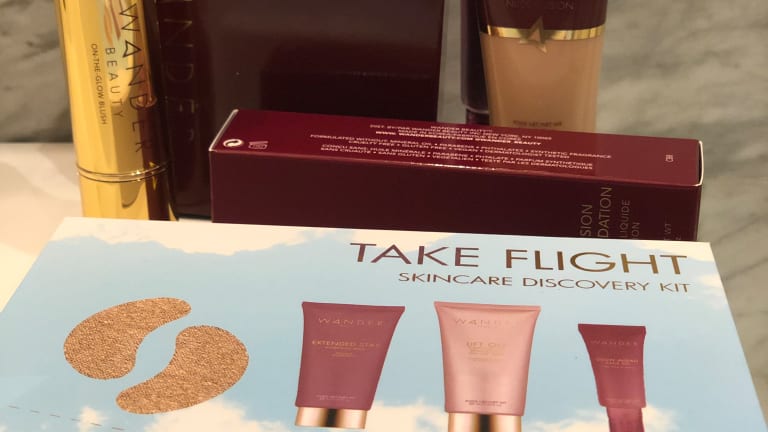 Multi-tasking Makeup for Busy Moms
We Are Loving Wander Beauty
I've been going through a bit of a beauty rut lately. It's a rare occasion that I extend myself beyond concealer and lip balm. If I break out the mascara, chances are it's a pretty special occasion.  Maybe it's the pregnancy that has me unmotivated in the makeup department. I just haven't been feeling particularly primed for primping. Or, it could be my non-stop schedule. I get the kids out the door for school, come home, hop on my computer to begin the work day and, before I know it, it's time to pick those rowdy rascals up... so much for a shower, let alone a bronzer application.
Still, as a woman, I always feel better when I've put in a little bit of effort. And I know my confidence increases when I present myself in a more polished way--even if I'm just going to the pick-up line.
That's why I'm trying to streamline a new routine for myself; one that takes no more than a few minutes or so using just five multipurpose products from Wander Beauty. The line, created by by entrepreneurial mom-of-two Divya Gugnani and jet-setting supermodel Lindsay Ellingson, was made to help downsize makeup bags.
1. Nude Illusion Liquid Foundation, $40: This weightless fluid foundation delivers buildable coverage with a natural finish. A couple of dabs does the job--and I just blend with my fingers.
2. Dualist Matte and Illuminating Concealer, $29: This dual-ended concealer features a full-coverage matte stick on one end and a lightweight illuminating liquid on the other. I love the way this one product can conceal blemishes and dark circles and give me a dewier look.
3. On the Go Blush and Illuminator, $42: I swipe the pink side of this stick across my cheeks for a little pick-me-up and then use the illuminating side to highlight my cheekbones, the bridge of my nose, and under-brow area.
4. Unlashed Volume and Curl Mascara, $24: A few swipes of this mascara delivers volume, length and curl. 
5. Play All Day Translucent Powder, $32: This puff is pre-filled with a silky soft translucent powder. I use it when I know I'm going to have a longer, more active day--and know that I need to set my makeup. I love the portability of this product--a quick little poof to the face and I can freshen up my look.
Now that you've streamlined your makeup routine, come check out our favorite affordable beauty and skincare finds from Trader Joe's.
This is not a sponsored post.