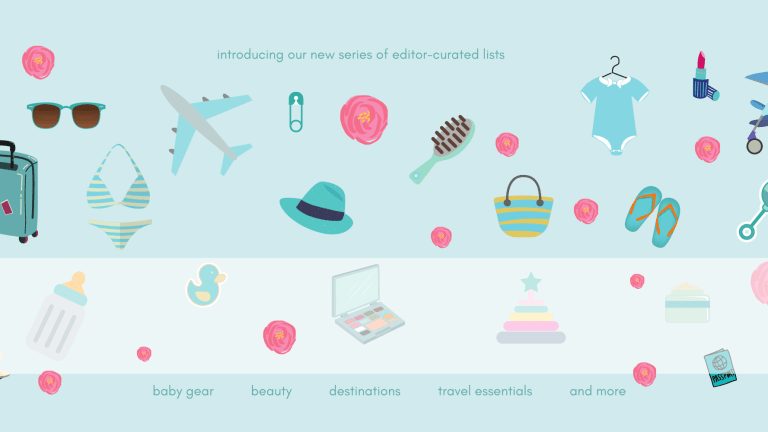 Momtrends MVP'S: Simple Makeup Must-Haves
You don't have time for elaborate makeup here are our top picks for natural-looking makeup.
The natural-makeup look was my go-to makeup look long before the pandemic ever took hold. I have always preferred the less is more approach unless I was really going out on the town. And that is why it was fairly easy for me to transition to an at-home makeup look. I didn't really have to transition, I was already there. Haha!
Simple Makeup Must-Haves
Essentially, that meant many of my favorite makeup products worked just fine for my at-home look. Now you might wonder why I wear makeup at all when I'm home. The truth is, a few weeks into quarantine, I realized that if I felt even a little pulled together, my mental state was better. Plus, I was on Zoom often enough that it made sense.
So, I applied a natural makeup look daily and in doing so, found some products that I could add to my favorites list! And even though things are starting to open up and we find ourselves out of the house more these days, the natural look is trending for spring. Think nude lips and neutral eyes. You can always add a twinge of sparkle to those eyes, but more on that later...
I actually am a big proponent of the natural look for reasons beyond trends. It can actually de-age you. That's right, with the right makeup you can look younger. And being that my twenties are pretty far in the rearview, I am all for anti-aging products, even makeup. A lighter lip for instance tends to do better on aged lips than a deep, pigmented color.
And while the 90s are back in full swing, emo, over-lined, eyes are a thing of my past, no matter what's in style. Bwah! I am all about a soft neutral shadow and makeup that opens my eyes! I may be willing to swap out my skinny jeans, but you won't catch me drawing circles around my lids with jet-black liner. Just sayin'.
The Best Natural Looking Makeup
If you too want to feel put together, yet don't want to apply a million and one products for your at-home makeup look. Or even if you like to lighten up your makeup when the weather heats up, this Momtrends MVP's list is for you. I rounded up a bunch of my favorite natural makeup look products to help you highlight your beauty!
I am assuming that you caught our night moisturizers roundup, so your skin is in great shape! And if you didn't, you still have time to work a good skin care regimen into your daily routine. The goal of at-home makeup is to let your skin shine through!
So, let's talk about the best natural-looking makeup for an at-home makeup look. By the way, I am not suggesting that you need to use every product here for an at-home face. Somedays I do them all when I know I have a heavy Zoom day and some days I only use a couple, but I digress...
Best Tinted Moisturizer: Charlotte Tilbury Unisex Healthy Glow
If you haven't yet tried a Charlotte Tilbury product, it's the time! There is a reason you've been reading about this brand everywhere! And their tinted moisturizer is just one of their products worthy of praise. Not only will it give you a dose of sun-kissed color, but it will hydrate your skin at the same time. It's just perfect for this time of year when you would like to say goodbye to winter's paler skin, but haven't had enough outdoor time for your skin to reflect it. I rarely wear traditional foundation unless I will be heavily photographed which I typically am not when I'm at home. Haha!
You might not be after the glow that this tinted moisturizer gives you, in which case, Glossier's Perfecting Skin Tint might be more to your liking. It is super lightweight and comes in a slew of hues to bring out your skin's natural radiance.
Get Charlotte Tilbury Unisex Healthy Glow here.
Best Concealer: Maybelline Instant Age Rewind Eraser Dark Circles Treatment Concealer
If I really wanted to go low-key with my makeup I might skip the tinted moisturizer, but not the concealer. My dark circles say no way to that. Luckily I can rely on this drugstore marvel. Anyone who's not a teenager anymore knows that loading on too much concealer ages you. They kept us in mind when they created a formula that doesn't settle into fine lines and make them more noticeable while also diminishing dark circles!
Get Maybelline Instant Age Rewind Eraser Dark Circles Treatment Concealer
Best Nude Lipstick: Fenty Beauty Stunna Boss Nudes Longwear Fluid Lip Color Trio
Now a nude lipstick should be chosen based on your skin tone, but this is a set, so you can see which of the three nude shades work best for you. Who knows? You might even love them all! Plus, I love how much this lipstick stays put. I don't know about you, but I am not likely to reapply makeup all day when I'm at home. With this lipstick, I can hop on a quick Zoom without having to worry about that! And I love the lightweight formula. I don't want to feel like I'm wearing makeup when I'm at home, even if I am!
Get Fenty Beauty Stunna Boss Nudes Longwear Fluid Lip Color Trio
Best Blush: Tarte Cosmetics Amazonian Clay 12-Hour Blush
This is one of the steps you could skip if wanted to streamline your at-home makeup look, but this particular blush just might convince you otherwise. Its silky formula dance across your skin and blends nearly instantly! Swipe some up the apples of your cheeks and forget about it for the rest of the day. You can because this stuff LASTS!
Get Tarte Cosmetics Amazonian Clay 12-Hour Blush
Best Neutral Eye Palette: Urban Decay Naked3 Palette
I love this particular palette because it's perfect for everyday wear. You can create a nice, subtle neutral look or even a smoky eye if you want to. And it contains both matte and metallic shadows, so you can add a wee bit of shimmer if you're so inclined. I tend to just use one shade unless I'm going out. This cult-favorite brand will not steer you wrong with their palettes and this one is no exception!
Get Urban Decay Naked3 Palette
Best Eyeliner: CoverGirl Perfect Blend Eyeliner Pencil
Again, eyeliner is not a daily product for me, but it does look great on camera. So, it's another one that I use on more Zoom-filled days. And being that I don't use it all the time, I'm more inclined to go for a drugstore eyeliner versus a splurge. This NYC liner fits the bill. It's under $10, super easy to use, and glides on like a dream! I only line my top lids, so it's still a somewhat subtle look, but it gives me a little extra oomph.
Get CoverGirl Perfect Blend Eyeliner Pencil
Best Mascara: Wander Beauty Unlashed Volume and Curl Mascara
I am definitely not bringing out the eyelash curler on at-home days. Thankfully I don't have to with this mascara. It curls and gives my lashes enough volume that I can just use mascara on my eyes and nothing else and still feel pretty put together! Add some concealer, lipstick and brow filler and I'm golden.
Get Wander Beauty Unlashed Volume and Curl Mascara
Best Brow Filler: Makeup Forever Aqua Brow
And that brings me to our final at-home makeup list focus, the brows. Age has taken away the super lush brows I once had, so there aren't many days I don't fill them in. I keep it subtle though, especially when I'm home. I actually use a shade lighter than my natural brows to avoid the overdone look!
So, are you ready to ramp up your everyday look or what?! Hopefully, you found a new product or two for your at-home makeup look. Natural-looking makeup is here to stay, at least for me. And I bet I am not alone!
And after you take off that makeup, don't forget to apply your favorite moisturizer. In case you missed it, we shared our favorite night creams last month!
Stay tuned for our next Beauty Momtrends MVPs -- Since we took on-at-home makeup looks this time, I would say makeup for an evening out would be fitting for our next go around wouldn't you?
How We Pick Our MVP's
Momtrends MVP's is a non-sponsored series. Brands must meet our strict standards to be included. When naming winners we take several factors into account, including expense, convenience, and style.
We make our picks annually based on editors' research. In some instances, we may request and receive samples so that we can more thoroughly assess products. Our opinions are our own, and our goal is to help our community of moms make more informed decisions on everything from baby gear to beauty products to vacation destinations and more. We scour the abundant options and painstakingly hand-pick our favorites, so you don't have to. Our hope is that our most valuable players become your most valued purchases.
Want more Beauty MVP's from Momtrends?
PIN IT!
Use Pinterest to save your favorite beauty finds. Be sure to follow our Beauty board here.