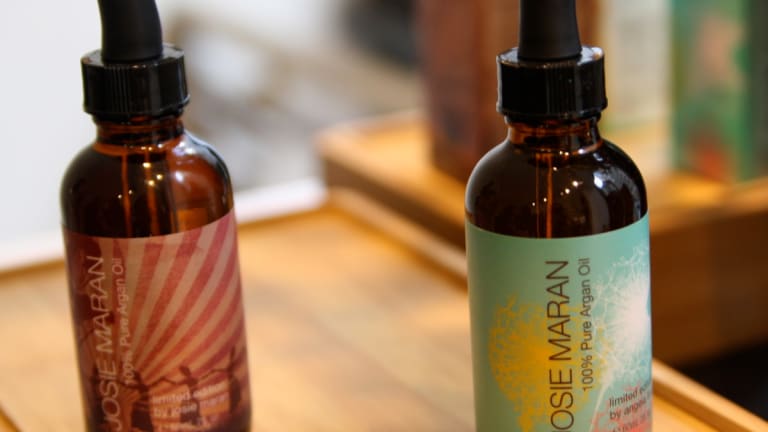 Josie Maran's Model Citizen Argan Oil Collection
New launch from Josie Maran helps women look great and gives back to women in need.
I have been a fan of Josie Maran's line of eco-friendly beauty products for years. It's wonderful that Josie has become a mom boss and launched her own line of products-- Josie Maran's Model Citizen Argan Oil Collection is worth your time and money.
Josie Maran's Model Citizen Argan Oil Collection
Featuring products with Argan Oil, an all-natural, 100% organic, chemical-free product from Morocco that can be used to soften skin, restore elasticity, reduce inflammation, condition hair, heal acne and scars, minimize fine lines and it is even gentle enough to treat dry skin on a baby. No wonder it is also referred to as "liquid gold" and has even achieved a cult-like status in the beauty industry.
Giving Back and Building a Brand
As a best-seller in her Josie Maran Cosmetics line, she wanted to do more for various charitable causes and teamed up with fellow models, Angela Lindvall and Petra Nemcova, to create "Model Citizen." This limited line features the same exact Argan Oil formula but with artwork designed by the models where 10% of the purchase price will be donated to a cause of the designing model's choice.
At a recent launch of the "Model Citizen" line at Sephora, I spoke with Josie about her passion for living eco-friendly and how that is also a passion for what products she uses and features in her line. She stated, "Living in a sustainable, earth-friendly way that benefits the planet has always been an essential part of beauty for me." She also noted how excited Petra and Angela were to get involved and stated, "we want to encourage everyone to join us in becoming 'model citizens.'
Josie also spoke to me about how excited she is to be a mom the second time around (she also has a five-year-old) and that she is looking forward to having her daughter help out and simply "holding and enjoying the new baby (whose gender will be a surprise)."
Model Citizen Gives Back to Women
In terms of the charities involved with "Model Citizen," Josie is focused on Women for Women International, a charity that given women survivors of war tools to become self-sufficient. For her bottle Josie wanted to capture this organization's powerful message and to reflect this important cause. 
Petra's bottle was designed for her own foundation, Happy Hearts Fund. As a survivor of the 2004 tsunami, Petra, who was unsatisfied with the relief efforts, decided to create her own entity where all donations would go towards children's programming. Angela designed her bottle for Healthy Child Healthy World with dandelion that "embodies our collective wish to protect and preserve the planet for generations to come.'?
An incredible multifaceted product that really works, the "Model Citizen" collection will not only treating your skin but it will support those in need. Now, that is a beautiful thing.
The limited edition "Model Citizen" line is available at Sephora
MORE BEAUTY FROM MOMTRENDS
PIN IT!
Use pinterest to save your favorite beauty tips. Be sure to follow our Beauty board here.
Momtrends was not paid for this post. We were given samples.