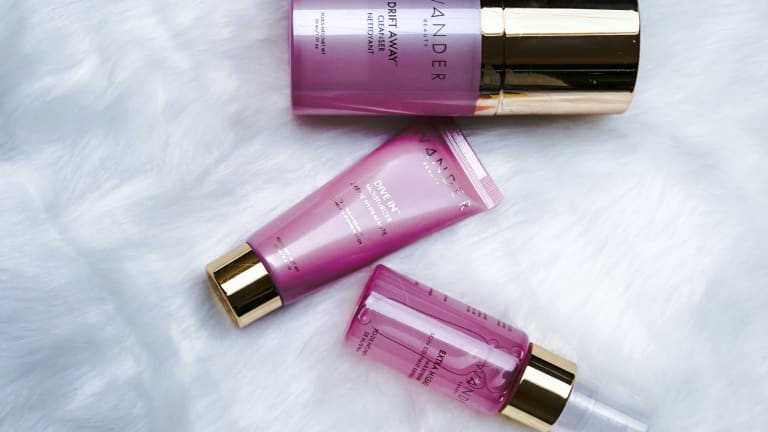 Minimum Effort On the Go Beauty Finds
Get ready for your next vacation with our favorite new minimum effort on the go beauty finds! From cleanser, to moisturizer and even a power house hair product, you'll want to make sure all these products are in your suitcase!
When it comes to your beauty routine would you say you're a maximum or minimum effort kinda girl? I'm probably somewhere in between. While I love testing a host of new products for you lovelies, I also like to have a go-to, somewhat paired down, routine that includes on the go options. Imagine my delight when I tried out some new minimum effort on the go beauty products from Wander Beauty.
Related: Perfect makeup for a low key summer
These powerhouse beauty products were simply made for traveling. Being that I'm gearing up for some pretty killer trips this spring, the timing couldn't be more perfect. And I bet I'm not the only mama with fun vacays on the books. That's why I thought you should know about these fabulous new on the go beauty finds too!
On the Go Beauty Products Perfect for Travel
First up, let's talk cleansing. While I typically opt for beauty wipes when I'm traveling, if I'm going to be gone for more than a few days, I want to make sure I can properly clean my face. Hey, our mugs are exposed to a lot when we're out and about in the elements sightseeing. You want to wash all that off at the end of the day. The Wander Drift Away Cleanser gently washes away all traces of those harsh impurities and your makeup.
Next, how about we focus on moisturizing. I'm sure if you've read my beauty columns before you know that it's one step in my beauty regimen that I never skip. That being said, when I'm traveling I'm less focused on a strict regimen. I need products that can go with the flow as I never know where the day will take me. Wander Dive In Moisturizer has serious staying power. I'm talking 72 hours worth of hydration.
So if you find yourself away from your hotel room until the wee hours of the night, you don't have to worry about your skin drying out! How's that for minimum effort, maximum results? I'd say this moisturizer definitely qualifies for minimum effort on the go beauty, wouldn't you?!
Now you could grab each of these products on their own OR you could pick up Wander Beauty's handy dandy No Days Off Discovery Kit. Now only does it come in a travel-ready clear pouch, but it also includes the Extra Mileage Hair Refresher. With all those Insta travel photo opps, we want good hair right? Bwah! And that's why we so often get a blowout before we leave for a trip. Well, don't waste those blowouts baby. Make them last with a few spritzes of this refresher! It sops up excess oil and leaves behind a pleasant, yet light scent.
More Beauty Tips for On the Go Moms
Now that you've seen my take on minimum effort on the go beauty finds, make sure you check out our favorite Wander makeup products too! This multi-tasking makeup is just what us busy moms need! And did I mention they're cruelty free? That's always a plus with this animal lovin' gal!
MORE BEAUTY FEATURES FROM MOMTRENDS
PIN IT!
Use Pinterest to save your favorite beauty finds. Be sure to follow our Beauty board here.
We were not paid for this post. We did receive samples.