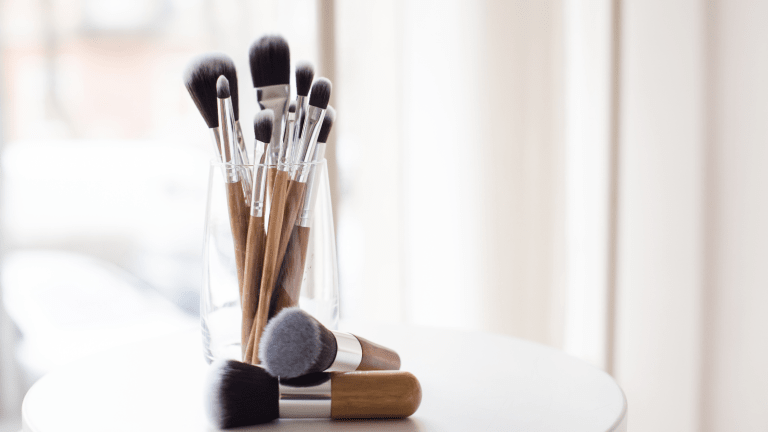 Makeup 101: Tips for Keeping it Clean
Here are five practical tips for even the busiest mom when it comes to applying makeup safely.
I'm a busy mom, and often times makeup takes a back seat to things like--oh, I don't know--babies and breakfast and nursery school drop-off and diaper changes... Most days, I'm amazed if I've managed to get makeup on my face at all. But when I do get primped and prepped, I want to make sure I'm taking the necessary precautions to keep my products clean and my skin, face, and eyes safe. 
Related: Cleaning up your makeup habits
Here are five practical makeup tips for moms
Know the Expiration Date: Whenever possible, I use a Sharpie marker to write the date I opened a product right on the package--that way, I won't forget when it's time to throw it in the garbage.
Clean Brushes: Clean brushes between uses with a tissue or baby wipe. Use a makeup cleaning spray weekly; and do a deep cleansing every three months with baby shampoo or face wash.
Sharpen Your Pencils: Keep the tips fresh and pointy--that will help avoid germ contamination and get rid of any jagged edges that can damage your eye.
Don't Apply Makeup in a Moving Vehicle: This should be a given, but as busy moms we can be guilty of multitasking. Seriously though, you never know when your taxi/bus/train will hit an unexpected bump. (You don't want to be curling your eyelashes when that happens!)
Remove Makeup Each Night: Avoid raccoon eyes! Sometimes I'm exhausted and want to go straight to bed with a full face of makeup, but then I gather my willpower and give my skin a gentle cleansing. Egyptian Magic (available in Wholefoods stores) is a natural product that works wonders, and gets rid of makeup in a snap.

MORE BEAUTY FROM MOMTRENDS?
PIN IT!
Use Pinterest to save your favorite beauty finds. Be sure to follow our Beauty board here.
This post is not sponsored. All opinions are our own.