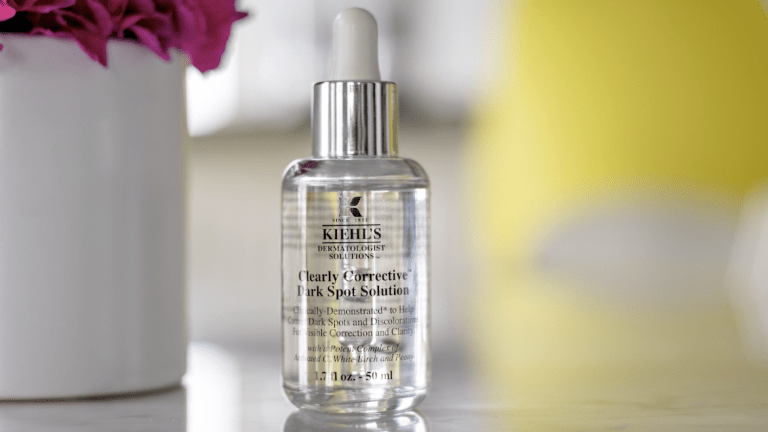 Kiehl's Clearly Corrective Serum Review
Beauty solution for discoloration and brown spots
I've been testing the new Kiehl's Clearly Corrective™ Dark Spot Solution and am ready to share the results. As I'm closing in on 50, I'm working to get and keep the best skin possible. That means trying new things and sharing what works.
One of the issues I'm dealing with is discoloration. I'm looking for a non-invasive way to decrease dark spots. 
Our Kiehl's Clearly Corrective Serum Video Review
Beauty solution for discoloration and brown spots
I'm really happy with the results. I have seen an overall improvement in the skin color. The dark spots have faded and I've got a glow back to my skin. And this Kiehl's product is not only good for the discoloration that comes with aging. 
Kiehl's Clearly Corrective Serum Ingredients
Kiehl's focuses on ingredients that come from nature. The serum is formulated with Activated C plus White Birch and Peony Extracts. Let's break it down by ingredient. First, the "Activated C."  Kiehl's says Vitamin C helps reduce dark spots and prevent the formation of new skin discolorations.Next is the, white birch extract. This is a sugar-derived ingredient. It's known for its ability to restore hydration and nutrients to the skin. It's meant to help even out skin tone.
Finally the peony extract. This is traditionally used in Chinese medicine. Peony extract is a natural antioxidant that helps protect against oxidative damage. I like seeing ingredients that are found in nature. What goes on my skin should be as natural as possible. 
Ready to try something new?
Purchase Kiehl's Clearly Corrective Serum Review here.  
If you do, please let me know your thoughts.
For more of our Kiehl's reviews
Pin it!
Use Pinterest to save your favorite beauty reviews.
This Kiehl's Clearly Corrective Serum Review feature is not sponsored.