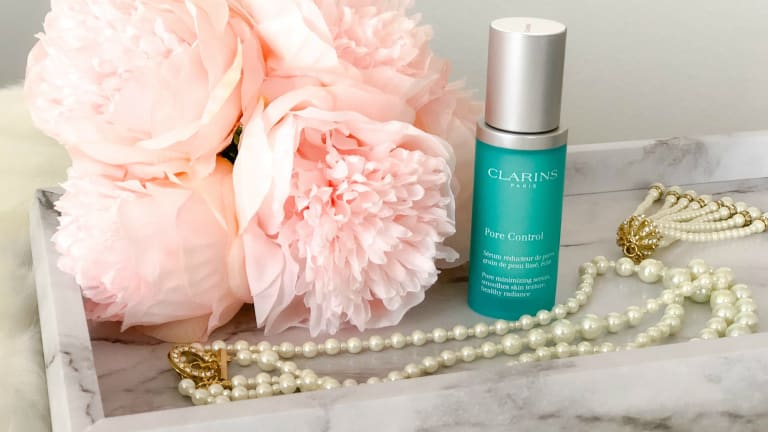 How to Shrink Enlarged Pores the Easy Way
Enlarged pores...Who else simply can't stand them? I've been searching for a solution to the how to shrink enlarged pores dilemma for ages. I've had them on my nose and cheeks for as long as I can remember caring about my skin. That means a LONG time. Bwah! And squeezing my pimples to oblivion when they popped up in my teen years didn't help matters. Sure, I take care of my skin the right way now, but I think I became skincare obsessed a few years too late. Le sigh. The damage has been done. That being said, I haven't given up on shrinking those pesky pores. Defeat is not in my vocabulary!
Now don't get me wrong, it's not like my pores are crater sized, but I notice them. And isn't that enough? I always want to feel like I'm putting my best face forward. That's why I'm forever reading up on the latest skincare tricks and tips and talking to my doctor, esthetician and pro makeup artist friends in my quest for clear, smooth looking skin. Plus, I'm somewhat of a try-a-holic. I'm more often than not testing out new skincare products every single week. And while some are winners, some promise way more than they can deliver. Fortunately, that is not the case with the product I'm going to give you the skinny on today. Say hello to Clarins Pore Control.
Shrink Enlarged Pores
Clarins Pore Control serum packs a seriously powerful punch y'all. Hey, I have to combat tired mama face. We ALL know what that looks like. Undereye circles to the MAX. If I could stop worrying about the rest of my face while I fight those, I'd be one happy girl. I mean getting plenty of rest and drinking lots of water are powerful tricks all on their own, but let's be real. It's about to be the holiday season. The busiest time of the year at work and home do not typically lead to extra snooze time. So, having products like this Clarins Pore Control serum means I can worry less about my skin and more about LIFE. Haha!

So, let's talk about what exactly Clarins Pore Control serum does. First, it exfoliates, which helps unclog those enlarged pores. Next, it tightens your skin, visibly reducing the appearance of said pores. And, finally, it mattifies. That's right. It gives you a smooth, matte look that I like to call filtered. It's a real live Insta filter for your face. I typically rely on primers for that effect, but this serum does it too, along with everything else I mentioned. Now doesn't that sound like a product you need STAT?! Who knew the how to shrink enlarged pores question could be answered so easily? Start now and your skin will be holiday party ready in no time!
More Beauty Tips and Tricks
Now that you've seen how to shrink enlarged pores the easy way, check out why we can't get enough of burgundy lips this season! Get ready to add our favorite fall lip color to your holiday looks too! You'll have to fight your honey off with a stick. Does anyone else remember that commercial? It still makes me laugh, but I digress...I'll let you go so you can concentrate on whipping that skin into shape!
This is not a sponsored post. It does contain affiliate link