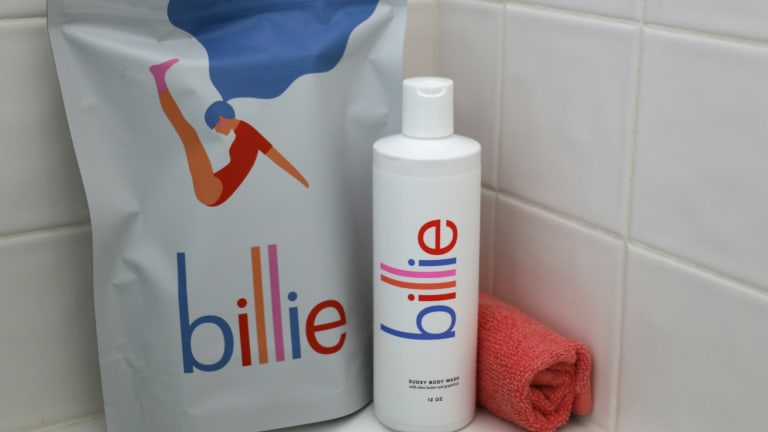 Who wants to save money on razors? Come on...raise your hands! And if you're forever stealing your husband's razor too, raise those hands higher! You can bet this girl has both hands stretched up to the sky over here. I just can't seem to find a razor that gives me as good a shave as my honey's razors do. I mean us ladies want a super smooth shave with no irritation too right?! Well, get ready because I'm about to blow your mind. I came across a new women's razor that delivers on ALL that AND is a great deal too. Score! And did I mention that the packaging is super cute as well? Not that packaging is a deal breaker, but a cute container never hurt anyone. Haha! On that note, let's talk about Billie!
Women's Razors for Less
Billie is a subscription body care and razor delivery service, specifically created for women, that you can customize according to your needs. And it won't cost you an arm and a leg. The starter kit is a mere $9 and comes complete with a "Billie handle" which is the razor handle (and it comes in array of fab colors by the way), a magnetic holder that you can attach to the wall for easy access and 2 5-blade razor cartridges (which are encased in aloe, goodbye irritation). After that Billie will deliver 4 replacement cartridges for $9 whenever you need them. They're actually priced to be in line with men's razor delivery services. No more pink tax!! You know that tax that seems to always be applied to products just because they're marketed to women. Yeah, that's a thing of the past here. Does Billie sound like a game changer or what? I told you I would tell you how to save money on razors!
Final Thoughts on Saving Money on Saving
The savings coupled with the quality of the product means I'm sold on trying out my own razor delivery service. The hubs has been signed up for his own for ages and I'm guessing I'm not the only person in my house who's excited about my solution for how to save money on razors. The hubs won't have to replace his as often or encounter dulled blades. Bwah! Plus, they also offer a shave cream, body wash (which you can also use a a shave cream) and lotion. I don't know about you, but I'm terrible about remembering to pick up more body wash when I'm at the store. Now I can just have it delivered with my razors. And that is just another way this razor delivery service makes life easier!
So, now that you've seen my thoughts on how to save money on razors, why not make your own exfoliating soap? Let's hear it for having smooth skin this season! Hey, it will be time to bare that skin in no time!
We were not paid for this post. It does contain affiliate links.