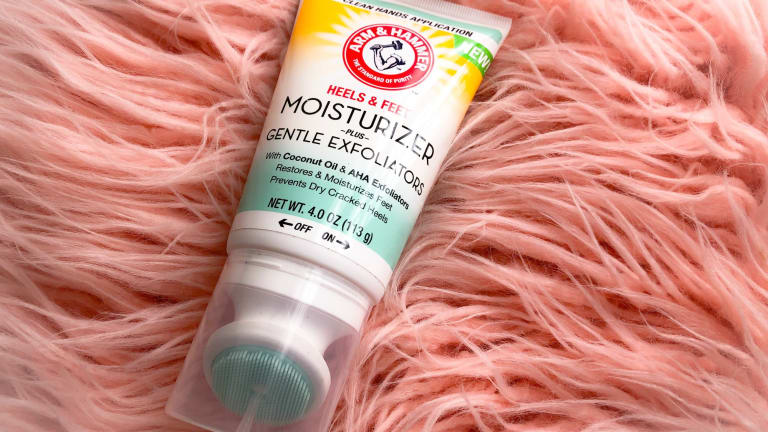 Publish date:
How to Heal Cracked Heels in Time for Summer
There is no form of footwear that I love more than sandals. That being said, all that sandal wearing can lead to dry, cracked heels. And some of us just tend to have dry skin in that area no matter what types of shoes we wear. Am I right? So, I know you would love to know how to heal cracked heels! I mean let's face it. Dry, cracked heels are simply not a good look. You want people noticing your fabulous shoes, not your heels! Summer is coming, and for some of us, spring temps call for sandals too. So, it's high time we got our feet in shape to show them off!
Thank goodness for the new ARM & HAMMER™ Foot Care Moisturizer + Gentle Exfoliators product. At under $10, this product will help you get sandals ready in no time! The super hydrating coconut oil and AHA exfoliator work together to heal and hydrate your feet, plus prevent those cracked heels from making an encore appearance. And you can find it at your local CVS. Easy peasy! Now you don't just have to take my word for it. In fact, we checked in with an expert, podiatrist, Dr. Emily Splichal, for her take on how to heel cracked heels in time for summer...
Our feet get stressed every day with the average adult walking 5,000 - 8,000 steps a day. All this pounding on the pavement not only stresses the foot muscles but also the skin of the heels. Dry, cracked heels are common with increased walking, especially as we approach the warmer weather and summer sandals.
Neglected dry heels can lead to cracks in the skin called fissures. These cracks in the skin an allow bacteria to enter and increase the risk of infection. My recommendation to patients with dry heels is to hydrate the heels every day (best time is immediately after a shower as the skin has absorbed the moisture from the water) with a once weekly exfoliation such as pumice stone.
For those with cracked heels I recommend a nightly hydration plus an exfoliant such as the ARM & HAMMER™ Foot Care Moisturizer + Gentle Exfoliators product followed by occlusion with silicone heel pads and socks.

Lessons I've Learned Traveling to Sebasco Resort Maine
When you think of a summer getaway to Maine, it's likely you are envisioning something akin to the Sebasco Harbor Resort. Tucked along Maine's rocky coastline, this family-style resort has been hosting families for nearly 100 years. If you're ready to travel, take a look at the ...read more
Five Tips To For a Girl's First Leg Shave
Do you remember your first time shaving? Mine wasn't pretty. I snuck my dad's razor and shaved my legs dry. It wasn't pretty. Get your daughter ready for this rite of passage with the right tools and a quick education. We've got five tips to help you navigate your daughter's ...read more
Why You Should Add Wild Blueberries to Your Diet
Do your New Year's goals involve healthier eating? Adding more fruits and vegetables to your diet? Or even adding tasty new recipes to your repertoire? We've got five reasons for you to add wild blueberries to your diet. Our friends from the Wild Blueberry Association have ...read more
That doesn't sound too hard does it? Now that you know how to heal cracked heels in time for summer, check out our fave nail trends of 2019. Your hands and your feel will be summer ready!
PIN IT!
We were not paid for this post. We did receive samples.