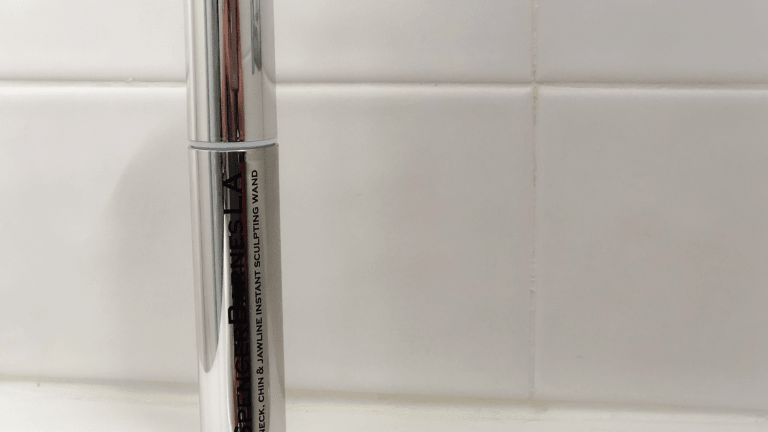 Publish date:
How to Give Your Skin an Instant Lift Without Fillers
Once we say goodbye to our twenties, most of us start to see subtle differences in our skin's condition. My jawline and neck areas, in particular, don't exactly look like they did a decade ago. That being said, I'm not sure if I'm ready to visit the plastic surgeon quite yet. I'm certainly not against fillers, and I may or may not be scheduling a Botox appointment soon, but I'd like to try to bring back a more youthful feel to my skin with some other methods first before I go for more intensive treatments. So, I'm giving a magic wand a try...Who else wants to see how to get an instant lift without fillers?
Sculpt Your Jawline Instantly
Ok, the product I'm sharing today is probably not really magic. Well, it may be if it delivers long term results! Bwah! The Spencer Barnes LA Neck, Chin & Jawline Sculpting Wand is meant to be used for both immediate and cumulative results. I'm new to it myself, so I can't speak to the cumulative results yet, but I can say that after using the wand for just a short amount of time, the areas I apply it to feel firmer pretty instantly. My skin feels more like it did in its prime!I can't argue with that. I'll be sure to report back once I've been using it long enough to talk about longer term results.
So, let's talk about how you use this sculpting wand. It couldn't be any easier actually. You simply pump the bottom of the wand once and the exact right amount of product is ready. Then you apply it to your neck, chin and jaw areas. If you need a little help, there's a video on their website that will show you exactly how to use it. Now you do feel a bit of a warm feeling upon application, but I don't mind it. I love feeling that collagen building.

Lessons I've Learned Traveling to Sebasco Resort Maine
When you think of a summer getaway to Maine, it's likely you are envisioning something akin to the Sebasco Harbor Resort. Tucked along Maine's rocky coastline, this family-style resort has been hosting families for nearly 100 years. If you're ready to travel, take a look at the ...read more
Five Tips To For a Girl's First Leg Shave
Do you remember your first time shaving? Mine wasn't pretty. I snuck my dad's razor and shaved my legs dry. It wasn't pretty. Get your daughter ready for this rite of passage with the right tools and a quick education. We've got five tips to help you navigate your daughter's ...read more
Why You Should Add Wild Blueberries to Your Diet
Do your New Year's goals involve healthier eating? Adding more fruits and vegetables to your diet? Or even adding tasty new recipes to your repertoire? We've got five reasons for you to add wild blueberries to your diet. Our friends from the Wild Blueberry Association have ...read more
And being that the product the antimicrobial roller wand delivers is fragrance free, I am happy to report that my sensitive skin isn't irritated by it. That is huge because the products that deliver the most results are often too irritating for my skin. Sigh. So, if that's a concern of yours, you can rest easy.
Now that you're ready to work on how to get an instant lift without fillers, why not check out some of our other beauty tips and tricks like the all in one hair care product we think you need! We also love this budget friendly facial spray. Summer will be here before we know it and I love keeping this spray in my bag for some quick refreshing when it gets steamy! Speaking of portability, the sculpting wand is perfectly transportable and can be applied anywhere, so feel free to throw it in your bag for on the go use. I know I'm not the only mama who is forever on the go!
PIN IT!
We were not paid for this post. We did receive samples.