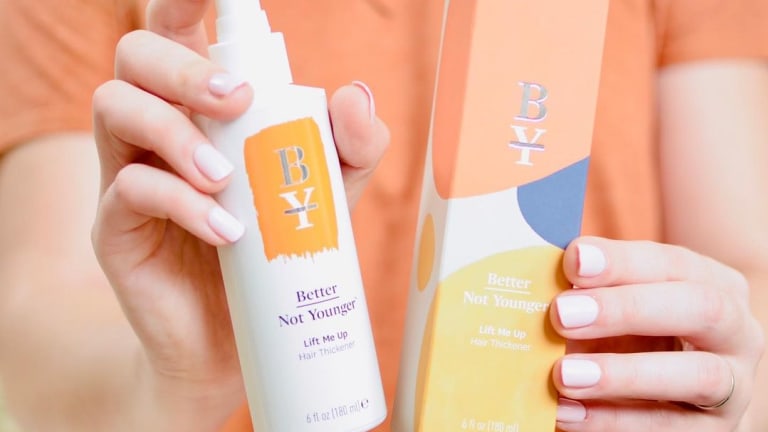 How to Get Thicker More Fabulous Hair
Better Not Younger offers women a hair thickener that's easy to use and gives you fabulous hair.
How are you feeling about your hair these days? As we age, some of us lose thickness in our hair. There are solutions. Better Not Younger offers women a hair thickener that's easy to use and gives you fabulous hair.
If you are over 40, like me, you might be on the hunt for a product to help revitalize your hair. Better Not Younger offers a lightweight spray that wraps around thinning hair strands, lifting hair at the root, and nourishing the scalp and follicles for healthier and thicker-looking hair instantly and over time.
Get Your Better Not Younger Hair Thickener Here.
It's simple to add this product to your beauty routine. You won't need to throw out the products you already own and you won't have to stop coloring. Yep, this award winning formula works for women who color their hair. It adds volume and fullness without stripping or drying hair out. In 2020 it won the New Beauty 2020 Beauty Awards 'Best Thickening Spray' and Harper's Bazaar 2020 Anti-Aging Awards 'Best Hair Thickener.' Are you ready to try it?
How to use it
Using the precision nozzle, spray the formula on wet or damp hair at the roots in areas where hair is thinning and at regular hair parts.
Comb through hair to evenly distribute the formula from root to tip.
Style as usual.
PRO TIP: The product can be reapplied the next day to dry or damp hair to refresh, restyle and add more lift without buildup.
The Science of Better Not Younger
An evolution in hair thickening, this unique lightweight spray is designed to instantly lift hair at the root, providing weightless volume, while essential vitamins and nourishing ingredients help support scalp and follicles, paving the way for a healthy environment for future hair growth.
All BNY products are made from the highest quality ingredients, made in the USA and they are paraben-free, vegan, and cruelty-free. They focus on using mostly natural yet effective ingredients. In this formula you'll find skin-nurturing ingredients like ceramide, biotin, and niacinamide nourish and support the scalp and follicles while instantly thickening the appearance of hair.
Let's break down some of those ingredients:
Ceramide-NG: Essential fatty acid known for protecting the hair shaft on the outer layer of hair and retaining moisture.
Wintergreen Essential Oil: Helps provide a refreshing sensation while nourishing the scalp and follicles for healthier-looking hair.
Niacinamide: A water-soluble B vitamin that is known for supporting hair sheen and suppleness as well as follicle health.
Biotin (B7): An essential vitamin and component for boosting overall hair condition.
What you WON'T find in the formula is SLS and parabens. The vegan formula is cruelty-free (Leaping Bunny certified) and color-safe. It's also safe for keratin or chemically-treated hair.
Win it!
We want to share this awesome product with the community. Here's your chance to try it! Win a Lift Me Up - Hair Thickener. One bottle per winner, three winners total. Use Rafflecopter to enter below.
This is a sponsored post.