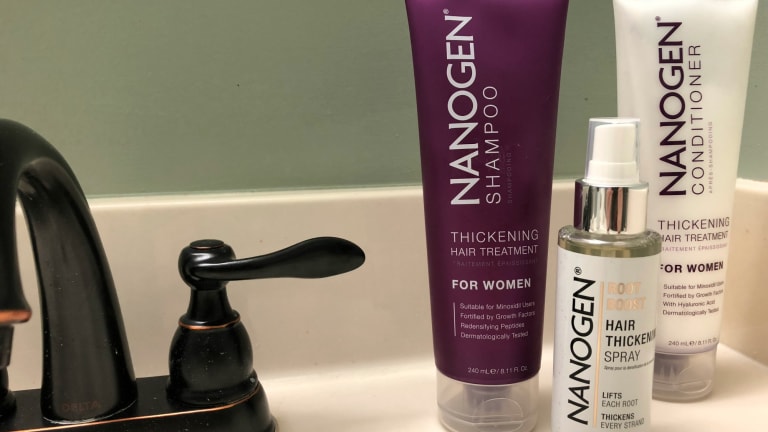 How to Get Thicker Looking Hair
Our easy hair tips on how to get thicker looking hair will give you the full, bouncy mane you're after...
Who wants to know how to get thicker looking hair? All of us right? Haha! I've always had pretty thick hair. You could say it was thick to the point of being a bit bothersome. I remember in my younger days being unable to wear it in a ponytail for long because I would get a headache. Oh silly me. Today I long for those days. Bwah! Because, while I still have a decent amount of hair, it's definitely thinner than it used to be. While I once had to separate my tresses into numerous sections when I was blowdrying, I can get away with like three sections now. So, in recent years I've had to turn to some tricks like adding bouncy waves with a curling iron, more on that later, as well as hair thickening products. In fact, I'm always on the lookout for new hair products and I've come across a new line that I just had to share...
Get Thicker Looking Hair with a Thickening Hair Treatment
Have you heard about Nanogen? It's a UK brand that's landed here in the United States and boy am I glad it has. It claims to help stimulate the production of hair cells and revitalize hair follicles. I'll have to use it longer to speak on that, but I can say that you are in for thicker "looking," shinier, more voluminous hair from the get go. You can say goodbye to those limp roots. Thank you Root Boost Hair Thickening Spray! AND these products contain no parabens or SLS. I can't wait to see how my hair's looking after using the Nanogen Shampoo and Conditioner longer! Hey, even if it never gets thicker, if it simply looks thicker, I'll take it!
Get Thicker Looking Hair with Your Curling Iron
Do you have either a big barrel curling iron or a flat iron? You can get bouncy waves with either. Simply take a 2 or 3 inch section of hair, leave the ends out, curl away from your face, hold a couple seconds and pull down to release. I actually like my second day waves better. So, I'll do this the day before I want my ideal look. I've found that my hair looks thicker wavy than it does curled. It's really easy once you get the hang of it and it's meant to be a bit messy, so you don't have to worry about perfection! It's really just about giving your hair a bit more volume.
For more beauty tips and tricks, check out our take on how to get a summer glow!
We were not paid for this post. We did receive samples.