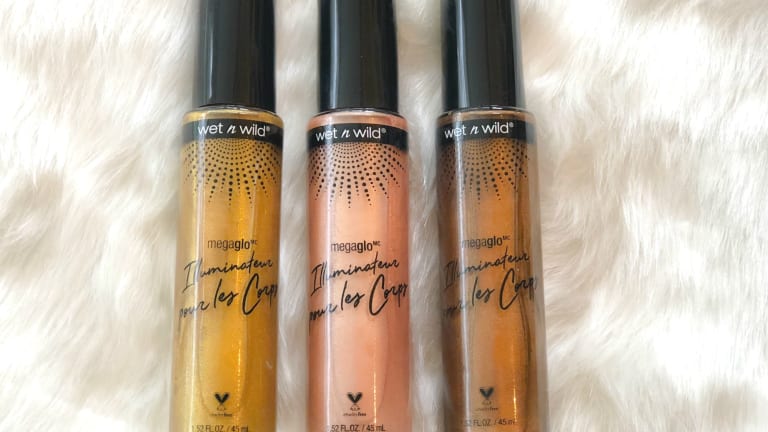 How to Make Your Skin Glow for the Holidays
This post was sponsored by wet n wild as part of an Influencer Activation for Influence Central and all opinions expressed in my post are my own.
Who wants to know how to make your skin glow for the holidays? We all do right? I mean, don't get me wrong. I want luminous skin all year long, but there is nothing like a nice holiday-ready glow to get you through the holiday season. I feel like I'm already in such great spirits because of all the magic this time of year has to offer. I want my skin to reflect how I feel! And on that note, I'm going to a share a product with you today that is going to seriously up your holiday skin game! Let's talk about the wet n wild MegaGlo Body Luminizer and how it's going to make your skin glow for the holidays...
How to Make Your Skin Glow
When it comes to my holiday looks, I go one of two ways, either casual and cozy or all glammed up. That being said, even though I spend the bulk of my holiday errand running etc. in more casual gear, I still want to look great in my cozy sweaters. And luminous looking skin means I can keep the rest of my makeup more subtle. The smokey or metallic eye that I might rock with my holiday party dresses isn't necessary. In fact, I sport sunnies most of the time, so a fun lip and glowing skin are all the beauty focus I need.

Luckily I had to look no further than my local Walmart to find my new go-to beauty product, the wet n wild MegaGlo Body Luminizer. This non stick, all over body highlighter is fully customizable. I, for instance, added a drop of the Heart of Rosegold luminizer to my everyday moisturizer for a look that was glowing, yet not totally glitzy. You could also add a few drops directly to your skin for a more pronounced effect. And you'll love how it feels going on. The Argan Oil, Macadamia Oil, Sunflower Seed Oil, Passion Fruit Seed Oil, Grape Seed Oil and Vitamin E all work together to nourish and moisturize your skin.
Now if all those high points weren't enough to sell you on this glow boosting product, did I mention that it is priced at a budget friendly $9.93? So, if you aren't in love after using it, you haven't mortgaged your life away to buy it. Bwah! But I'm willing to bet you'll be picking up your second bottle in no time! And you know you don't have to go far to find it. Just head over to your Walmart and you'll be glowing in no time! You don't have to put this away until summer...Oh no. Glowing at the holidays is where it's at! How's that for an answer to the how to make your skin glow for the holidays question?! It doesn't get much easier my friends than adding a drop or two of product to your skin!
And for more holiday tricks, check out the shoes every mom needs for the holidays!