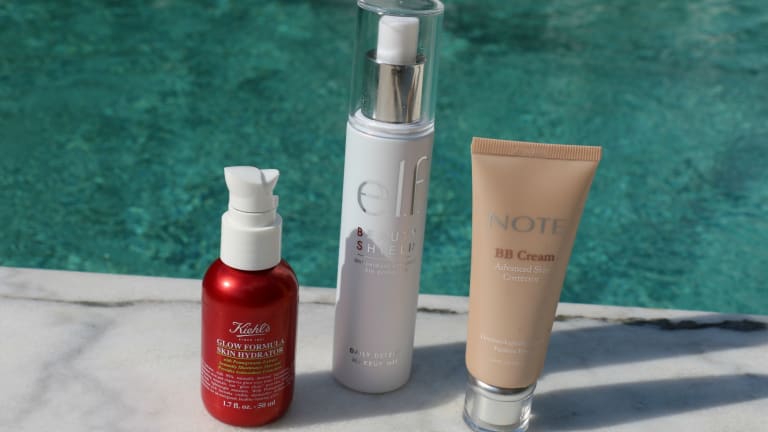 Publish date:
How to Get a Summer Glow Now
Get the summer glow we all covet before summer even arrives...
Get the summer glow we all covet before summer even arrives...
So, who wants to know how to get a summer glow now? We all do right? I'm sure I'm not the only girl who steers clear of tanning these days. It's simply not healthy to expose our skin to the sun's rays without some protection. And that's why I never step out of the house, especially this time of the year, without sun protection. That being said, just because I don't bake doesn't mean I don't want my skin to have that healthy kinda glow that looks like I enjoy being outside. And I don't have to use self tanner to get it. Neither do you. Not that I'm opposed to self tanner, but it's a lot of work and if I'm not up for the process, I have some tricks up my sleeve that help me achieve a healthy sun-free glow.
I promise if you give these go-to products of mine a try, you'll be glowing in no time too!
How to Get a Summer Glow
Kiehl's Glow Formula Skin Hydrator...This multi-purpose product is a moisturizer and SO much more! I tried it out for the first time recently and fell in love, like I do with most of Kiehl's' products. Not only does it contain pomegranate which helps soften and improve the texture of your skin, but it contains illuminating minerals that really do seem to light up the skin. I have no doubt that this product is going to be one of my empties in no time! On a side note...Another one of my favorite skin tricks is to use their Turmeric and Cranberry Seed Energizing Radiance Masque. It too gives you an instant glow! 

Sleep hack to give moms a more restful night
Looking for a life hack to get better sleep? Here's my go-to sleep hack to give moms a more restful night: get better pillows. Thanks to perimenopause, my sleep has been interrupted and I was finding it hard to get back to sleep after my 3am wake-up. I lowered the temperature in ...read more
Our Best Brow Tips
If you've been on TikTok at all in the past couple of years, you know that full brows are where it's at. Sure, the 90s are back, but thankfully, the kids left that decade's overplucked brows trend good and buried. Now even if you don't have the naturally full brows you once did, ...read more
5 Pretty Ways To Organize Your Jewelry
I admit - I'm guilt. Despite my best efforts, my "jewelry drawer" has become a tangled mess of necklaces, bracelets and earrings. This cluttered collection not only makes it hard to see what I have, but difficult to untangle the pieces I do want to wear! This summer, I'm ...read more
e.l.f. Daily Defense Beauty Shield Makeup Mist...As you'll find with most of the products I share, this be used for numerous purposes too. First, it can protect your skin against the pollutants it's faced with every time you step out the door. All that exposure can lead to aging and a less than glowing complexion. It can also be spritzed on throughout the day for instant hydration. AND you can use it refresh the look of your makeup. Speaking of makeup...
Note BB Cream...My final tip for how to get a summer glow now is to mix a bit of BB cream in with your moisturizer. When warmer weather arrives, I want a lighter look and by mixing a few drops of my favorite BB cream with my everyday moisturizer, I get a more natural, glowing look. I like Note's formula because it also contains an SPF. It's nice when you can cut down on the steps in your beauty routine, especially when we're talking about your morning routine. Us mamas are BUSY in the morning! Am I right?!
For even more summer beauty inspiration, check out my must-try beauty sticks!
We were not paid for this post. It does contain affiliate links.