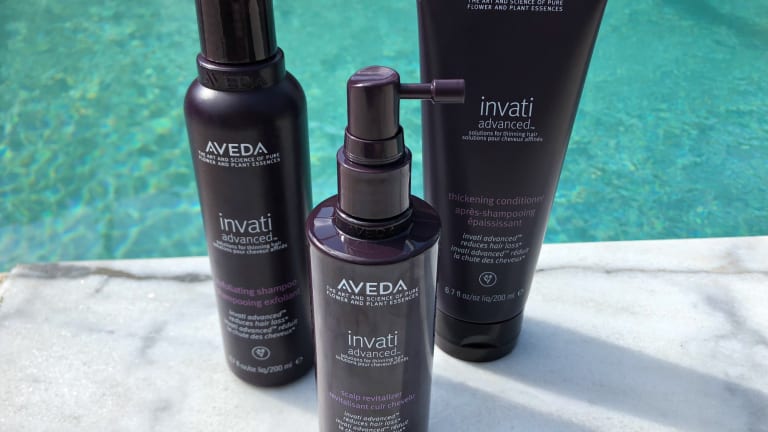 Publish date:
How to Fight Thinning Hair in Young Women
Who wants to know how to fight thinning hair in young women? This is a topic that I've been a wee bit obsessed with myself for more years than I care to count. You see, it runs in my family. So, I've been thinking about how to fight thinning hair for quite a LONG time! This is a "realize that you need to go to battle before the enemy has taken over" kinda situation. Now I'm not suggesting that you obsess over your hair. Hey, we're moms...and we're busy. We don't have time to worry about every single strand that lands in the drain. If we have our health, we can count ourselves lucky. But there's no reason we can't purchase products that will help keep our manes looking lustrous and youthful. I mean we're buying shampoo and conditioner anyway right? And that's why I'm sharing some new finds for fighting thinning hair in young women...
How to Fight Thinning Hair in Young Women
A few years back I noticed that my ponytail wasn't quite as thick as it used to be. That's when my search for products that could help fight thinning hair in young women really heated up. As I'm sure any of you who have focused on this topic know, there is no shortage of thickening hair care products out there. And I have found that many of them give my tresses a nice volumizing boost. But I also wanted to try out products that might potentially be able to help treat the issue versus only camouflage it. And I think I may have done just that...I've been doing the whole Elsa side braid, fluff out the pieces so it looks like you have more hair thing, but that will only take me so far. So, let's talk about why your hair may look like it's thinning...
Let me ask you something. Do you get a lot of blowouts and avoid washing your hair to extend said blowouts? Are you a bit of a dry shampoo addict? Well, you could be clogging up your hair follicles by not washing enough. Don't get me wrong. It's not like I've been washing my hair every other week, but I have been on a twice a week or so schedule. Whereas before, I used to wash it every other day. Another thing I'm also guilty of is not brushing my hair on the days I go its natural wavy texture. Well, did you know that brushing your hair can stimulate your hair follicles too? For the past several years I've been beating up my poor hair follicles and I didn't even know it!
Thinning Hair Products to Try

Fun Ways to Discover Venice Italy with Your Family
Greetings from Italy wear the gelato is rich, the clothes divine and the scenery is inspiring. Now that I've been to this fine city in the north of Italy, twice, I've amassed a list of favorites to share. These are some fun ways to discover Venice, Italy with your family. ...read more
Here's What No One Tells You About Olive Oil
produce is at its absolute PEAK right now. It's the time to prepare fresh veggies and fruit with ease and simplicity. When it comes to cooking, the farmer's market is my muse. As I prepare some of my summer harvest favorites, I'm sharing a little secret, what you put ON the ...read more
Enter Aveda invati advanced Exfoliating Shampoo. This powerhouse product exfoliates your scalp and helps remove the buildup that can clog pores. It can also combat breakage which does you no favors in the thin looking hair department either. I'm already noticing a difference now that I'm focusing on stimulating my hair follicles and using products like this that cut down on build up! I told you I was serious about figuring out this how thinning hair in young women conundrum. And you can use the complementary thickening conditioner to make your hair look thicker and the scalp revitalizer to fight hair loss. This 3 step system is key you guys!
Now, unfortunately, I've heard from both my doctor and my hair stylist that genetic hair loss is its own beast, so I might not be out of the woods just yet, but until it becomes clear that genetics are affecting my hair situation, invati just may be the ticket to fighting thinning hair in young women like myself. It's time to wake up those hair follicles! I promise I'll report back in a few months, to see if things have continued to improve! For now, I'm going to enjoy my thicker looking hair. Beachy waves have never sounded like a better idea! Because who wants limp, lackluster locks in the summertime? Not this girl!
Now that you've learned more about fighting thinning hair in young women, check out what I consider to be the only eyeshadow palette you need this summer!
We were not paid for this post. We did receive samples.