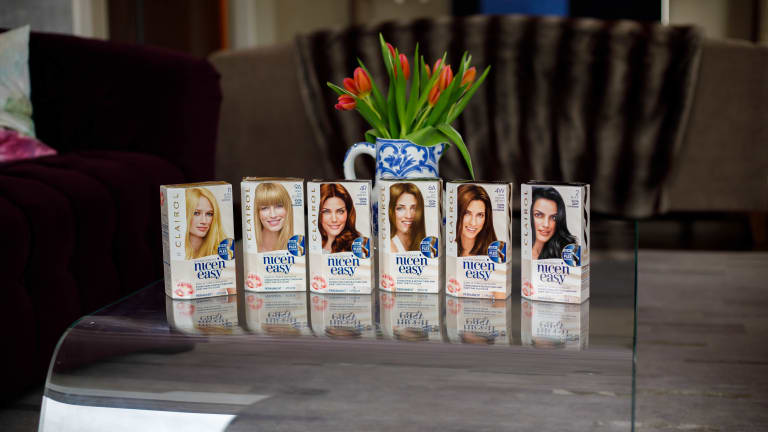 How to Color Your Hair at Home Like a Pro
I am now learning how to color my hair at home. And, to help us all through this time at home, Clairol is posting tips and tricks for home coloring.
As you know I have been partnering with Clairol to bring to you how I have been incorporating their products into my at home hair routine in between my salon visits. Last week in my Instagram stories I received a lot of interest in how to handle root growth while we are at home. I have always been a fan of Clairol's Root Touch-Up products, but I am now learning how to color my hair at home. And, to help us all through this time at home, Clairol is posting tips and tricks for home coloring on their Instagram page.
Check out How I Color My Hair at Home Like a Pro
I wish I could tell you life got simpler as the kids get older. As I close in on 50 I absolutely love my life and all that fills it. My life is full and fabulous. Rather than bemoan the lack of time I have to do everything I want, I'm creative in coming up with real-life solutions for working moms. And if you color your hair, coming up with options is extremely useful.
There are 4 types of women when it comes to hair color.
Those who go all natural and embrace the hair god gave them and the grays that come with age.
Those who have a firm commitment to a colorist and a salon and would never dream of taking on hair coloring at home.
Those who ONLY color at home and are masters of mixing.
Those who dabble in hair coloring to save the time and money from going to a salon every month.
I'm definitely #4. That's where Clairol Nice'n Easy Permanent Color comes in.
I adore my hair colorist. Raphael and I have been together for years. He's really a genius and I love talking travel with him. But as a mom who is rarely in one state for a long period of time, I can't always count on a salon appointment to cover my grays. 
Clairol Nice'n Easy is a permanent coloring at home solution that offers me 100% gray coverage with the rich color I crave. Some at home color can look flat, but I'm striving for tones and nuance in my hair – which is exactly what Nice 'n Easy gives me I love that it looks natural, especially in natural light, and add dimension to the hair color. 
Momtrends Tip: Always perform and allergy test before using new products.
STEP 1 Prep Color: Combine the Color Créme and the Color Activator
STEP 2 Apply Color: Clairol Nice'n Easy allows women to get great color in the comfort of home. Clairol Nice'n Easy has a PLEX conditioning agent that strengthens and restructures your hair every time you color. Once the color is on, you won't be bothered by a chemical smell. Nice'n Easy has a fresh scent, while the color worked it's magic for a total of 25 minutes, I caught up on emails!
STEP 3 Condition: The CC+ ColorSeal™ Conditioner locks-in color and keeps hair healthy. Use the ColorSeal™ Conditioner conditioner once a week to make the vibrancy and shine last. The creamy conditioner smells fantastic. 
Momtrends Tip: When shade matching, note that you can only go up to shades or down two shades.
First Timer Tips to Color Your Hair at Home Like a Pro
Grab some old towels to protect your work area.
Pick a shade that is as close to your natural hair color as possible 
Wear a button up shirt when coloring (you don't want to pull a crewneck over your head with color on it!)
Why I pick Clairol Nice'n Easy
There are 52 natural looking shades. Whether you want the blondest blonde or the most intense black, there's a color for you (I'm 6A, light ash brown). Clairol Nice' n Easy offers a rich, radiant, healthy-looking color that stays true until the next application with 100% gray coverage.
The formula offers a blend of three tones and highlights that looks fabulous in natural light. Clairol Nice'n Easy is easy to use and helps working moms and busy women feel fabulous without investing a trip to the salon.
This is a sponsored post in partnership with Clairol.