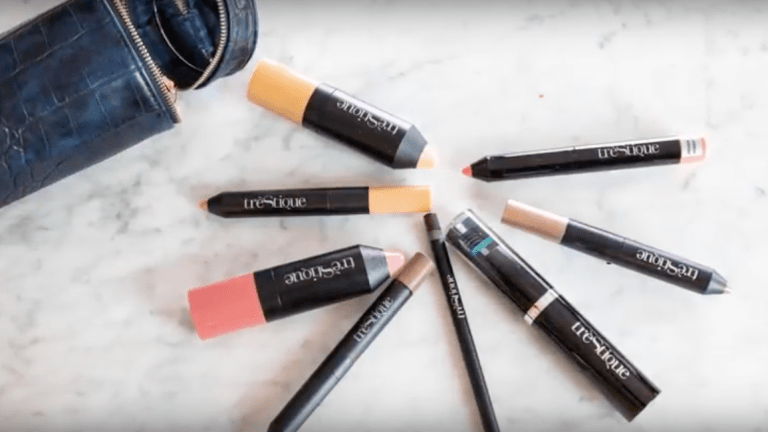 How to Apply Makeup in 5-minutes
Makeup essentials for a quick and easy routine that works for even the busiest mom using the Trestique Essential 8 Routine.
No one has time for a complicated makeup routine--especially now. But rather than throwing in the towel when it comes to your beauty routine, I believe in the power of a personal care routine to make you feel pretty. That's why I love trèStiQue. 
Use Code: MOMTRENDS for 20% off $30 or more on trestique.com
Trestique Essential 8 Routine Video
From start to finish, here's how I get my makeup done in 5 minutes.
Trestique Essential 8 Routine
That's right. Eight products and five minutes, that's all you need to get a complete, flawless face and feel like you've at least accomplished one thing for the day. As I shared in the video, each piece has a special two-in-one aspect. All the Trestique products comes with built-in applicators included for the modern woman on the run. 
Related: How to color your hair at home like a pro
These products help make my morning routine simply and repeatable. I just grab my Deluxe Le Pak bag and quickly work my way through the eight steps. 
What I'm Wearing from Trestique
There are a ton of options when it comes to customizing the colors for your face. Here's what the Trestique team put together for me. They will personalize an Essential 8 for you too.
Tinted Face Stick: Paradise Island Beige
Concealer: Bisque
Blush: Moroccan Rose
Brow Pencil: Americano
Eye Pencil: Swiss Chocolate
Shadow Crayon: Venetian Shimmer
Lip Glaze: Paris Pink
Mascara: Good Vibes 
Ready to order? Use our special discount code for the Momtrends Community. Use Code: MOMTRENDS for 20% off $30 or more on trestique.com
More Beauty Features from Momtrends
PIN IT!
Use Pinterest to save your favorite beauty finds. Be sure to follow our Beauty board here.
This is a sponsored post.