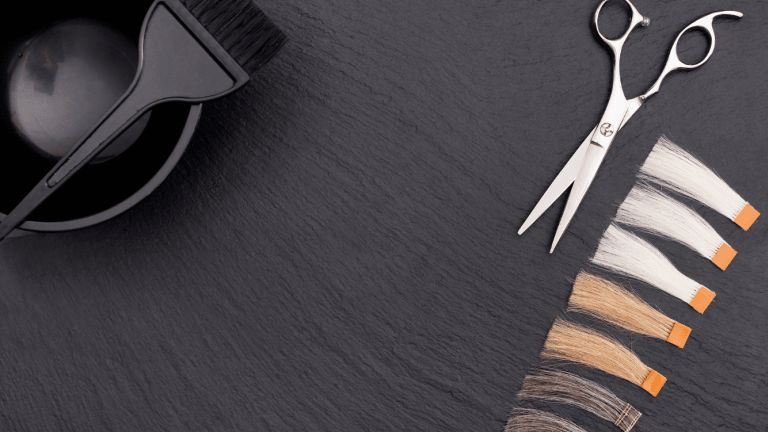 Momtrends MVP'S : The Best At Home Hair Color
We shared our favorite at home hair color products from box dyes, to temporary gray covering products and more!
If you asked me a year ago if I would consider coloring my own hair, I would have said no way. Fast forward to today and I am no longer a stranger to at-home hair color!
I'm not going to lie, it took me a little bit to get there. When the hair salons first closed down last year, I thought I could just wait until I could get in with my stylist again. Little did I know that would mean waiting a LONG time.
So, eventually, I decided I had to take matters into my own hands and get rid of that gray myself. I just couldn't sport gray roots indefinitely. There is no judgment in that statement.
Related: Our picks for best hair tools
The Best At Home Hair Color
If you decided 2020 was the year you were going to embrace your natural hair color, more power to you! I know so many women who look just beautiful with their gray locks. I'm not there yet, and as such, I had to figure out at-home hair color.
I can't exactly say it was easy, but dying my hair wasn't as scary as I thought it would be. YouTube videos were my best friend. Just sayin'.
Another trick to getting good results from your at-home color attempt is to use the right products. There are a lot of options out there, so my goal with this Momtrends MVP's beauty edition is to narrow things down for you.
Now I know most states are pretty open these days and you're probably back with your stylist now, but even when I could return to my stylist's chair, I found myself holding on to the products that helped me cover up those roots in between appointments. And I bet I'm not the only one!
At this stage in the game, my gray starts to show within a few weeks tops. I obviously can't dye my hair every 3 weeks. Enter gray covering products. They have been serious game-changers for this girl!
So, whether you want to save some money and start coloring your hair or you just need something to help you get by until your next appointment, I have you covered with my top at-home color picks!
Best Box Hair Colors
Best Drugstore Box Hair Color: 
Who says coloring your hair has to be expensive? This box color retails for under $5 in most cases and delivers rich, even hues making it perfect for those of you who want to cover gray and achieve a hair color that looks natural. And if you've used box colors before you know they often come with an unpleasant scent. You lose that here thanks to Revlon!
Get Revlon ColorSilk Beautiful Color Hair Color here.
Best Ammonia-Free Hair Color: 
Ammonia is, in a word, damaging to your hair. If dry, frizzy tresses are on your no thank you list, this ammonia-free box dye is the gentle option you've been looking for. Plus, the results are usually pretty true to the color on the box. The last thing you want is a surprise when you're coloring your hair at home!
Get Clairol Natural Instincts here.
Best Non Traditional Hair Color
I fully plan on going shocking blue once my tresses are completely gray and I decide I've had enough of all the root touch-ups and highlights. So, I always love hearing about the latest fun, funky coloring options available. If you want to get loud with your color, this at-home color pick from Manic Panic brings the thunder! With options like midnight blue, turquoise and amethyst, fun is definitely on the table. Did I mention it's vegan too?
Get Manic Panic Classic High Voltage here.
Best Root Touch-Ups
Best Longer-Lasting Root Touch-Up 
This product costs a bit more than some of the others I have included, but it more than earns its price tag with efficacy. It immediately covers up your gray like the even more temporary options that I included below but lasts for up to 2 weeks. Plus, it fades like a dream and won't mess with your existing hair color, so you get a very natural look.
Get Madison Reed Root Reboot here.
Best Root Touch-Up Gel
Much like Natural Instincts, this touch-up color is ammonia-free which is a bonus of course. But the real reason I included it is because, while it too is temporary, it lasts for up 10 washes. So, there is a little less commitment, but you can touch up those roots in the weeks leading up to your next hair appointment without having to cover them every day like you would with a product that washes out with one shampoo. 
Get Clairol Root Touch-Up here.
Best Temporary Gray Covering Products
Best Waterproof Gray Covering Gel
With summer upon us, it's water season. Whether you're sailing, swimming in your pool, or frolicking on the beach, if you covered up your gray for the occasion, you want that color to stick. This gel will only come out once you shampoo it, so you're safe to play in the water as much as you want! And precise application is a breeze.
Get Garnier Express Retouch here.
Best Gray Covering Powder
This is another product that I wouldn't call a bargain, but I would call it worth every penny! Madison Reed is known for its at-home hair color, but their root covering powder deserves its due too. It conceals your roots AND gives depth to a thinning hairline too. As if that wasn't enough, you can use it as an eyebrow powder as well!
Get Madison Root Touch Up here.
Best Gray Covering Spray
I love this spray not only because the gray coverage is instant, but it's super lightweight which makes it difficult to overdo the color. You certainly don't want roots that look loaded down with product! And by bringing it a bit beyond your root line, you can blend the coverage so it looks seamless.
Get Oribe Root Touch-Up Spray here.
And with that, we are at the end of our best at-home hair color picks! No matter what your color needs are, I hope this list has proved to you that you can reach your goals right from the comfort of home!
As always, stay tuned for our next Beauty Momtrends MVPs list…And make sure you check out our favorite hair tools if you haven't yet. Once your hair is colored, our favorite tools will help give you a killer style!
Momtrends MVP's is a non-sponsored series. Brands must meet our strict standards to be included. When naming winners we take several factors into account, including expense, convenience, and style.
We make our picks annually based on editors' research. In some instances, we may request and receive samples so that we can more thoroughly assess products. Our opinions are our own, and our goal is to help our community of moms make more informed decisions on everything from baby gear to beauty products to vacation destinations and more. We scour the abundant options and painstakingly hand-pick our favorites, so you don't have to. Our hope is that our most valuable players become your most valued purchases.
WANT MORE BEAUTY MVP'S FROM MOMTRENDS?
PIN IT!
Use Pinterest to save your favorite beauty finds. Be sure to follow our Beauty board here.