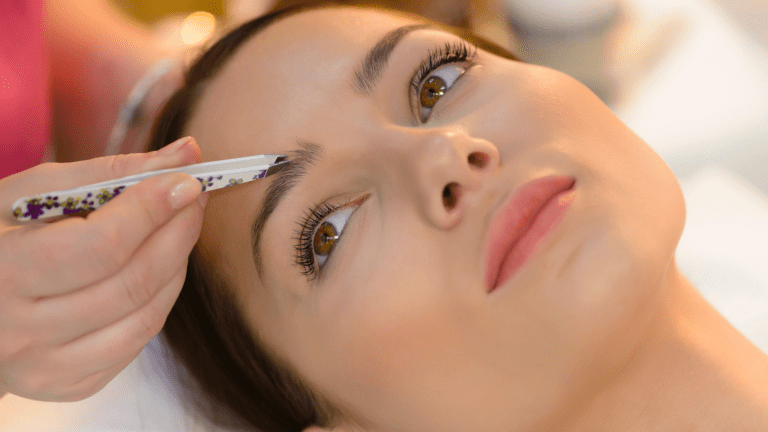 Grooming 101: How to Handle Any and All Brow Blunders
Taking care of your brows can be tricky, we've got expert tips on how to tackle your questions about brow care.
As women, we are pretty familiar with how to handle skincare 911's, blunders with our hair, shaving mishaps, and how to correct makeup mistakes. But, when it comes to brows, this particular part of our face can be a bit more mysterious. Many of us grew up simply waxing, tweezing or leaving them au naturel until brows became the hottest "accessory," As a kid and then teen, I had thick unruly brows that desperately needed to be managed. It took me years to find the right brow artist to tame those beasts. And in my mid-30's, I'm still figuring out how to maintain them without running to a professional. 
Related: Perfect makeup for a low key summer
With a multitude of ways to groom those babies, what are you to do in a brow emergency? For expert advice, we turned to Umbreen Sheikh, a licensed cosmetologist, and founder + CEO of Wink Brow Bar and Salon in New York City.
Problem: Overplucking your brows
Almost every woman has gotten too close to that magnifying mirror and been overzealous with a tweezer. Umbreen says, "Don't fear. You can fake it till you make it with subtle makeup tricks that will help to create the illusion of a fuller, thicker brow. This can be done with Wink's own Brow Perfecting Quad." Brush the two powders through, then brush through again to blend for a natural-looking finish. Finally, use a highlighter to camouflage any random hairs. Umbreen says that "Drawing a straight line under your brow will help minimize the appearance of strays. This will also lighten and brighten the entire eye area, drawing more attention to the eyes."
Problem: Creating a too wide eyebrow gap
The obvious solution to this is to fill in the points closest to the bridge of the nose to lessen the gap. This can be done via microblading. Microblading is a semi-permanent tattoo technique used to create the illusion of fuller brows. With this method, Umbreen can create almost any look and shape. First, Wink technicians consult with clients about the best brow shape for their face and choose a color that matches the natural hair color and skin undertone. The brow area is then cleaned and numbed for the treatment. Instead of using a tattoo machine, a handheld tool manually draws hair strokes. This all can take up to 30 to 40 minutes. Results can last anywhere from one to three years, depending on your skin type (the ink fades faster on oily skin), products, and lifestyle. It's also an ideal procedure for women who have lost brow volume due to age, menopause or chemotherapy.
Problem: Unruly Brows
Bold, feathery brows are in, but messy is an adjective you never want to be associated with your arches. "If your brow hairs are "wonky," you need a game plan for controlling them," says Umbreen. If your arches do need a trim, Umbreen suggests brushing your brows up towards the top of your ear with a spooly brush and cutting only the tips off the long hairs pointing the scissors down, (not parallel to the brow). "This gives trimmed brows a natural look, because none of the hairs are exactly the same length," As a finishing touch, mist a spoolie with hairspray and brush it through brows—directing the hairs up for a lifted look.
Problem: Matching your brow color to your hair exactly
In the case of the hair on your head and your eyebrows, you "don't want to match the curtains to the carpet," says Umbreen. Very often, a hair colorist will suggest that you tint your brows much lighter if you are going blonder. Umbreen disagrees with this. "Darker brows will act as a frame for the face and enhance your eye color. Generally, it will give you the appearance of a lot more brow." If you have gone too light or too dark, "eyebrow tinting is the process of applying semi-permanent dye to enhance, shape, and define your brows. This can be done at salons such as Wink. "It gives the appearance of thicker, more youthful-looking brows," says Umbreen. An average session takes only about 15 minutes and the color should last anywhere from 3-6 weeks. It's instant gratification as your new eyebrow color will be immediately apparent.
Problem: Plucking brows too short
Eyebrows that are too short can make your eyes and nose look too big. If you have plucked them or waxed them so that you look like you have half an eyebrow, of course, you can spend the time to pencil them in every day but that is time-consuming and takes skill to make both brows symmetrical. Or… you could get eyebrow extensions.Similar to eyelash extensions, eyebrow extensions are done with tiny fibers of mink or synthetic hairs. The brow extension fibers are then attached to either bare skin or to existing hairs, giving them a fuller, stronger look. The service is from 25 mins to 90 mins depending on the thickness or amount of work required.
The Problem: You're so squeamish for waxing or you bruise easily
You would be hard-pressed to find a woman who enjoys the tear of a strip of wax against her eyelid to remove tiny eyebrow hairs, but yet we put up with it in the name of beauty. For anyone who has ever deviated from their regular waxer on a vacation or business trip, you have most likely ended up being cut or bruised by overly aggressive waxing. There is a great alternative for everyone called organic threading. 
As Umbreen explains, "With its origins in Asia centuries ago, eyebrow threading is a simple process that is often considered to be one of the most painless (and least invasive) options for shaping brows. The threading process is simple and typically involves a single piece of cotton thread, After wiping the eyebrow area clean with alcohol, the thread is "twisted and pulled along areas of unwanted hair acting like a mini-lasso, lifting the hair directly from the root without the use of any chemicals or unnecessary tugging on delicate skin. As opposed to waxing, tweezing, or lasers, threading is considered one of the safest and most precise methods of hair removal, especially in the delicate areas surrounding the eye. "Threading allows our specialists to have greater control over which hairs are removed." The technique is also "100 percent natural," which means there are no artificial waxes, chemicals, or invasive techniques used during the procedure.
Problem: You've made your brows too big and bold.
Don't assume you have to wash it all off. Instead, take a cotton swab dipped in makeup remover and carefully trace your brow's natural outline. Remember, brow product should be applied within the brow's hairline, not beyond it. Cotton swabs will remove any unwanted shading that has ventured too far outside the lines.
Problem: Trying at home to make both eyebrows symmetrical
This is one of the most common mishaps that Umbreen hears from clients who tried to 'go it alone at home.' Umbreen offers, "When you obsess over making your eyebrows look exactly the same, you can wind up over-plucking them. Too-thin brows are much worse than ones that are just a tad different. Your eyebrows are supposed to be sisters, not twins.
MORE SUMMER BEAUTY FEATURES FROM MOMTRENDS
PIN IT!
Use Pinterest to save your favorite beauty finds. Be sure to follow our Beauty board here.
This is not a sponsored post