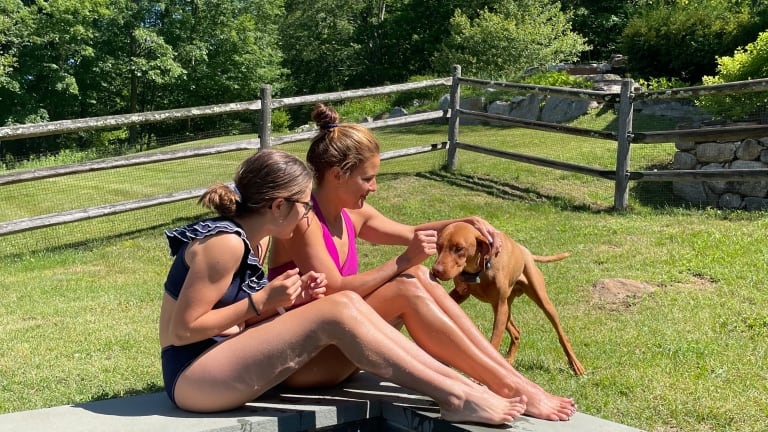 Five Tips To For a Girl's First Leg Shave
Get your daughter ready for this rite of passage with the right tools and a quick education to make shaving safe and simple.
Do you remember your first time shaving?
Mine wasn't pretty. I snuck my dad's razor and shaved my legs dry. It wasn't pretty. Get your daughter ready for this rite of passage with the right tools and a quick education. We've got five tips to help you navigate your daughter's first leg shave.
Related: Our favorite online tween fashion inspiration
I'm trying things differently. I have an open dialogue with my girls about personal care and that includes shaving. The right tools and a healthy open dialogue makes shaving easy, and dare I say FUN. Ready to get started? Here are my five "mom tips" for first time shavers

Talk it through! Let your daughter know you support her and are there to help. It might even help to do a little demo before you start.
Get the right tools. Use a razor like Schick Intuition that is easy to grip and made for female parts and curves to help minimize nicks and cuts.
Never shave dry! You'll either need shaving cream or oil or a better razor. A smart razor like Schick Intuition that has a built-in skin conditioning solid (just add water and shave - no need for shave gel!) for a comfortable and smooth shave. It lathers and shaves in one easy step.
Use a stool or tub edge. As a newbie, it's nearly impossible to balance and shave at the same time. Have an easy spot to prop the leg up to shave.
Don't rush! Make sure the first experience is a fun, low-key event. If your daughter is shaving for a big event or trip, don't wait until the night before.
With a good attitude and the right razor you'll be ready to take on this right of passage. Get your Schick First Time Razor pack here.
MORE Resources for Moms of tweens FROM MOMTRENDS
PIN IT!
Use Pinterest to save your favorite beauty finds. Be sure to follow our Parents of Teens and Tweens board here.