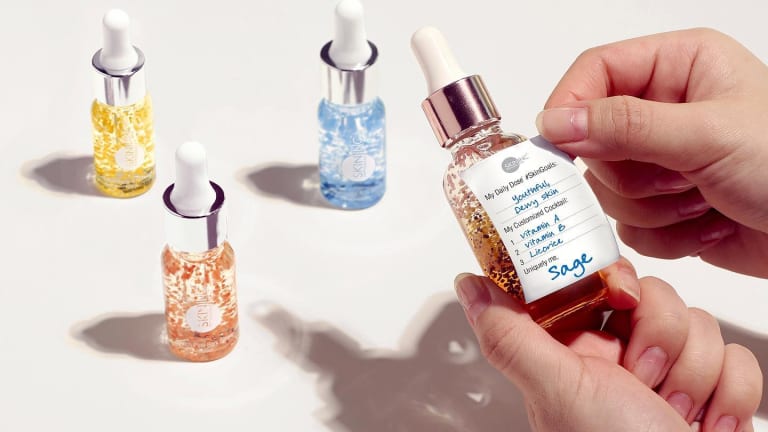 Find Your Blend - SKIN INC's Custom Facial Serums
Create your very own skin serum that's personalized to your skin's needs.
Redness, dry skin and acne? Or dullness, discoloration and dryness? Or fine lines, oiliness and acne? Sometimes it can be frustrating to find facial products that meet all of your skin's needs. Until you try SKIN INC's My Daily Dose Custom Blended Serum. With this unique product, you get to create your very own skin serum, personalized to your skin's needs.
Related Tips for Organizing your Makeup
SKIN INC's Custom Facial Serums
You start by taking SKIN INC's Skin Identity Test online that not only asks you about the problems you know about (I see you fine lines and hyperpigmentation), but also a host of questions about where you live, your habits, and lifestyle that might hint at other skincare concerns for your skin like additional sun exposure or environmental stress. Then SKIN INC suggests a serum blend just for you from 9 different options. You can also just pick the three serums you'd like to mix together based on their descriptions or choose one of their pre-made trios for anti-aging, brightness or hydration.
I choose a blend of Chorella (tackles skin dullness and reduces the appearance of pigmentation for clearer, brighter skin), Hyaluronic Acid (replenishes and holds moisture for long lasting hydration in your skin) and Vitamin C (combined with Vitamin B6 and Vitamin E to help reduce the appearance of pores and better balance sebum production in your skin).
When they arrive in separate vials, you mix them together and use 2-3 drop every morning before your moisturizer.
TIP: Use a small funnel into the mixing bottle to keep three vials bottle upside down for a while to get all the product out. If you just pour them, you'll miss getting it all.
Each ingredient is held in colored alginate (seaweed) encapsulation process which keeps the ingredients protected and stable until you apply them to your skin, allowing them to penetrate your skin. The serum isn't oily so you'll definitely want to apply your regular moisturizer over it. I was a bit skeptical at first, but can tell you my skin saw an big difference within two days of using it. I applied it morning and night before my moisturizer and saw my redness in my chin and cheeks practically vanish (thanks Chorella!) and a glowiness arrive (cheers Vitamin C!).
I'm a believer. Get your own custom blends serum at ILoveSkinInc.com and in-stores at Sephora in New York.
WANT MORE BEAUTY MVP'S FROM MOMTRENDS?
PIN IT!
Use Pinterest to save your favorite beauty finds. Be sure to follow our Beauty board here.
Momtrends was not paid for this post. We did received a product sample. This post may contain affiliate links. By clicking and shopping, you help support Momtrends and allow us to keep reporting on trends.