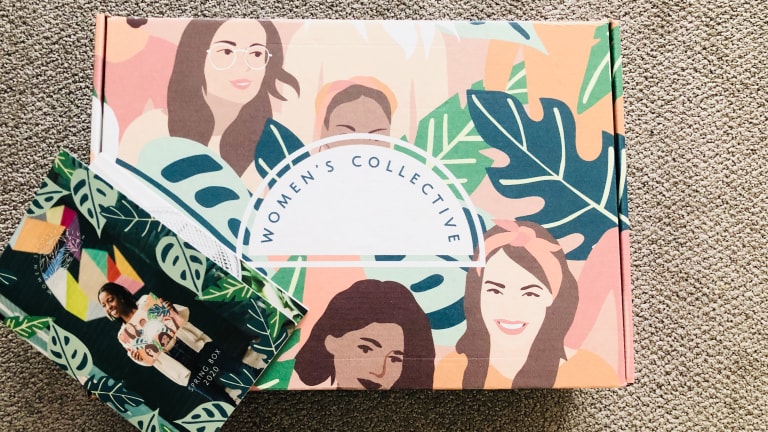 Female Empowerment Subscription Box Made By Women Entrepreneurs
Introducing The Women's Collective Box, a NEW "Female Empowerment Subscription Box" Curated With Unique Products Made By Women Entrepreneurs
Created by an entrepreneurial mom of three, the Women's Collective Box celebrates femininity in a powerful way by providing items created with intention and purpose to subscribers. Save 10% on you subscription with code: momtrends10
Related: Lip care brand we love started by women
What is the Women's Collective Box
Check out our video review here
The Women's Collective is a new subscription box that delivers quarterly. Each box is meant to help you discover exciting new brands run by women. You'll get to learn about the coolest new products and support women-run companies along the way. 
When Women's Collective Box founder, Rashelle Whiteharris, became a mother to her first child, she decided that it was time to become her own boss. As she navigated life as a new parent and full-time photographer, Rashelle discovered a network of women whose creativity, ambition, and talent were changing the face of entrepreneurship. She saw first-hand how women, their ideas, and their products flourished within communities that valued their voices and empowered them to succeed. 
What's in the box
The first Women's Collective Box will feature a pair of artisan handmade earrings, an all-natural clay face mask, a vegan leather wallet, a minimalist planner and a custom soy candle made exclusively for The Women's Collective Box. 
Individual boxes are $54.95 (valued up to $200), a $20 discount is offered with an annual subscription ($49.95 per box).
Save 10% on you subscription with code: momtrends10
Why I shop to Support Women
"When women work together amazing things come out of it. Our mission is to build a community of women who want to help raise each other up," – Rashelle Whiteharris, Creator of The Women's Collective.
With every quarterly delivery, subscribers will not only take part in supporting the business mavens of today but empower the female founders of tomorrow.
Rashelle feels so strongly about supporting other women in business that she has made it her mission to donate 5% of all Women's Collective Box proceeds towards helping up-and-coming women entrepreneurs take their ideas to the next level.
More Entrepreneurship from Momtrends
PIN IT!
Use Pinterest to save your favorite finds to support women. Be sure to follow our Mom Boss board here.