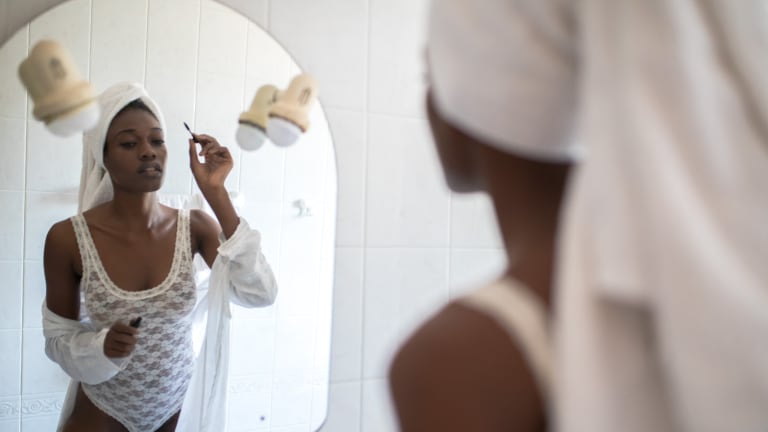 Publish date:
Our Top Summer Beauty Tips
We shared some of our top summer beauty tips today including sunscreen, self tanner and even our favorite anti-aging device!
We shared some of our top summer beauty tips today including sunscreen, self tanner and even our favorite anti-aging device!
Summer is a time when I love to pare down my look. My beauty routine, for instance, just isn't quite as involved as it is the rest of the year. That doesn't mean I don't have one at all however. A woman of a certain age, ahem like a women in her thirties, needs to take care of her skin. But you can do things like switch out heavier creams for lightweight lotions and perhaps lock in a good multi-purpose product so you can skip a step or two. 
Related: Summer beauty essentials
I'm all about living an easy breezy life in the summertime and I'm certainly not keen on devoting an hour to my beauty regimen at night. I'd rather spend some extra time on the porch sipping a glass of wine with my honey, but I digress...Since I bet you too would like to focus on just a few beauty tricks right now, I decided to share some of our top summer beauty tips!
Multi-Tool for your Skin
If you do one thing for your skin this summer, use an anti-aging device. It tackles so many issues and you don't have to use a million and one products to get the smoother, younger looking skin that a tool like this can deliver. I know I said I'm all about a scaled down summer routine, but this is not a step I want to skip. The Mia Sun from Clarisonic is a three-in-one device for cleansing, a firming massage, makeup blending, and more. Get the Mia at Sephora here.
Get a Tan the Safe Way
We certainly know better than to bake in the sun anymore. Sure, a golden tan looks way betty with summer's skin baring styles, but is it worth the damage that it can bring? Not only does tanning age your skin, but you have the skin cancer potential to contend with too. There are plenty of good self tanning products out there now. Use them! Head here to get our top three self tanner picks.

Sleep hack to give moms a more restful night
Looking for a life hack to get better sleep? Here's my go-to sleep hack to give moms a more restful night: get better pillows. Thanks to perimenopause, my sleep has been interrupted and I was finding it hard to get back to sleep after my 3am wake-up. I lowered the temperature in ...read more
Our Best Brow Tips
If you've been on TikTok at all in the past couple of years, you know that full brows are where it's at. Sure, the 90s are back, but thankfully, the kids left that decade's overplucked brows trend good and buried. Now even if you don't have the naturally full brows you once did, ...read more
5 Pretty Ways To Organize Your Jewelry
I admit - I'm guilt. Despite my best efforts, my "jewelry drawer" has become a tangled mess of necklaces, bracelets and earrings. This cluttered collection not only makes it hard to see what I have, but difficult to untangle the pieces I do want to wear! This summer, I'm ...read more
Skip the Sticky with Powder Sunscreen
Wearing sun protection daily will forever be my number one summer beauty tip! Even if you're not baking in the sun and rockin' self tanner like I suggested, you can incur plenty of sun damage with everyday activities like driving, playing outside with your kids and even just popping in and out of the grocery store. Wear sunscreen every single day. They even make it in powder form now! Here are our top three powder sunscreens.
So, there you have it...our top summer beauty tips. For more tips and tricks, check out my take on new anti-aging skincare must haves!
MORE SUMMER BEAUTY FEATURES FROM MOMTRENDS
PIN IT!
Use Pinterest to save your favorite beauty finds. Be sure to follow our Beauty board here.
We were not paid for this post. We did receive samples.
For even more Momtrends, follow us on Facebook,Twitter,Pinterest, and Instagram.