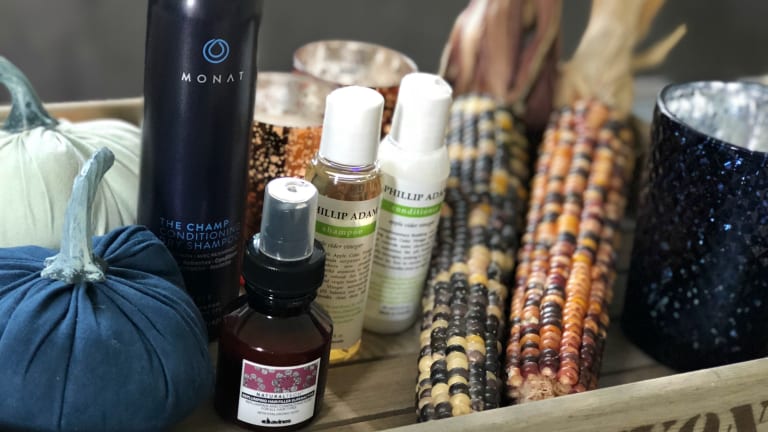 Publish date:
4 Fab Fall Hair Care Finds
How happy are you with your hair care products? I have some fab fall hair care finds that are probably going to make you change your mind even if you are perfectly content with your current hair care routine! You see, fall is a great time to switch things up and really get your hair into shape. Winter's dry fall temps will be headed your way before you know it and you want your tresses to be able to handle them! So, I thought I would share a few new products that have find their way into my own fall hair care routine...Get ready to add these fab fall hair care finds to your regimen STAT!
Fall Hair Care Finds to Try
Philip Adam Apple Cider Vinegar Shampoo and Conditioner...Do you find that static is an issue for your hair, especially in the cooler months? Well, this shampoo and conditioner duo adjusts your mane's PH balance which cuts down on that static electricity AND leaves you with detangled, shiny hair. Plus, it smells amazing. Score!
Naturaltech Replumping Hair Filler Superactive...Who wants thicker, fuller looking hair? The answer is...Don't we all?! Well, with this handy daddy product, thicker looking tresses are totally within your grasp. Not only does it plump your hair up, but it adds texture too. It's the perfect finishing touch for those days you want that extra bit of volume!
Monat The Champ Conditioning Dry Shampoo...Raise your hand if you're a dry shampoo addict. You know this girl has both hands up over here! In fact, I'm forever trying out new dry shampoo products. I'm always looking for the perfect combination. You know one that doesn't leave a white residue, smells great and knocks that annoying grease out. Well lovelies, this magical dry shampoo does all three!
Now that you have the skinny on my fave new fall hair care finds, check out my easy steps to a shine free face! Your skin AND your hair are going to look fabulous for fall...just in time to complement all that fun fall fashion we're all so excited about!
We were not paid for this post. We did receive samples and it does contain affiliate links.