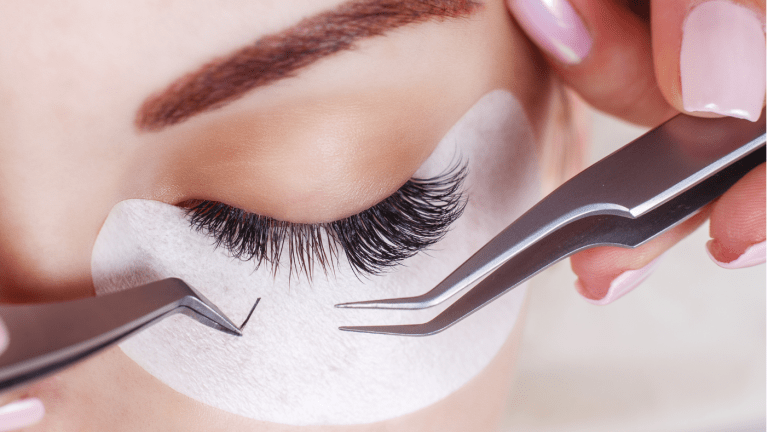 Beauty Testing Eyelash Weaving
Wonder if eyelash extensions are for you? We tested out the latest trend in beauty treatments in NYC.
Wonder if eyelash extensions are for you? We tested out the latest trend in beauty treatments in NYC. The process took about an hour and gave me huge results. 
I went to the pretty studio in midtown to try this beauty experiment. I trust Jenna (she's a friend and a blogger) so I wasn't too nervous. To get started, I told her the look I was going for--my eyes just pumped up.
Related: The best hair removers
Beauty Testing Eyelash Weaving
The first step is getting comfortable with WHERE you will get the work done. After you've picked and esthetician and a studio to do the work it's time to pick the lashes. Jenna showed me a range of lashes that come in different lengths, thickness and colors. We picked a length and color that worked with my boho glam lifestyle.
At Jenna's salon she uses Xtreme Lashes--a semi-permanent eyelash extensions comprised of individual synthetic eyelashes that are curved to replicate a natural eyelash.
Beauty Testing Eyelash Weaving Video
After Jenna ran me through the process, I relaxed on the spa table as we made chitchat. Jenna is a perfectionist so I was happy to let her set the pace. Each extension is glue/applied to an individual eyelash. You can only do one at a time--so be patient! Beauty waits for no one.
The Results of Eyelash Weaving
The lashes lasted for about three weeks. The last week I was swimming a ton, so they really got a workout. Many of them fell out, but I still had enough to look fab without any other makeup on my face. I'm told that Xtreme Lashes eyelash extension can last up to two months. They will remain in place until the natural lash on which the extension rests falls out.
Now that my lashes are all gone (and I miss them) I didn't notice my natural lashes were any thinner. Jenna Natural eyelashes grow in and fall out in cycles (every 60 to 90 days).
I haven't been back, but I plan to reapply at the holiday. For regular use, you'll need touch ups every 2 to 4 weeks to replace the lashes that have shed.
Want more scoop on how to get long lashes? Check out our test of the Rodan & Fields Lash Boost.
MORE BEAUTY FROM MOMTRENDS?
PIN IT!
Use Pinterest to save your favorite beauty finds. Be sure to follow our Beauty board here.
Momtrends was not paid for this Beauty Testing Eyelash Weaving post. The service was tested at a promotional rate.