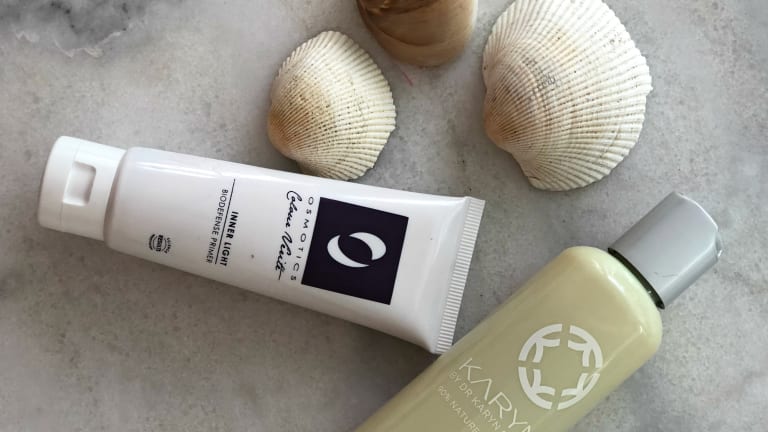 Two Easy Steps to a Shine Free Face
Raise your hand if you love the look of a shiny face? Crickets...That's because we all prefer a shine free face. Am I right? Well, I'm going to share two easy steps to a shine free face with you today. It's the time of year when I seem to be permanently shiny....Summer's end is somewhat in sight, yet the weather doesn't seem to know that because it's still hot hot HOT out! I swear I start glistening the second I walk outside. And that's why I have to arm myself with some foolproof strategies to fight that shine! It doesn't get much easier than throwing on a couple products before I get going  with my day. Get ready...You're going to want to add some new go-to skincare to your own regimen!
How to Get a Shine Free Face
Wash your face with a high quality cleanser...We've all been guilty of washing ourr faces with whatever's on the counter. Don't tell me you haven't grabbed a bar of soap in a pinch. Your face deserves better. I can tell you what happens to me when I do that. My skin instantly feels dry, tight and has a shiny appearance. That is NOT the look I'm going for. So, a face cleanser like Karyng Replenishing Cleanser is my first line of defense when I'm trying to keep a shine free face because it cleans without stripping! So, it's soft, not deprived of all its moisture.

Don't forget the primer...Sure, you probably moisturize, but do you use a primer?? If you want a shine free face, you're going to want to pick one up. I don't have much time to get ready in the morning these days. My kids bell schedule changed, so they're starting school even earlier. That means my morning beauty routine needs to be super streamlined. Thanks to primer, I'm currently loving Osmotics Inner Light Biodefense Primer, I can count on a filtered looking, youthful complexion. Then, all I have to do is thrown my hair in a braid, throw on some oversized sunnies, slick on some lipgloss and I look pretty pulled together for 7 AM! Haha!
Even More Beauty Inspo
Now that you've seen my two steps to a shine free face, check out my number one travel beauty must have! It's another product you'll always find in my bag, especially this time of year! You can always count on this busy mama to share products that will make life easier for you!
We were not paid for this post. We did receive samples.