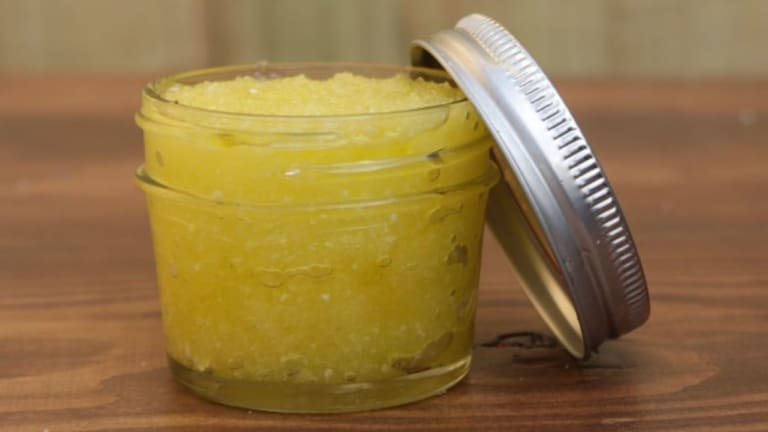 Easy DIY Peppermint Foot Scrub
This scrub only requires three ingredients and will leave your feet SO soft.
Has this never ending winter got you down? Something that always makes me feel better is a little pampering sesh. If you don't feel like heading out for a pedicure, for instance, you could give your tootsies a little TLC with an at home DIY beauty treatment. I've been on a beauty DIY kick myself and even though I live in Florida, where it's quite beautiful right now, I'm a busy bee and don't always have the time to run to the nail salon either...So, I'm going to share an easy DIY peppermint foot scrub that I'm loving right now!
Related: Relief for chapped hands
Easy DIY Peppermint Foot Scrub
Peppermint is such an invigorating scent and with spring almost here, we're going to want to get our feet sandal ready. Am I right? This scrub will leave them SO soft. All you'll need after using it is a coat or two of your favorite polish and you'll be ready to rock those sandals that have been patiently waiting in your closet. Or if you're like me, you've already snagged a new pair or two in anticipation of the season ahead. Haha! Here's how you make your very own peppermint foot scrub...It's just as simple as all the other DIYs I've featured. In case you can't tell...I like EASY! Haha!
DIY Peppermint Foot Scrub Ingredients
1/4 cup of olive oil
3/4 cup of epsom salt
peppermint extract
DIY Peppermint Foot Scrub Directions:
Mix the olive oil and Epsom salt.
Add 15 drops of peppermint extract.
Apply to your feet and follow up with your favorite lotion! You can even amp that softness up by slathering on the lotion, slipping on some cotton socks and sleeping with them on. 
You won't believe how super soft your feet will feel when you wake up
More Winter Beauty Finds from Momtrends
PIN IT!
Save our must-try beauty tips and follow along for more with our Pinterest Beauty Board!
Momtrends was not paid for this post.