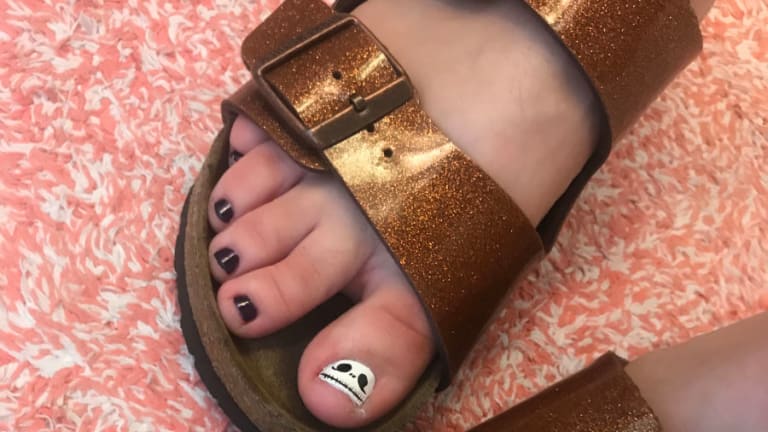 Easy DIY Halloween Manicure
Check out our easy DIY Halloween manicure with fun colors and you'll be Halloween ready in no time!
I've always loved nail art. My sister gets her nails done in the coolest, craziest ways for any and all occasions that come up, and I just adore all those fun patterns she rocks. That being said, I am not a nail tech for a reason. Bwah! My left hand is simply not steady enough to get really funky with my manicures. I'm sure I'm not the only one without DIY nail art skills. Well, never fear. Thanks to Sinful Colors, we can all have festive Halloween ready nails with an easy DIY Halloween manicure.
Related: Witches brew punch
You see the new Sinful Colors Night of the Living Red Collection is chock full of festive hues that are perfect for fall, along with glow in the dark shades that come complete with ghost and skull shaped glitters! So, if you don't have the skills to create your own Jack Skellington mani or pedi, for instance, you can at least slick on some Halloween worthy colors from this fierce collection.
DIY HALLOWEEN MANICURE
So, let's talk about how to do this easy DIY Halloween manicure. First, select your colors. Luckily, you can't go wrong with any color in the Night of the Living Red Collection collection, but in case you want to recreate my Halloween mani, I chose the Undead Red shade due to the large and in charge chunks of black glitter. I also went the Courtney Orange and Witch Hazel Bohn on my ring finger. A skull glitter gave said finger a nail art kinda feel and all I had to do was push it into place with the tip of the nail polish brush.
WANT MORE HALLOWEEN FROM MOMTRENDS?
PIN IT!
Be sure to follow Momtrends on Pinterest and for more spooky inspiration follow our Halloween and Thanksgiving Boards here. 
Now that you've seen our easy DIY Halloween manicure, don't you want some more beauty tips and tricks?! Check out our take on how to wear red lips!
We were not paid for this post. We did receive samples and it does contain affiliate links.