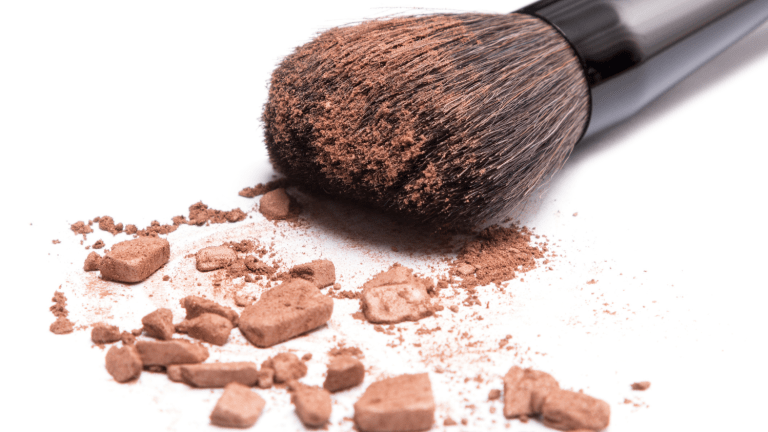 Momtrends MVP's: The Best Bronzers and Highlighters
We rounded up our favorite bronzers and highlighters to help you get a sun-kissed glow without the sun.
It's that time of year my friends. Summer is in full swing and so many of us want a beautiful bronzed look. That being said, we don't necessarily want to achieve it naturally by staying out in the sun too long.
Sure, we love a few moments of sun to get that Vitamin D in, but we aren't soaking up the rays sans sunscreen for hours on end. Instead we use our favorite self-tanners and maybe even some bronzer to get the sun-kissed look we desire, right?!
Why You Need Bronzers AND Highlighters 
I don't know about you, but I go through a pretty decent amount of bronzer. I do live in a state that's sunny most of the year, so that's probably why. Haha! But it just means I get to try out a lot of bronzers.
Another product that I love is highlighter. I don't have to replace my highlighter quite as often as I do my bronzer, but I love how bright and dewy it can make your complexion look. It's the perfect partner for bronzer!
In fact, they even sell bronzer and highlighter duos, but more on that later. Suffice to say, these two products have a permanent home in my makeup bag. And if you love to look like you just returned from a tropical vacation as much as I do, this beauty edition of Momtrends MVP's is for you!
Whether you want one or both of my go-to summer beauty products, I know you will find something you want to try on this list! As we go out into the world more now, it's the perfect time to experiment with your look!
So, get those curtain bangs you've been eying up on celebs, give that 90s style neon a try or pick up a new bronzer or highlighter to add some oomph to your skin! It's time to have some FUN!
Bronzers for Glowing Skin
Best Bronzer for Any Skin Tone
Bronzer isn't only for those super fair folks like me, any skin tone can add a little glow to their face and this bronzer comes in the most beautiful array of colors! And it's perfect for beginners because it's meant to be a buildable formula.
You won't get an over-done look unless you try REALLY hard. Bwah! Plus, I love how light Sun Stalk-R feels on the skin. I don't want my makeup to weigh me down, especially in the warm weather months! This bronzer most definitely doesn't do that. It's light as air!
Fenty Sun Stalk-R Instant Warmth Bronzer
Best All Over Bronzer
Did you know you can use bronzer on your whole body? You of course want to focus on your face for that gorgeous glow, but this bronzer is formulated to work with your body too. So brush some down your decolletage. Why not? I can't get enough of how this bronzer makes my skin look naturally sun-kissed all over, even when I've been slacking with self-tanner. Haha!
And even though powder bronzers sometimes get a bad rap because they aren't great for dry skin, this one goes on evenly. I still recommend keeping your skin good and hydrated with your favorite daytime moisturizer and night cream because all your makeup will look better on skin that isn't starved of moisture!
Best Cream Bronzer
If you're still working on hydrating your skin, a cream bronzer might be the best bronzing option. This Burt's Bees bronzer is not only super effective, but it's super budget-friendly too. So, if this whole bronzer thing is new to you, this is a great way to test it out!
What I like best about this bronzer is that even though it's a cream, it's not sticky! And you can use it as either a bronzer or a highlighter. Depending on the color you choose, you'll get a bit deeper, more sun-kissed look or one with a bit more shimmer...but not too much shimmer if you know what I mean. It's a fine line!
Burt's Bees All Aglow Bronzer & Highlighter Stick
Highlighters That Aren't Glittery
Best Highlighter Stick
If a dewy complexion is your end-game, this highlighter is a game-changer. One, I love that it comes in stick form because it's super convenient to slick on no matter where you are. And two, it is infused with crystals. Don't worry, you won't sparkle all over, but you will glow!
Also, I just love how long-lasting this highlighter is. Cream products have always worn off a little faster on me, but this one stays put! Don't get me wrong, I still use cream-based products because of how moisturizing they are, and this one is no different, but I certainly won't complain if I can go the whole day without reapplying it!
Best Body Highlighter
Just like with bronzer, you can use highlighter on your body too! Who doesn't want glowing gams? I've been riding my Peloton like crazy, but that doesn't mean I'm putting away my bag of tricks. This GLOW highlighter is great for adding just a little bit of shimmer and glow to help highlight your body's natural radiance.
And it's made from cocoa and shea butter so it's quite moisturizing as well. I put it on after a light, unscented body lotion when I really want to shine! 
GLOW. Agrestal Body Highlighter
Best Multi-Purpose Highlighter
Sometimes I want less highlighter and sometimes I want more. It all depends on my mood. And that is exactly what is so great about this Lancome highlighter. I can have either look simply by the way I choose to apply it.
Apply this highlighter dry and you get a subtle shine or you can apply it wet for more shimmer. It's as simple as that! I love that while the formula of the Dual Finisher Highlighter is a powder, it's a creamy powder so it's not drying at all.
Lancome Dual Finish Highlighter
Highlighters and Bronzers in One
Best Bronzer, Highlighter and Blush Trio
To say you get bang for your buck with this palette is a serious understatement! With this palette, you get a bronzer, highlighter, AND a blush! Plus, the matte formula is seriously anti-aging. Too much shimmer can read teenager, yet a little bit is youthful in a realistic way.
It even has collagen in it. You know how much collagen does to plump up your skin and reduce the appearance of wrinkles. If I had to pick a holy grail bronzing palette, this It Cosmetics Trio would be it!
It Cosmetics Your Most Beautiful You Palette
Best Bronzer and Highlighter Duo
This duo might not contain a blush, but it still gives you plenty for your money. Lightly apply the bronzer to those spots the sun naturally hits or use a heavier hand and contour. Plus, you always have the option to add a spot of shimmer with the highlighter!
And I'm so into how flattering the golden undertones are in this Charlotte Tillbury duo. It really reflects light to give you the ultimate glow! And it comes in two different color combinations so you can get the right shade duo for you. Score!
Charlotte Tillbury Filmstar Bronze & Glow
I can confidently say that I am ready to face any summer day with a sun-kissed face while keeping my skin nice and protected thanks to my go-to bronzing and highlighting products. Who's ready to join me?! I can't wait to hear which of our best bronzers and highlighters you can't wait to try!
Stay tuned for our next Beauty Momtrends MVPs list…
How we Pick Our Winners
Momtrends MVP's is a non-sponsored series. Brands must meet our strict standards to be included. When naming winners we take several factors into account, including expense, convenience, and style.
We make our picks annually based on editors' research. In some instances, we may request and receive samples so that we can more thoroughly assess products. Our opinions are our own, and our goal is to help our community of moms make more informed decisions on everything from baby gear to beauty products to vacation destinations and more. We scour the abundant options and painstakingly hand-pick our favorites, so you don't have to. Our hope is that our most valuable players become your most valued purchases.
WANT MORE BEAUTY MVP'S FROM MOMTRENDS?
PIN IT!
Use Pinterest to save your favorite beauty finds. Be sure to follow our Beauty board here.
Momtrends MVP's is a non-sponsored series. Brands must meet our strict standards to be included. When naming winners we take several factors into account, including expense, convenience, and style.