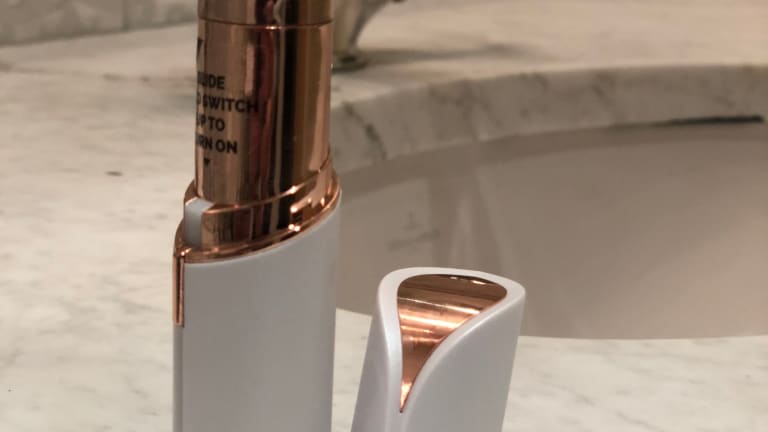 Easy At Home Hair Removal
Testing the Flawless System
I'm always skeptical about beauty products with big promises. That's why we have our "Beauty Testing Labs" here at Momtrends. We try all the gadgets and gizmos and lotions and jellies so that other moms don't have to waste time and or money chasing trends that don't work. Since I am always on the hunt for options for easy at-home hair removal, I thought I would give the Flawless system a try.
Trying At Home Hair Removal
I'm not even sure which PR agency sent the product to me, in a normal week I get about 10-15 packages. Most of them are unsolicited (after you've been blogging for a decade you start to get on a LOT of media sample lists.)
This little package came and sat on my desk for a month or so. I was still going to my regular spot for waxing of my upper lip and face. The system didn't seem to be broken, so I kept doing what I was doing. 
All in all I was spending about $20 a month on these appointments - it wasn't the money, it was the TIME that got me to try Flawless. 
In January, my girls ski at two different mountains on two different race teams (a long story for another day). I also start picking up business travel again after the holidays are over. In short, my ability to get in all my beauty appointments becomes very limited. 
I tested Flawless out of desperation. I didn't have time to get to the salon for a waxing appointment, so I tried it. I was deathly afraid the facial hair would grow back thicker and darker. Spoiler: it didn't!
Flawless Facial Hair Remover Review
The Flawless hair remover is tiny and quiet. It's easy to set up. I just added a battery (it was included) and clicked it on. Then I started gently gliding the head over the area where I wanted to have the hair removed (above my lip). I used a small circular motion to get all the targeted areas. Try to keep the head flush against your face - don't use it at an angle.
A small light is activated when you turn the unit on. This light makes it easier to see what you are doing in the bathroom or at your vanity. MOMTRENDS TIP: use a magnified makeup mirror to get a close view of the action.
It's a quiet little machine with a gentle vibration. It was really simple and didn't hurt at all. DON'T press too hard, you don't need to push to make this work, Be gentle on your face!
Initially there was no redness, but I did see a bit of discoloration and a few bumps about 2 hours after using the remover. All these went away after 12 hours.
You can get the Flawless at Ulta beauty, Bed, Bath and Beyond and also at Amazon.
How to Care for the Flawless Facial Hair Remover 
After each use, I take the removable head off and clean out the inside. The Flawless comes with a little cleaning brush that makes this an easy process. Clean the top AND the base of the unit to make sure that no hairs build up. It's recommended to replace the head on the hair remover every six months. Head to www.flawlessheads.com to replace or get them on Amazon here $12.99 for two replacements.
More Beauty Finds
Let me know if you try this! Another little gadget I love is the Pria Age Defying Laser. Check out our video here: 
Pin it! 
This Easy At Home Hair Removal feature is not a sponsored post.