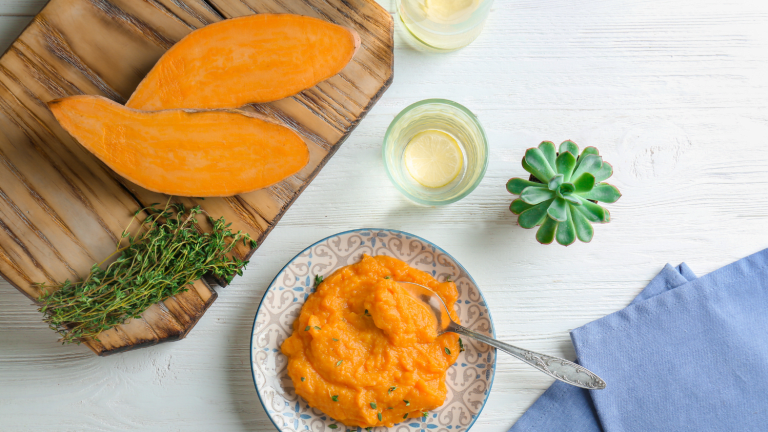 DIY Sweet Potato Beauty Treatments
Two easy at-home beauty treatments made from sweet potatoes.
Did you know tomorrow is National Sweet Potato Day (February 22nd)? I love me a good baked sweet potato, with butter... perhaps a little sprinkling of cinnamon. I'll take sweet potato fries over regular ole french fries any day of the week. Heck, I even use sliced sweet potatoes as the base of my famous loaded sweet-potato nachos. And at Thanksgiving, you better believe we have at least two types of sweet potatoes on the table and a sweet potato pie waiting in the wings for a big dessert-time debut. 
Related: DIY honey body scrub
All Hail the Sweet Potato
As much as I love my S.P.s, I never really thought about the beauty benefits of my favorite side dish... until recently when I looked at the ingredients in a homemade face mask a friend had recommended. Alas, those misshaped delights are chock full of beta-carotene and anthocyanin, and vitamins A, B, and C. Plus, their antioxidant properties fight against the damage caused by free radicals. So, yes, eating sweet potatoes is good for you on the inside AND outside (so help yourself to another slice o' pie!)
Now that we're all planning our sweet-potato-centric dinner menus, let's think outside the plate! You can actually use sweet potatoes in DIY treatments and facial masks! Licking optional. Here are two treatments to try... dessert without the calories!
DIY Sweet Potato Hair Mask
Peel, boil/steam, and blend sweet potato. 
Add a touch of coconut oil and coconut milk to get the desired consistency. 
Apply from the roots to the tips, and leave in for 15 minutes.
You'll notice more shine and a healthier glow... plus, it may even help promote hair growth!
DIY Sweet Potato Facial Mask
Peel, boil/steam, and blend sweet potato. 
Once cooled, add coconut milk and a touch of honey, but don't let it get too loose. 
Apply to face and leave on for 10 minutes. 
The natural antioxidant power in the sweet potato will leave your complexion looking radiant and instantly brighter.
More DIY Beauty Ideas
PIN IT!
Save your favorite baby gear and ideas on Pinterest and follow along with our Beauty board here!
This is not a sponsored post.