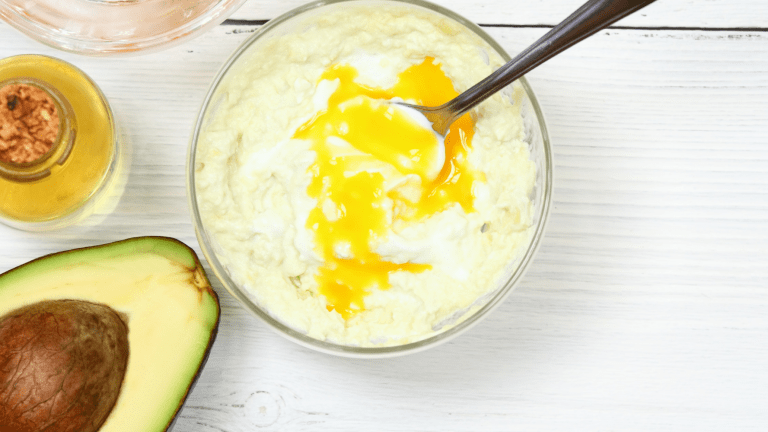 DIY Spa Day: Facial Masks You Can Make at Home
You can whip up these six beauty treatments with a few common ingredients from your kitchen or pantry.
Four weekends ago (or approximately seven thousand days ago), I had a lovely spa day with my best girlfriends at Mirbeau Spa in Plymouth, MA. I got a deep tissue massage that legit had me drooling on the table and a collagen facial that made me look a good five years younger. Of course, fast forward to present day, and my back is a tangle of knots and that youthful glow? Bahaha, yeah that's good for a laugh. I'm pretty sure all our faces have aged in the age of Coronavirus.
Related: 5 tips for a girls first leg shave
The DIY Beauty Trend
Suffice to say, I'm not so sure the next time I'll see the inside of a spa treatment room. For the next few weeks?, months?, foreseeable future?, Imma be cozied up/cooped up at home doing my own manicures, coloring my own roots (oh, hello grays!), and forcing my husband  to give me strictly business no-nonsense massages. 
I have a few skincare products and sheet masks that I love,  but I'm trying  to conserve my precious loot and be financially responsible--no spending money on beauty booty for me. But, apparently, nothing fuels my crafty creativity and DIY beauty ability like being quarantined at home for weeks on end. I'm getting resourceful and using what I've got. 
We got an obscene amount of avocados in our grocery delivery this week so I'm going to use one or two to make myself a moisturizing face mask. 
Avocado boasts many beneficial vitamins and nutrients that can help a broad range of skin issues. The oils in avocados can intensely moisturize and penetrate the epidermis to give intense hydration beyond the surface. Plus, it has antioxidants like Vitamins E and Vitamin C that help prevent oxidative damage from free radicals. In other words, it has an anti-aging effect! (Source)
DIY Avocado Mask
I riffed off common DIY mask recipes on the internet, pulling  ingredients to get the effect I want on my skin. 
1/2 avocado
2 tablespoons Greek yogurt (also gentle and moisturizing!)
1/2 tsp lemon (naturally brightening)
Of course, my little lady wanted to get involved in the action so we set up our own bedroom spa, and have done some research for our new weekly standing appointments. 
Here are some fun (and easy) spa mask recipes you can make at home.
Now all you need is to make a trip to the grocery store to jump start your skincare routine.
BEAUTY MVP'S FROM MOMTRENDS
PIN IT!
Use Pinterest to save your favorite beauty finds. Be sure to follow our Beauty board here.
This is not a sponsored post.