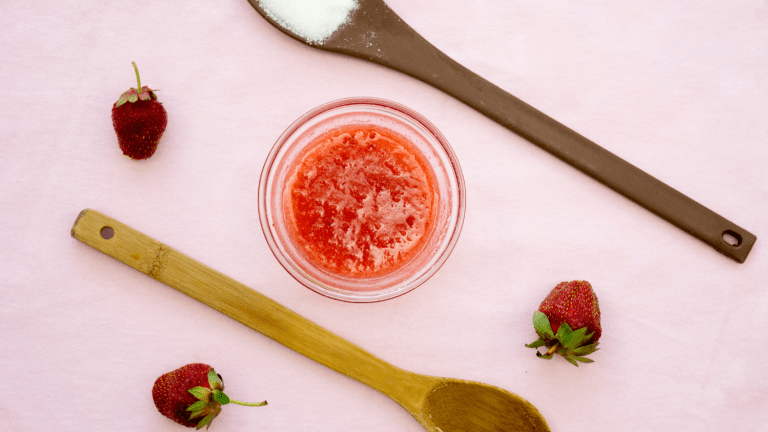 DIY Raspberry Lip Scrub
If you want to whip your lips into shape, try this yummy and easy homemade scrub.
I know it's hard to imagine now, but spring will be here before we know it, so why not start taking care of the dry skin that winter has brought you now? My lips, for instance, are always dehydrated. And I'm loving the Bordeaux colored lip that has been so hot this winter, but chapped lips and super saturated lip color do not exactly go hand in hand. So, I set out to make my own lip scrub...If you want to whip your lips into shape, you have to go a step further than just balm. Exfoliating them and then applying your balm will give you the super soft pout you're after!
Related: Relief for chapped hands
I've been having so much fun experimenting with making my own beauty products. I probably sounds like a broken record, but I just love that with very few ingredients, I can create a natural product that makes me feel great. This time around, I decided to for a DIY raspberry lip scrub. I'm a holiday nut and soon as one is over, I start planning for the next one.
Since Valentine's Day is next month, I've been thinking about gifts. In our family, Valentine's Day isn't just for our significant others, it's also for mamas, kiddos, sisters...you name it. I'm all about celebrating each and every loved one in my life! And this lip scrub would be a perfect gift for my favorite ladies! The only trouble is trying not to eat it...Seriously, it's delicious. So, you don't have to worry about something icky tasting being on your lips!
Raspberry Lip Scrub Ingredients:
1 tsp of mashed raspberries (You don't need a super smooth puree as it's a scrub, so grainy is good!)
1 tbs of coconut oil
1 tbs of brown cane sugar
Raspberry Lip Scrub Directions:
Mash the raspberries.
Mix the raspberries, coconut oil and sugar together.
Apply to your lips.
MORE WINTER BEAUTY FINDS FROM MOMTRENDS
PIN IT!
Save our must-try beauty tips and follow along for more with our Pinterest Beauty Board!