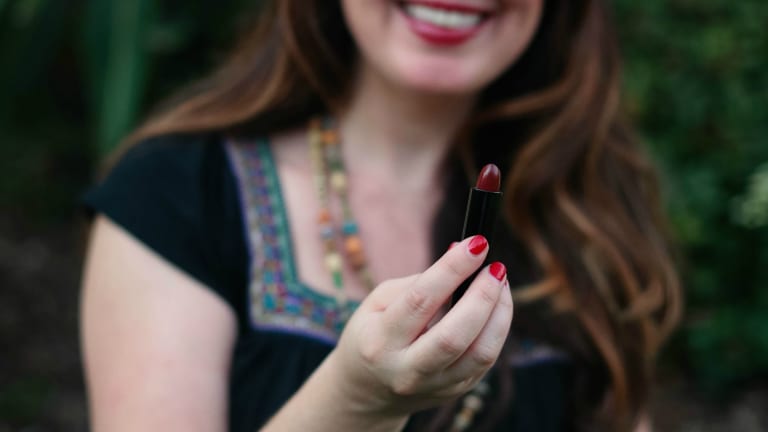 Dark Lips Will Forever Be On Trend for Fall
When you think about fall lips, what immediately comes to mind? Dark lips you say? Ding ding ding! There is something SO fall-ready about a vampy dark lip. Dark lips give us girls who kinda wish we had a little more edge the chance to live on the wild side a bit. What can I say? I'm a good girl who likes to bring out her inner bad girl come fall. Hey, most of my days are spent in athleisure running kids to and from school, lessons, games and whatnot. And while I might not have the time to do full on fabulous makeup daily, I ALWAYS have the time to apply my dark lips. Oversized sunnies hide the rest. Bwah! That being said, if you are going to make your lips the focal point, make sure they're in shape. Exfoliation and balm go a long way. Just sayin'.
So, you're with me on the dark lips right? I already have you convinced. I'm sure of it. Ok, maybe you need a bit more foreplay. Think about it this way...Remember SJP's oh so perfect dark pout in Hocus Pocus? Well, your tween self is begging you to jump on the dark lips train. I know I'm not the only one who still wants to live in Sarah Sanderson's Halloween costume. I mean who doesn't?! It's safe to say that ever since my tween self saw that classic flick, I've lived for dark lips and this season is no different! I mean if it ain't broke, don't fix it right? If a look has been working for a couple decades or so, it's safe to say it's never going out of style, at least pour moi. Much like the denim jacket. You won't see me giving up that bad boy any time soon either, but I digress...
Dark Lips: A Forever Fall Beauty Trend
Now when we're talking about dark lips, there are several different ways you can go with it. You can play things a bit safer and go with a berry stain. This lippy look is still on the dark side and definitely pretty, it's just not as dramatic as say a nearly noir hue. Personally, burgundy is my dark lips look of choice. It looks good on nearly everyone and should satisfy YOUR inner bad girl instantly. Nothing dresses up a fall outfit like statement lips! And burgundy always makes a statement. That's why I'm willing to spend a bit more on a statement lipstick. If my signature dark lips can make me feel like more than a mommy mobile I'll take it. Boy, will I take it! Plus, when I do have the time to really make up my face, my dark lips just take my look to another level!
And since I know you TOO want to feel like the fierce woman you are, I rounded up a few of my favorite burgundy lipsticks for fall...
Shop the lips: Bobbi Brown Crushed Lip Color in Blackberry / MAC SIN Matte Lipstick / Fenty Bold Burgundy Plus Matte Lipstick / Nars Mahogany Audacious Lipstick / Ulta Fireworks Matte Lip Crayon (budget saver)
Now that you've seen why dark lips will forever be on trend for fall, for even more burgundy fever, check out how we're wearing it in outerwear form this season!
We were not paid for this post. It does contain affiliate links.