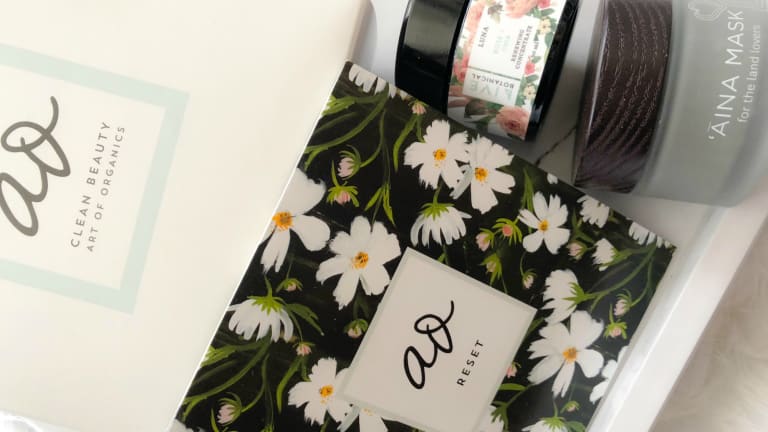 Clean Up Your Beauty Routine for the New Year
Now that the holidays are nearly behind us, it's time to focus on the New Year ahead, don't you think? On that note, let's talk about how to clean up your beauty routine for said New Year. One thing that I really want to do in 2019 is use as many organic and natural products as possible. I've slowly been working them into my beauty routine over the past few years and I'm always up for trying out new natural products that could replace chemical-laden ones. Sometimes giving up old faithful is easier said than done, am I right? Well, that's why I'm here. Consider me your guinea pig. Haha! In fact, I tried out two new clean beauty products, thanks to Art of Organics, that I'm definitely putting in the winner column...
Clean Up Your Beauty Routine
Have you heard about the Art of Organics clean beauty box? It's kind of amazing and makes it so easy to clean up your beauty routine. Each month in their gorgeous subscription box you can expect to find natural, organic, non-toxic and cruelty-free beauty products. Did I mention that they're full size? That's right...FULL SIZE! You get 2-4 products valued at $85 or more and you pay just $37.95. After experiencing  my first two Art of Organics products, I can tell you that's a bargain!
And if you find the whole clean beauty industry overwhelming, the Art of Organics blog breaks things down for you. Head over to find out which toxic ingredients to avoid for example. How helpful is that? You can see now, I'm sure, why I've fallen in love with this particular subscription box. So, let's talk about the products I'll be using long past when these two jars are used up...
Live Botanical Luna Renewing Concentrate: This super potent cream is moisturizing enough to use morning and night if your skin is super dehydrated. Personally, I'm using it as a night cream and loving it for it's anti-inflammatory properties. I tend to have redness in my skin and this helps combat it nicely along with improving the texture and adding a plump, firm feeling to boot. Winter is a great time to work on getting your skin in shape so you can go bare faced when the warm weather months hit.
Honua AINA Mask: And speaking of getting your skin in shape, if you know me, you know I obsess over face masks. I use one at least once a week and it's one of my go-to beauty rituals. If you've hit your thirties, it's time to add a mask to your routine. Period. This mask contains, charcoal, which I can't get enough of as it's gangbusters for drawing out impurities in the skin. And while some masks can lead to a bit of irritation, this one is nice and soothing.
Now that you've seen how to clean up your beauty routine for the new year with my favorite new clean beauty subscription box, check out our thoughts on why moms can wear jumpsuits. If you're going to switch up your beauty routine in 2019, why not try something new with your style too?!
We were not paid for this post. We did receive a sample.