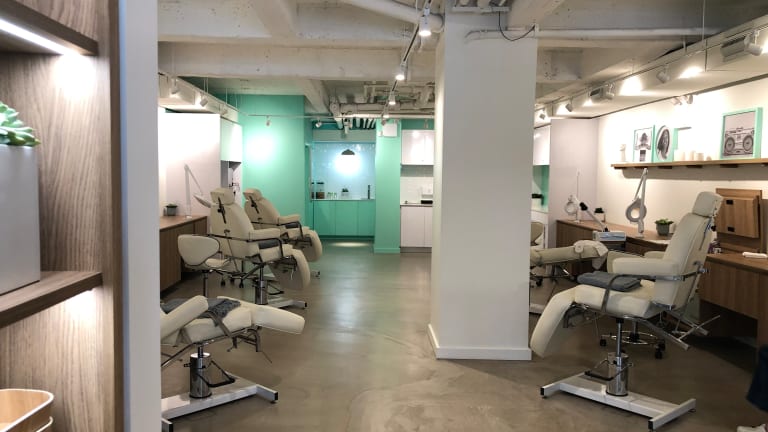 Checking out Face Haus facial bar for spa facials at a great price
Will Facehaus be the Dry Bar for your face?
Taking care of my skin is a priority for me. Part of the reason I started blogging was to share beauty and style trends that work for busy women. Now 13 years later, I'm still on the hunt for the best skin and beauty trends to make mom life better. This month, that mean checking out the Face Haus facial bar in NYC.
Will Face Haus be the Dry Bar for your face?
Face Haus is a new beauty concept along the lines of DryBar. The idea is you can pop into any Face Haus outpost and get a great facial for $65 with spa-grade products. The business idea is: women will regularly book facials just like they do blowouts. 
The company started in Los Angeles in 2013 where three moms got an idea (isn't that always the way!). Karey Burke, Dawn Olmstead and Jenn Worley set out to create a business that filled a need for them. They wanted spa-quality skincare that's convenient and well-priced and FUN. Like I say in my book, Mom Boss, when you solve a problem you've got the start of a business. 
Highlights of Services at Face Haus
Face Haus tapped dermatologist Dr. Harold Lancer to develop the service menu. It's wide ranging without being fluffy and look at the prices! Here are some of the highlights.
Signature Facial: All skin types, especially dry and dehydrated. No extractions. A general cleaning and exfoliation perfect to prep and prime your skin before an event. This is the service I tested. ($65) 
Spotless Reputation: This is for acne-prone skin. It's a facial focused on cleansing and extractions. They add in a treatment masque packed with probiotics, kaolin clay and tea tree oil helps to cool, soothe, purify, and reduce inflammation.  ($65)
Teen Spirit:  A bit of life coaching mixed with skincare. The pros clean and hydrate while giving teens the scoop on lifestyle and dietary changes that will promote healthier skin, and recommending an at-home regimen for long-term upkeep. Includes localized extractions. ($65)
Boosts: for an additional $10-$75 you can get add-ons like peels, LED treatments and microderm. 
Checking out Face Haus facial bar for a spa facial at a great price
Here in NYC, I've tried quite a few spas for my skincare. Pain points are convenience and price. It's often tricky to get the time I want since spas provide so many services, estheticians are spread thin and high-end spas are definitely expensive. At Face Haus you can easily book a spa-grade facials without the hassles of a traditional spa.
On my visit I had a superstar esthetician. She was truly focused on care NOT selling products. She walked me through each step and talked about the products she was using, but it was never a hard sell.
I love the light, bright and airy setting. Yes, it reminds me of both Skin Laundry and Dry Bar. There's no smoke and mirrors and incense. It's about getting good, clean skin in a fun and accessible place. 
A Great Experience at a Great Price
Most of us have had a sublime facial while on vacation. I remember on I had at a spa in Brittany France last year that knocked my socks off. But guess what? I was almost $300. At Face Haus the same level of quality is only $65. No, I didn't to sip tea in the tranquil relaxation room listening to a waterfall, but frankly I only have time for those luxuries when I'm on vacation.
Do you need a FaceHaus Facial?
The proof is in the post-facial glow. in 45 minutes I was in and out with a clean fresh face. I didn't put on a touch of makeup after my facial -- that's the sign of a happy client.
I'll be using Face Haus for my monthly skincare. Are you ready to try it? Currently FaceHaus has locations in NYC, Los Angeles and Dallas. Book your FaceHaus appointment online at https://thefacehaus.com/.
Pin It!
Use pinterest to save your favorite ideas for skincare.
This Checking out Facehaus facial bar for spa facial at a great price is not sponsored. My treatment was complementary.