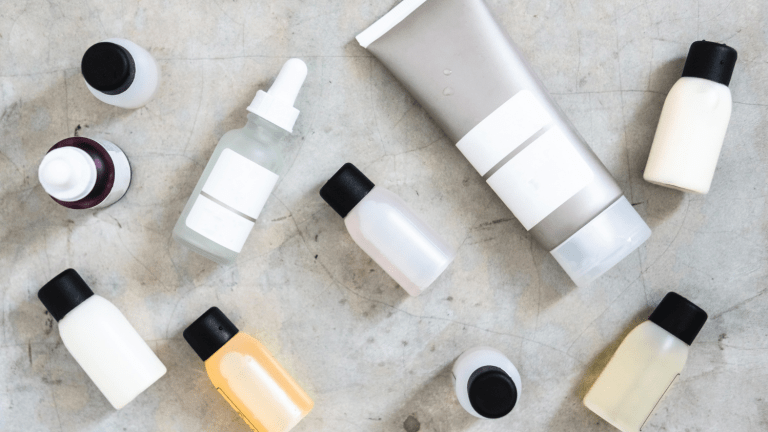 Busting Open the Most Common Skincare Myths
It's time to separate fact from fiction and wise up on the basics of skincare.
If you've got kids and you're trying to teach them skincare basics, the information can be VERY confusing. It's time to separate fact from fiction. We're busting open the most common skincare myths to help you spend your time and money well and teach your kids the fact. 
Related: Our favorite retinols
Our skin is very unique, and changes as we get older. To help us better understand our skin, we learned some tips from Dr. Susan Stuart, a board certified La Jolla, California dermatologist who empathizes with her female patients who feel they are doing everything right and still are unsatisfied with the appearance of their skin. What's more, she often sees patients who feel they are doomed to bad skin based on myths that you get the genes your parents have. She seeks to set the record straight on what really does sabotage the skin and dispels the most common myths mothers or the media have passed on to their daughters.
13 things you need to know about skincare
You can't scrub away acne: Acne is not a hygiene problem; it's a hormonal issue. Excessively cleaning your face won't get rid of acne. Instead of attempting to scrub your pimple-prone skin into submission, wash it gently with a foaming face wash that's designed to lift off dirt without irritating skin. And if you do feel compelled to enlist a scrub, use it no more than once a week, choosing a product that has even-sized, round beads, not rough particles
Sunscreen matters: The big mistake women make is trusting the sunscreen label that reads 'all day protection. The truth is that no sunscreen lasts more than four hours; you're kidding yourself if you think you can put it on once and forget about it. Regular sunscreen use is even more important if you are treating your face with Retin-A or alpha- or beta-hydroxy acids, or getting peels or microdermabrasion -- all of which can leave skin more sensitive to the sun's ultraviolet rays.
Alcohol dehydrates: Consider alternating drinks with water. Drinking alcohol causes dehydration and dilated blood vessels both of which make skin look tired and unhealthy. Try to drink one glass of water per alcoholic drink consumed -- this will help skin stay hydrated.
Stress ages you: Stress causes your body to go into survival mode by pumping adrenaline to heighten the senses. While this is healthy if you are in danger, prolonged periods of stress can take a toll on your skin. When the body is in survival mode, the most vital organs like the heart, lungs and brain work overtime. The skin, a less vital organ, becomes deprived of nutrients which eventually affects its appearance. Combat stress by incorporating relaxation techniques into your routine like yoga, meditation and deep breathing.
Drinking Water DOES matter: Because you think you don't need it. Drinking 8 glasses of water a day, and applying a moisturizing cream to your face regularly can save you the headache of dealing with a cracked and sensitive skin.
You DO need to wash your face before bed. Sleeping with make up on will leave your skin's pores clogged and prevent it from breathing. No matter how tired you feel clean your face before going to bed.
Strong cleansers don't work. Using harsh cleansers to clean your skin will strip away the natural oils that protect it from dirt, pollution and other factors that can easily damage your skin. Do your skin a favor and use mild cleaners, they're much gentler and still effective.
You DO need a different cream for your eyes. Applying your usual facial moisturizer to your "under-eye" area is really harsh. This area is the most delicate area in your face and it's where fine lines will appear first, so having a specialized eye cream is a must after the age 25.
Sleep matters. Lack of sleep can affect how your skin looks dramatically, leading to dark circles, and dull looking skin. Get at least 8 hours of sleep each night and you'll wake up to a much more fresh looking skin.
 "More is better" is a lie. When it comes to your skin, more is actually worse, too much washing, too much cream, too much scrub can totally damage your skin.
When you wash matters. Always wash your face after you rinse out your hair products and conditioner in the shower, never before. Many conditioners contain pore-clogging isopropyl myristate and other hair products often contain coconut oil -- both are common acne-causing ingredients that you don't want to leave on your skin.
Diet matters. What you eat will only affect your body weight, not your skin, in fact what you eat shows directly on your face. Eating too much sweets and fatty food will leave your skin looking unhealthy, a healthy diet is very important for a healthy younger looking face.
Use a retinoid: Retinol, a form of vitamin A, is the only topical ingredient proven not only to prevent lines and wrinkles but to minimize the ones you already have. Past the age of 30. Dr. Barnett recommends seeing a dermatologist for a higher-concentration prescription retinoid (like Retin-A, Differin, or Tazorac, for example), but there are also many great over-the-counter creams that contain lower concentrations of retinol.
AND FOR MORE MOMTRENDS MVP'S WINNERS, FOLLOW THE LINKS BELOW:
PIN IT!
Save our must-try beauty tips and follow along for more with our Pinterest beauty board!
Momtrends was not paid for this post.