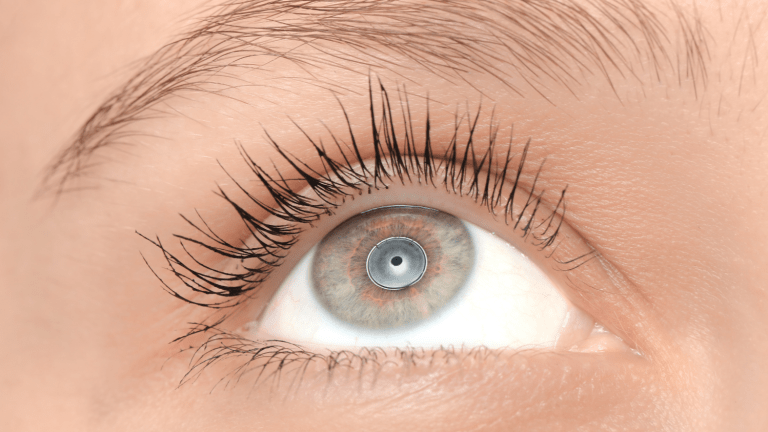 Beyond Mascara: 4 Ways to Get Longer Lashes
Four different ways that you can get fuller, longer lashes without mascara.
Looking to get longer lashes? These days there are a lot more options beyond your mascara choice. Here are four different ways that you can get fuller, longer lashes.
Related Tips for Organizing your Makeup
I have three boys who were all blessed with gorgeous, long, dark lashes from my husband's side of the family. Me? Well, I'm relying on these four "cheats" to getting long luscious lashes.
Plump Up With Primer
One of the easiest ways to plump up your lashes is with a lash primer. You apply it just like mascara, adding length and fullness to your lashes. Then you top with your favorite mascara. Just make sure you do actually top it with mascara - primers are often white and can make your lashes look pretty scary if you get interrupted mid-makeup application by kids! 
Fake it With Fibers
If you want even more umph, you can graduate from a lash primer to a fiber mascara. These often come with two products - a lash boosting mascara and a tube of fibers, tiny fine filaments made of silk or rayon that stick to your natural lashes and get locked on with the mascara. 
I feel like fiber mascara really jumped into the limelight with Younique's 3D Moonstruck Mascara which claims to boost your lashes by 400%! 
I went the drugstore route and tried the Physicians Formula Eye Booster instant Lash Extension Kit. You apply one layer of mascara, a layer of fibers, and then another layer of mascara. I definitely found these trickier to use - I ended up with fibers all over my cheek once and in my eyes the next time. Plan on more of a learning curve with fibers than with a lash primer, but once you nail down the technique, you can get longer, fuller lashes. 
I've also heard good things about the Long & Luscious 3D Fiber Lash Mascara.
Newer fiber formulas have the fibers built-in to the mascara which makes them much easier to apply and eliminates the chance for a face-full of stray fibers. Try the Estée Lauder Sumptuous Extreme Lash Multiplying Volume Mascara or the Marc Jacobs Beauty Velvet Noir Major Volume Mascara which may or may not have made its way into my Sephora shopping cart....
Grow Actual Lashes with Latisse
You know Latisse, right? You apply it to your lash line and your own lashes grow longer and fuller. I tried it and I'm hear to report....it does actually works! Latisse works within the lash growing cycle to boost your lashes own growth capabilities including improvements in length, thickness and darkness. But there are a few caveats to keep in mind with Latisse. 
First, while it is FDA-approved, this also means you need a prescription for it. Second, if you stop using it, your lashes will gradually return to their previous appearance. Third, I felt like my lash growth wasn't exactly even. My lashes did get longer and fuller, but some got waaaay longer. Like freakishly long. Like your husband asks you, "Uh, what's up with that lash?" over breakfast.
But it does work and they are your own actual lashes. After nightly application, I noticed lash improvements within about 2 months. Theoretically, once your lashes are where you'd like them to be, you can cut back to using Latisse just a few nights a week for maintenance. I had to stop completely when I had LASIK eye surgery and my lashes went back to how they were pre-Latisse. So it does work, but you'll have to keep it up.
Lash Extensions
Then there are lash extensions. During an initial 2-3 hour appointment with a lash professional, you'll get synthetic, silk or mink lashes glued onto your individual lashes. Depending on what lash material and length you choose, you can create results as subtle or dramatic as you want them to be. I have a friend whose extensions look like she just always has two coats of good mascara on - simple, pretty and put together without the time in the morning to actually put on mascara or the time at night to remove it. I've also seen some women whose extensions are so large and dramatic they scream "I HAVE LASH EXTENSIONS ON!"
Some people worry that lash extensions can damage your natural lashes, and lashes that are extra heavy or applied by an inexperienced technician can do just that. But there are also stories of women who have had extensions for years without issue. They aren't cheap though - plan on paying $250-$400 for an initial full set of lashes and touch-ups (to replace lashes lost) every 2-4 weeks costing $75-$150. But there is no mascara time in the morning, no midday flaking, no raccoon eyes after your workout, no makeup removal time at night. And you can really say, " I just woke up like this."
What's your favorite way to get luscious lashes?
WANT MORE BEAUTY MVP'S FROM MOMTRENDS?
PIN IT!
Use Pinterest to save your favorite beauty finds. Be sure to follow our Beauty board here.
Momtrends was not paid for this post. It does contain affiliate links.