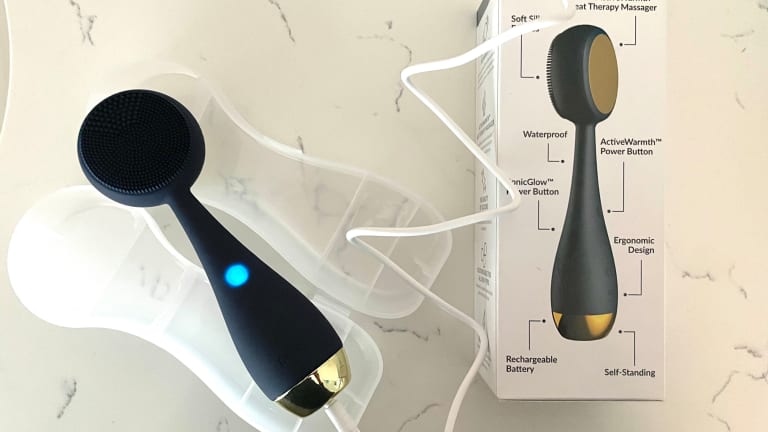 Best Sonic Facial Cleansing Brush
Testing out the PMD Clean Pro a two-in-one that gets skin clean and gives an at home facial experience
Many of us adopted cleansing brushes years ago to get our skin clean. They work with vibrations to help exfoliate and cleanse in a way that using our hands or a washclothe couldn't do. The trouble was, replacing the brushes was a pain. Then came along silicone heads, and they work great. Now PMD has improved upon that design and delivered the best sonic facial cleansing brush called the Clean Pro.
I've been testing out the PMD Clean Pro, a two-in-one device that gets skin clean and gives an at home facial experience and I love it. 
Get it on Amazon here ($149). (note this is an Amazon Affiliate link)
Related: The best facial cleansers
Best Sonic Facial Cleansing Brush VIDEO REVIEW
Check out the device in action.
Best Sonic Facial Cleansing Brush
The PMD Clean Pro is a clever little device. First of all, it's a terrific facial cleansing device. It breaks down dirt and oil from within pores at 7,000 vibrations per minute, while operating at the perfect frequency to lift, firm, and tone the skin.
It's got sturdy silicone brushes and four speed settings. I like the second setting to really get my skin a good deep cleanse. I take the device into the shower and love that it's waterproof.
In addition to the cleansing head, there's also the "ActiveWarmth" technology.  The PMD Clean Pro takes your skincare routine to the next level. Use the ActiveWarmth side by pressing the button on the back side for anti-aging benefits. It helps with assisting your serums and moisturizers with deeper absorption and effectiveness.
This is a great little beauty tool at an awesome price. 
Get it on Amazon here. (note this is an Amazon Affiliate link)
Momtrends Top Beauty Picks
PIN IT!
Don't forget to save our favorite beauty tips and follow along for more with our Pinterest beauty board!
Momtrends was not paid for this post. This post does contain Amazon Affiliate links.