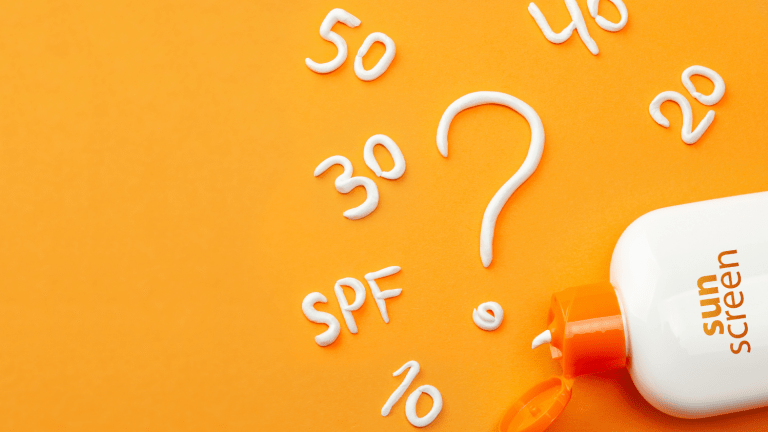 Momtrends MVP's: Best Sunscreens of 2020
The most important product in your beauty arsenal is sunscreen, no matter what time of year it is, check out our top picks.
In case you missed it, we recently launched a new series: Momtrends MVP's. We know you're always on the lookout for the latest and greatest products for moms, so we took care of the legwork across a variety of categories. We're here to make life easier for you, plain and simple. On that note, first up, we shared our favorite double stroller finds and this go-around we tackled the best sunscreen picks.
Now, I know what you're thinking. The last day of summer isn't THAT far away. Frankly, it doesn't matter. If I have learned anything in the past decade of beauty product testing, it's that the most important product in my beauty arsenal is sunscreen, no matter what time of year it is.
The sun doesn't take a break just because the weather cools down. And with most of us spending more time outdoors these days, sunscreen is more important than ever. In fact, I recommend having several go-to sunscreen products on hand to fit your various needs and moods.
Because you know what, you might not be in the mood to apply that super-effective, yet time-consuming lotion. On the other hand, there will be days you can totally leisurely apply that go-to lotion of yours. Options are something all busy moms need and it will always be our mission to provide them.
And that is why we have rounded up a slew of sunscreens for a variety of purposes. You can't go wrong by adding any one of them to your collection. You may even want to add MORE than one after you read why each product landed on our Momtrends MVP's best sunscreen list!
BEST SUNSCREEN FOR YOUR FACE: NEUTROGENA SHEER FACE MIST SUNSCREEN
You may have seen Neutrogena Sheer Face Mist Sunscreen all over the place recently and there is a good reason. It's that good. The formula is super lightweight, oil free, absorbs quickly and reapplication is a breeze thanks to the easy to apply mist. I've even heard of people using it on their hands. If anti-aging products resonate with you at all, you know why you need to protect your hands as much as your face. They're real age truth tellers. 
BEST SUNSCREEN FOR SENSITIVE SKIN: ALBA BOTANICA SENSITIVE SKIN SUNSCREEN FRAGRANCE FREE CLEAR SPRAY
Alba Botanica Fragrance Free Clear Spray actually doubles as one of my favorite sensitive skin sunscreens AND my favorite spray sunscreen. Not only does it go on crystal clear, it doesn't leave clothes with that telltale yellow tinge that spray sunscreen is so often guilty of. And, most importantly, it doesn't irritate sensitive skin. I can say this from experience as it works for my sensitive skin and my eczema prone kids' skin too!
BEST NON MIST SPRAY SUNSCREEN: BABYGANICS SPF 50+ SUNSCREEN SPRAY
Now most of us love that cooling effect that spray sunscreen is known for. My kids, however, are another story. They actually prefer lotion, when given the choice, because spray sunscreen is cooooooold. Haha! So, on those occasions I can't cajole them into taking the fast way out, Babyganics SPF 50+ Sunscreen Spray saves the day. It sprays on more like a lotion than a mist and this waterproof SPF 50 formula is super effective to boot. We get a good 80 minutes of pool play before it's time to reapply!
BEST MINERAL SUNSCREEN: BLUE LIZARD SENSITIVE MINERAL SUNSCREEN
Mineral sunscreen is a top pick by mainly because it fights both UVA and UVB rays. What isn't so beloved is its telltale chalky appearance. You don't get that with Blue Lizard Sensitive Mineral Sunscreen. Sure, you have to rub it in a bit harder, as is the case with most mineral sunscreens, but it's worth the effort! This brand has long been a favorite of my friend who only uses natural products and I can see why. You don't have to sacrifice efficacy for ingredients and it's great for sensitive skin too. Oh and did I mention it's safe for the reefs as well? You won't find Oxybenzone or Octinoxate in it.
BEST MATTE SUNSCREEN: COOLA FULL SPECTRUM 360° SUN SILK DROPS ORGANIC SUNSCREEN
If you live for primer, you will probably love this matte sunscreen. Coola Full Spectrum 360° Sun Silk Drops Organic Sunscreen gives you that blurred out Instagram filter finish we all love. Plus, the consistency is more serum than sunscreen. If you want to go barefaced, this is the sunscreen to do it with. You get a fresh, dewy look without your full makeup routine AND your skin is protected. Double score! I almost forgot that it's organic. This sunscreen really checks so many must-have boxes.
BEST STICK SUNSCREEN: SUN BUM SPF 30 SUNSCREEN FACE STICK
Stick sunscreen is my husband's favorite type of sunscreen and I'll tell you why: He's super low maintenance. It doesn't get much more low maintenance than stick sunscreen. You can easily toss it into your bag without worrying about leaks, so it's basically mess free. You may have to rub it in a little harder than some other types of sunscreen, but, if you're a clean freak, you won't mind. There is nothing I hate more than a spill in my bag, and Sun Bum SPF 30 Sunscreen Face Stick solves that problem. Moreover, not only is it super portable and travel friendly, this sunscreen also comes in mineral SPF 50 stick sunscreen form. So, you can pick your stick preference.
BEST SUNSCREEN FOR YOUR SCALP: COLORSCIENCE SUNFORGETTABLE BRUSH-ON SUNSCREEN
The scalp is an often overlooked part of the body that gets little attention beyond a good shampoo scrub. But did you know your scalp also needs sunscreen? You can use Colorscience Sunforgettable Brush-On Sunscreen on both your part and your face. So, while the price point is a bit higher than some of the other products I selected, it's versatile. And as a girl who colors her hair, I'm willing to pay more to protect that investment. Plus, this products works like a dry shampoo too. You can dry up those roots and protect that part at the same time.
BEST SUNSCREEN FOR YOUR LIPS: FRESH SUGAR TINTED LIP TREATMENT
Just like daily sunscreen application should be a don't-miss beauty step, lip protection needs priority status, as well. Slick on a balm with SPF before your favorite gloss or lipstick. Plus, whose lips couldn't use a little extra hydration? Fall and winter bring cooler temps and drier air. So, get those pouts ready now by making them flake free! Fresh Sugar Tinted Lip Treatment has long been my favorite. Not only does it have SPF 15 in it, but it also has a delightful, natural looking rosy tint, so you can skip lip color if you so desire. Hey, it's one less step.
These days, in particular, I'm all for streamlining things! And I definitely had that in mind when selecting these best sunscreen winners.
Stay tuned for our next Beauty Momtrends MVPs -- coming soon will be our serum and facial oils picks.
This is not meant to be medical advice. Please consult your medical provider before adding a new sunscreen to your routine.
Momtrends MVP's is a non-sponsored series. Brands must meet our strict standards to be included. When naming winners we take several factors into account, including expense, convenience, and style.
We make our picks annually based on editors' research. In some instances, we may request and receive samples so that we can more thoroughly assess products. Our opinions are our own, and our goal is to help our community of moms make more informed decisions on everything from baby gear to beauty products to vacation destinations and more. We scour the abundant options and painstakingly hand-pick our favorites, so you don't have to. Our hope is that our most valuable players become your most valued purchases.
MORE MOMTRENDS BEAUTY TIPS AND TRICKS
PIN IT!
Use Pinterest to save your favorite beauty tips. Be sure to follow our Beauty board here.