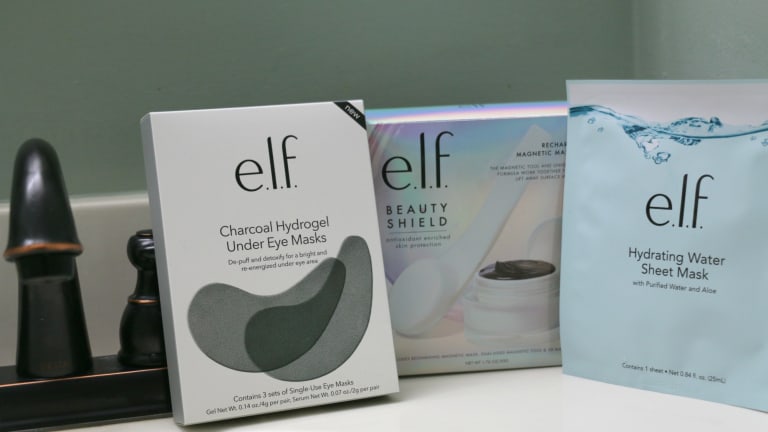 Momtrends MVP'S: Our Favorite Drugstore Beauty Finds
Stock up on our budget friendly drugstore beauty finds from face masks, to serums, makeup and more.
If you read our beauty content a lot, especially our Momtrends MVP'S articles, you probably noticed that many of the brands we feature aren't part of the $20 and under crowd. We're willing to spend on products we love. Well, consider this roundup of our favorite drugstore beauty finds one of the exceptions! 
It's not that we don't like drugstore brands. We absolutely have some holy grail drugstore beauty products in our collections. We also happen to be willing to pay a bit more for certain types of products, especially in the anti-aging sphere because we aren't in our twenties anymore. So, that is where we focus a lot of our time here. Haha!
The Best Drugstore Beauty Products for Busy Moms
That being said, there are those times when we run out of something and need to quickly stop at a drugstore for a last minute buy. And there are times one the TikTok kids convinces us that we need to try that latest trending product...and said products are nearly always drugstore brands.
And, frankly, while love quality around these parts, we won't say no to a deal on an effective product. And that is why we love scoring deals at our local drugstores. As you fellow moms can relate, we seem to make weekly drugstore trips anyway for our fam's various needs. So, why not check out the latest in drugstore beauty products for moms while we're there right?
For me, personally, as a busy mom, I want convenience from my drugstore products. They're not only budget friendly, but they're effective enough to make them worthy being. Products that are inexpensive but don't work so well are a waste of money in my opinion. We shouldn't have to totally sacrifice when we save!
How to Get a Bright Complexion All Year Long
On that note, let's talk about our favorite drugstore beauty finds. The prevailing them here is to find budget friendly ways to give you a beautiful glow! No matter what time of year it is, a bright complexion, achieved with the right makeup and skincare products is never a bad look! So, which products do we recommend? I'm glad you asked...
The Best Drugstore Face Serum
If you knew me in real life you would know that I absolutely love facial oil. So, when I found a serum that gave me the hydration of a facial oil, you an imagine how excited I was!
Acure's Brightening Glowing Serum contains the super moisturizing argan oil, so it's no wonder it has the feel of an oil and it also have cranberry and pumpkin seed oils which are anti-oxident powerhouses.
When I'm in a hurry, sometimes this serum and sunscreen is all my face gets, bwah! And that is because I just love that you can count on the Brightening Glowing Serum to both treat and hydrate! What more do you need?
Acure Brightening Glowing Serum
The Best Drugstore Face Mask
This next drugstore beauty find is straight from the UK. You may have heard about Boots from your favorite British beauty blogger and been saddened when you couldn't find the products they were talking about here in the states. Well, happily Target carries this cult favorite brand now!
And one Boots product I can't get enough of is the Niacinamide Clay Mask. Niacinamide has been having a real moment for a while now for good reason. This gentle form of vitamin B3 tackles skin issues like fine lines and hyperpigmentation while also being hydrating.
I also love how it improves the appearance of pores and how soft your skin feels after using this Boots Niacinamide Clay Mask!
Boots Ingredients Niacinamide Clay Mask
The Best Drugstore Face Mist
I feel like I am sharing all my beauty secrets today! Face mist is another of my go-to products because it does SO much!
You can use Pixi Glow Mist, for instance, to hydrate your skin, to set your makeup, and you can even use it on your hair!
And my favorite trick, which I have done with every face mist I have ever used is to keep it in the fridge so it's super refreshing when you spritz it on!
I can't get over how reasonably priced Pixi Glow Mist is yet it full functions as a setting spray! I have spent much more on sprays and this mist does the job equally as well as those!
The Best Drugstore Balm
Another of my favorite beauty secrets is balm. I always have a jar in my purse, bathroom, nightstand, you name it. And that is because I have dry skin. If you get cracked skin from time to time too, listen up! Balm is like magic for dry skin.
That must have been what Dr. Bronner's was thinking when they named their Organic Magic Balm, bwah! You can use this miracle salve ALL over, but use it most often on my face like and under my nose when my allergies act up or I get a cold.
The best part about Dr. Bronner's Organic Magic Balm is the menthol which makes it particularly pleasant when you have a stuffy nose. I just thought I would mention it since cold an flu season will be here before we know it!
Dr. Bronner's Organic Magic Balm
The Best Drugstore Primer
I am not one of those girls who wears makeup every day. In fact, I rarely wear foundation ever. Occasionally, I will wear tinted moisturizer, most of the time I just wear a primer because it gives my skin a more polished look without heavy coverage.
One that I really love is the NYX Studio Perfect Primer because it comes in a few colors so you can get a little color correcting action or just go with clear for a lovely blurred out finish.
I like the clear and the green which helps correct redness. So, depending on what condition my skin is in, irritated or not, I will choose my primer accordingly. At under $15, it's worth having both on hand!
The Best Drugstore Mascara
I'm a dance mom. My beautiful daughter doesn't wear makeup in everyday life as she's only ten, but on stage she wears it.
Now being that she's a kiddo and doesn't wear mascara regularly, when it comes time to remove it after a recital or competition she is not a happy camper.
Well, in my never ending quest to find a mascara that wouldn't require lots of rubbing to get it off, yet also created fabulous lashes, I found out about Maybelline Lash Sensational Sky High Mascara. I actually got the recommend from a fellow dance mom when I saw how awesome her daughter's lashes looked.
Well, let me tell you friends, this stuff is legit! It washes pretty easily and gives you long, lush lashes. I'm talking about length and volume! So, mama and kid rock this mascara now, haha!
Maybelline Lash Sensational Sky High Mascara
The Best Drugstore Tinted Lip Balm
Just like I don't wear foundation every day, the same goes for lipstick. More often than not you will find me slicking on a tinted balm instead. And that is because it always seems to be the last thing I do as I'm running out the day and I can put it on without a mirror.
And Honest Tinted Lip Balm is not only organic which I try to stick too because it's going my lips so some will end up in my mouth, let's face it. So, yay for clean, nourishing lip balm and yay for lots of yummy colors!
Blood-Orange is my current favorite. The red-orange hue is serving up fall vibes for me. But they have plenty of pink and nude hues too!
The Best Drugstore Cream Eyeshadow
If I'm not using an eyeshadow stick, I'm reaching for a cream eyeshadow because, again, they're both super fast and easy to use!
Burt's Bee's Color Nurture Cream Eyeshadow has a special spot in my five-minute face return because they add a nice pop of neutral shimmer to my lids.
I love how natural the colors appear. The look you get from Burt's Bees Color Nurture Cream Eyeshadow is what I would call subtly enhanced!
Burt's Bees Color Nurture Cream Eyeshadow

The Best Drugstore Under Eye Mask
My daughter is at the age where an at home spa sesh with mom is always a hit, so I keep a handful of masks on hand just for that purpose. 
There is nothing quite as relaxing as doing some treatments watching our favorite Hallmark flicks while noshing on our favorite snacks. Under eye masks are always a part of this self-care ritual!
e.l.f. Charcoal Hydrogel under eye masks are my go-to because they're a total steal considering how much they do! They soothe, de-puff and moisturize your under eye area like a dream!
e.l.f. Charcoal Hydrogel Under Eye Masks
Now that you're caught up on our favorite drugstore beauty finds, why not check out some more of beauty must-haves?
Stay tuned for our next Beauty Momtrends MVP's list…
For Even More Momtrends MVP's Winners, Follow the Links Below:
Pin It!
Don't forget to save more of our favorite beauty tips and follow along for more with our Pinterest beauty board!
How We Pick Our Winners
Momtrends MVP's is a non-sponsored series. Brands must meet our strict standards to be included. When naming winners we take several factors into account, including expense, convenience, and style.
We make our picks annually based on editors' research. In some instances, we may request and receive samples so that we can more thoroughly assess products. Our opinions are our own, and our goal is to help our community of moms make more informed decisions on everything from baby gear to beauty products to vacation destinations and more. We scour the abundant options and painstakingly hand-pick our favorites, so you don't have to. Our hope is that our most valuable players become your most valued purchases.