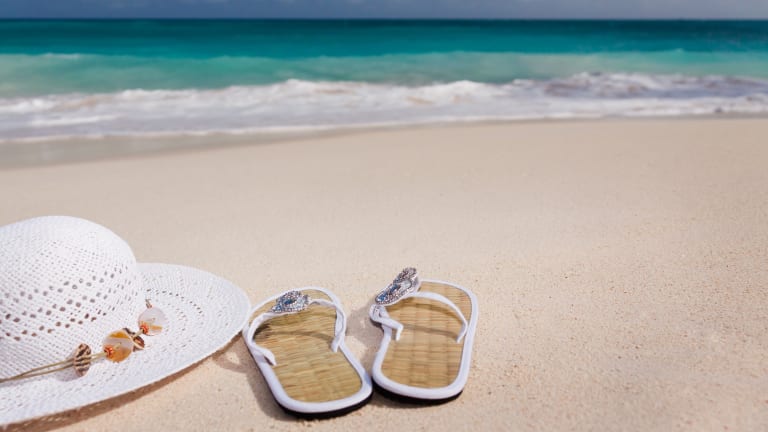 With the first day of summer arriving this weekend, it's time to pay attention to your skin and make sure you are ready for the hot temperatures to come. I've rounded up a bunch of beauty products to help you beat the heat too! It will be sweltering for the next few months, so you can bet I'll be taking advantage of these products all summer long.
Related: Keep summer feet happy and healthy this summer
For me, the summer months are all about soothing my skin. It's sensitive by nature and can get quite irritated by all the sunscreen I diligently apply. Thankfully there are plenty of products out there that can work together to keep my skin in great shape and have a calming effect on it it too!

Five Tips for the Perfect Pumpkin Patch Visit
It's that time of the year again...pumpkin patch time! While I love a nice Pumpkin Spice Latte as much as the next fall lovin' girl...for me, the season is all about spending time with my family...and hopefully that time is spent outside as much as possible. If you're headed out ...read more
Perfect for Fall Pumpkin Spice Dirt Bomb Recipe
Get your pumpkin spice fix with this tasty dirt bomb recipe. Unlike fried donuts, this recipe is a little lighter and, since no hot oil is involved, a lot less messy. These dirt bombs, or baked donuts, are irresistible cakey muffins that are spiked with nutmeg and ginger, and ...read more
Save Money at a Ski Swap
Are the slopes in your future? If you want to save money on ski gear, consider a ski swap. A swap is a great way to buy and sell used equipment. Most swaps consist of a variety of gear, from brand new to used skis and snowboards to skis; from poles to boots to bindings and ...read more
Beat the Heat Beauty Product Roundup
Belli Anti Blemish Wash I've found that if I get a blemish, it's in the warm weather months more often than not. It's all that glistening...aka sweating. Haha! Belli is geared toward expecting moms. It's great for deep cleaning the pores for all of us.
Sugar Lip Balm with SPF 15 pick from a dozen subtle colors that will give your lips a hint fo color while you protect them from the sun.
Coola Tinted Sunscreen offers SPF 30 and a bit of tinted coverage. It's a great everyday addition to your summer skincare as it combats harmful UVA and UVB rays. Bonus: The soothing formula offers up to 40 minutes of water-resistant protection.
Avene Soothing Repair Mask calms and quiets irritated skin. Say goodbye to that redness! You can expect immediate relief.
Korres Calming and Cooling Gel is the best bet when, despite your best efforts, your skin so a little too much sun. This lotion is formulated with plant extracts and probiotic Greek Yogurt to naturally hydrate and instantly soothe the skin.
Along the same vein, the Peter Thomas Roth Cucumber Gel Mask is a cooling, hydrating concoction that minimized fine lines too.
MORE BEAUTY FEATURES FROM MOMTRENDS
PIN IT!
Use Pinterest to save your favorite beauty finds. Be sure to follow our Beauty board here.
Momtrends was not paid for this post. We were give samples for review. This post may contain affiliate links. By clicking and shopping, you help support Momtrends and allow us to keep reporting on trends.
For even more Momtrends, follow us on Facebook, Twitter, Pinterest and Instagram